Politics
Family disputes and a nasty can of beans: Hillary Clinton as litigator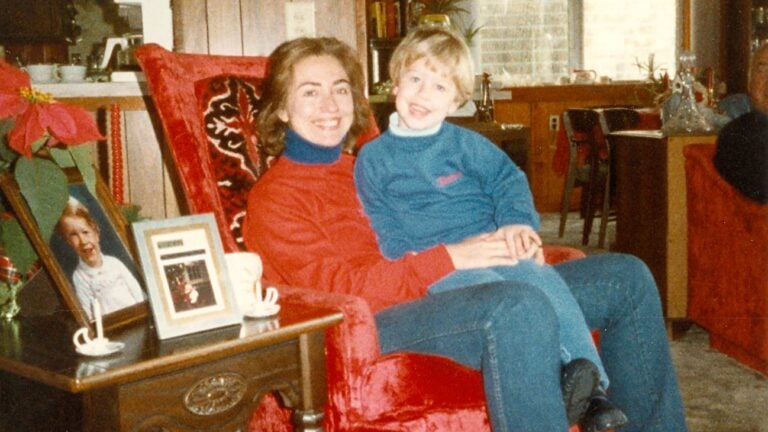 LITTLE ROCK, Ark. — They called him Tiny, naturally, because he was anything but. A bouncer at a pawnshop here, the man significantly outweighed most of the store's customers and would-be robbers. Now, he stood accused of roughing up his girlfriend.
As a judge waited to hear the case, a young lawyer named Hillary Rodham — who was always careful to address Tiny by his real name — got his accuser to sit down with her for a heart-to-heart.
In short order, the girlfriend dropped the charges, saying it had all been just a lover's quarrel.
To hear Hillary Clinton tell it as a candidate now, the time between her postgraduate work with the Children's Defense Fund in 1974 and her two terms as first lady in Washington was a blur of child-rearing, campaigning for her husband and working as an advocate on issues like children's health and education.
During Bill Clinton's first presidential run in 1992, her years as a corporate litigator at the Rose Law Firm were exhaustively examined for possible conflicts of interest involving clients like Tyson Foods, Wal-Mart and Madison Guaranty, a savings-and-loan that became a central focus of the Whitewater investigation.
But little attention has been paid to Hillary Clinton's work in the courtroom.
It was not glamorous: She represented a moving company whose customer had sued it for damaging a coffee table, a crop-duster who flew his airplane too close to his rice fields and injured a farmworker, and a canning company that was sued after a man opened his pork and beans and found the rear end of a rat.
She particularly gravitated toward family law cases and domestic disputes.
Yet a tour of Clinton's early work as a litigator, through interviews with some of the trial lawyers, judges and clients who remember her, turns up much of what would distinguish her as a politician many years later: Diligent preparation and a surgical approach to dismantling opposing arguments. A capacity for warmth with clients and adversaries alike. Toughness and deftness in the face of male condescension. And a minimal appetite for the spotlight, if not quite an aversion to it.
Clinton's 1970s-era adventures in the Arkansas bar could have provided some of the color for a John Grisham novel — or for a fish-out-of-water comedy like "My Cousin Vinny."
Arriving in Harrison, Arkansas, near the Missouri line, for a hearing, she found herself stranded at the airport. So she hitched a ride to court in a clunky old pickup driven by a man known as One-Eyed Jay, for the black patch he wore over one eye.
Another time, handling a trial in the state's northeastern corner, she mistakenly planned only for a day trip. The judge spared her the embarrassment of having to face the jury in the same clothes again the next morning: He lent her one of his daughter's dresses.
One judge interrupted Clinton in court, saying, "Come up here so I can get a good look at you." Another supplied his unsolicited opinion about Bill Clinton's plan to be by her side when she went into labor. "I don't believe a husband has any business being there when a baby is born!" the judge told her angrily.
She had earned her law degree at Yale in 1973, and then spent a year doing postgraduate work with the Children's Defense Fund and researching the possible impeachment of President Richard M. Nixon for the House committee investigating Watergate. Then, moving to her future husband's home state, she took a job on the law faculty at the University of Arkansas in Fayetteville — and soon delivered her first winning argument.
It was before an Arkansas bar panel of 25 lawyers and jurists — most of them politically conservative, all of them men. The young Rodham, introduced as "the new lady law professor," delivered an eight-minute speech seeking funding for a legal aid clinic and a prisoner's assistance project. At the time, poor Arkansans received free representation only if they had less than $10 in assets. Anyone with a car or a television was ineligible.
She left with a $10,000 commitment to set up the clinic, the state's first. In its first year, it paired 300 clients with student lawyers under bar members' supervision.
As she steadily overcame the panel's skepticism, one lawyer, Billy Roy Wilson — whom Bill Clinton would name a federal district judge nearly two decades later — leaned over to the man next to him. "This young woman," Wilson whispered, using a phrase often applied to charismatic Baptist preachers, "has a good mouth on her."
Hillary Clinton's legal work included unsavory criminal cases. When a 41-year-old factory worker was accused of raping a 12-year-old girl, and requested a female lawyer, a Fayetteville judge appointed Clinton, over her objections. The crime lab mistakenly discarded crucial evidence, and she reached a plea bargain, reducing the charge to unlawful fondling; her client served less than a year in jail.
The victim in that case, Kathy Shelton, who supports Donald J. Trump, has accused Clinton of attacking her character and putting her through "something you would never put a 12-year-old through."
Clinton's first jury trial was distasteful in an entirely different way.
She had married Bill Clinton, moved with him to Little Rock — he was then the state attorney general — and joined Rose, the state's most prestigious law firm and the oldest one west of the Mississippi, as it calls itself. Her clients were mainly businesses, including a canning company that was sued by a man who found the hind quarter of a rodent in his can of pork and beans.
The man complained of psychological and emotional harm, saying that he could not stop spitting, and that it was preventing him from kissing his girlfriend.
"He sat through the trial spitting into a handkerchief and looking miserable," Hillary Clinton wrote of the plaintiff in her 2003 memoir, "Living History." Something had obviously gone wrong at the factory, she argued, but no harm had been done, since "rodent parts which had been sterilized might be considered edible in certain parts of the world."
"Although I was nervous in front of the jury," Clinton wrote, "I warmed to the task of convincing them that my client was in the right." To her relief, the plaintiff won only "nominal" damages, she wrote.
Her husband teased her for years about what he called her "rat's ass" case.
Bill Clinton was sworn in as governor in 1979, the same year his wife became a full partner in her firm. She worked long into the night, absorbing details and polishing her work. And she demanded the same of younger associates, scribbling "RTDD" on briefs — an admonition to "read the damn documents."
Jerry C. Jones, another Rose lawyer, recalled watching as Hillary Clinton tried a case involving faulty contact lenses. "She just very methodically took the other side's expert apart," he said. "It was like being able to see the spin on the fastball when it leaves the pitcher's hand."
She was one of only a handful of women litigating cases in the state, and carefully calibrated her appearance and approach, recalled Amy Stewart, another Rose lawyer.
"One of the first things I learned from watching her, when she was with judges or in a deposition or in a courtroom — it was all about not drawing attention to yourself," Stewart said. Rather, she added, "it was about drawing attention to the strength of the client's case."
Hillary Clinton took her husband's name after his 1980 re-election defeat. She stopped wearing her Coke-bottle eyeglasses in court. And she honed an efficient style.
"There is no wasted motion," another lawyer, William Wilson Jr., recalled in a 1992 profile of Clinton in The American Lawyer. He called her approach "more of a blitzkrieg than an invasion of Normandy."
It may not have been how she had envisioned her career unfolding, but the variety of her work kept things interesting for Clinton, said another lawyer, Ellen Brantley, who is now a retired judge. "She enjoyed it and just saw it as something different and made the best of it," Brantley said.
In 1986, a friend asked Hillary Clinton who the best lawyer in Little Rock was to handle the divorce of Nancy Snyderman, a physician and television journalist. "I am," Clinton responded.
She wound up not only handling the divorce, but also helping Snyderman adopt a girl who had been born into poverty. Snyderman recalled Clinton's efforts to help her, as well as her fighting for the rights of the baby's grief-stricken, 15-year-old biological mother.
"I watched her step out of our friendship and become an attorney," said Snyderman, whose daughter, Kate, is now 30. "Hillary said family law broke her heart."
The National Law Journal named Hillary Clinton among the country's most influential lawyers in 1988 and 1991, but because she was the first lady of Arkansas and did nonprofit work, her billable hours ranked near the bottom among Rose partners.
Representing Maybelline, which opened a factory in Little Rock, she persuaded a judge to let her be the first Arkansas lawyer to question an expert witness by a satellite video feed.
She also defended corporate clients accused of harming customers or communities.
In 1977, she represented an Arkansas utility, First Electric Cooperative, in a case against ACORN, the low-income community organizing group. ACORN had pushed through a ballot initiative to reduce rates for residential customers, especially the poor, while raising rates for businesses. Clinton wrote the winning brief over late-night pizza, arguing that the measure would drive businesses out of the state.
"We hated seeing her on the other side," said Wade Rathke, ACORN's founder.
Still, corporate work did not energize Clinton, her friends said. What did was handling disputes involving families.
She represented a couple in El Dorado, Arkansas, who wanted to adopt a child they had fostered for two years, and had sued the Arkansas Department of Human Services — awkward timing for Clinton, whose husband was then attorney general. To break the parents' contract with the state, she called a psychiatrist to testify that the child's well-being depended on it.
She also represented a Connecticut man seeking custody of his 6-year-old daughter over the mother's objections. Thomas A. Mars, another Rose lawyer at the time, witnessed Clinton's closing argument, when she explained why the mother was unfit. "It was a tear-jerker," he said.
Her career as an Arkansas lawyer gave rise to many painful years of politically charged investigations during her husband's presidency. But it also helped steel her to pursue her own.
Her skill at camouflaging a blistering critique behind a cordial smile stuck with Morgan E. Welch, a lawyer who ran up against her more than once. He remembered Clinton as "very congenial."
He remembered one other thing, too: "She took me apart like a toy watch."
___
Kitty Bennett and Steve Barnes contributed research.