Politics
Massachusetts just voted to legalize marijuana. Here's what happens next.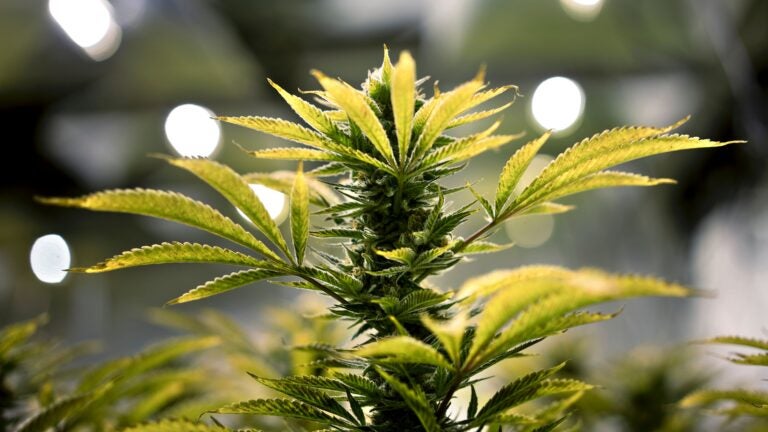 Massachusetts just voted to legalize marijuana.
With the yes vote on Question 4, the Bay State joined California, Maine, and Nevada in legalizing pot for recreational purposes Tuesday night. The drug is already legal in Colorado, Washington, Alaska, and Oregon.

If that sounds straightforward, it's not.
You can't just walk outside and light up a joint. It'll be weeks until marijuana is legal to own and more than a year until it is legal to buy in Massachusetts. But let us clear some of the haze.
So when does recreational marijuana become legal?
Beginning Dec. 15 (this year), anyone who is at least 21 years old can possess and consume recreational marijuana. For those under 21, it will remain illegal.
What are the limits on how much pot I can have? 
The limit for possession will be one ounce in public and 10 ounces in a private residence. You can grow up to six marijuana plants on your property, as long as it is out of public view. You'll also be allowed to give up to one ounce of marijuana to another appropriately aged person without payment.
Where can I can smoke or possess marijuana?
You cannot smoke or consume marijuana in public. State and local governments can continue to restrict the use of marijuana—as they already do with alcohol and tobacco—in public buildings and at or near schools.
Private property owners can also ban the use, sale, or production of marijuana on their premises, according to the law. One exception: Landlords can prohibit tenants from smoking, but cannot ban them from consuming marijuana in other ways.
Speaking of which, what is the deal with edibles?
Edibles will be legal, too. The measure specifically includes edibles among "marijuana products" that will be legal. The initiative also legalizes marijuana beverages, topical products, ointments, oils, and tinctures.
Massachusetts regulators will likely have to further define what, exactly, an edible is. After Colorado became the first state to legalize recreational marijuana, state officials learned that edible pot products could include everything from spaghetti sauce to gummy bears.
So can I go buy these newly legal marijuana products in Massachusetts on Dec. 15?
Well, not quite. While possession of marijuana becomes legal next month, it won't be legal to sell in the state until Jan. 1, 2018.
Hold on, so recreational marijuana will still be illegal to sell for more than a year after it becomes legal to own and consume?
Correct. Obviously, this is a somewhat awkward, though arguably unavoidable situation. And not unlike what Colorado experienced.
As Josh Miller, The Boston Globe's resident Question 4 beat reporter, recently explained: "the marijuana market [will be] in a strange legal gray zone for 12½ months. Consumers [can] buy weed from the black market legally, but dealers selling to them would be breaking the law."
Why is there such a delay?
The state needs to figure out how exactly they will regulate this entirely new legal industry. To do so, Massachusetts's state treasurer will appoint a three-person Cannabis Control Commission, as well as a 15-member advisory board.
The commission has until Jan. 1, 2018 to adopt regulations on the industry. If they are unable to do so by that date, Massachusetts's existing medical marijuana dispensaries can begin selling the drug for recreational purposes, essentially according to their own rules.
After Massachusetts voted to approve medical marijuana in 2012, supporters were not happy about the continued delays in getting the dispensaries up and running. This provision is intended to force the commission's hand in order to avoid a similar delay.
Are there a lot of regulations that the commission will have to decide on?
Oh, yeah.
By 2018, the commission must decide how licenses to sell marijuana are issued and create regulations on the growing, packaging, labeling, and marketing of the drug. The price of a license to sell or grow marijuana will be capped at $15,000, though the commission can make it less than that. The commission will also have to design safeguards to prevent marijuana from being sold or marketed to minors.
Additionally, the measure says the commission will have to find ways to promote the participation of "people from communities that have previously been disproportionately harmed by marijuana prohibition and enforcement."
The commission will also determine fines and penalties for breaking any of the regulations.
So there will be a lot of regulations. What about taxes?
According to the current measure, there will be a 3.75 percent tax on marijuana, in addition to the state's 6.25 percent sales tax. Towns and cities can impose up to a 2 percent tax on local marijuana sales.
That said, it is very likely that rate will go up. As Boston Business Journal recently noted, the total tax rate on recreational marijuana is 29 percent in Colorado and 37 percent in Washington. On the low end of the four states that have legalized pot, Oregon imposes a 17 percent rate.
Elected officials in Massachusetts were already pondering how much to raise the marijuana tax weeks before Election Day, amid questions about whether the measure will be sufficiently funded. It's worth noting that by the time the first cent of marijuana tax revenue is collected, the commission will have been at work for a year.
Does my town have any control over how marijuana is locally regulated?
Yes. Cities and towns can decide to adopt "reasonable safeguards" governing when, where, and how many marijuana stores are in business locally (among other regulations), as long as they do not prohibit them from areas where a medical marijuana facility is already registered to operate.
Town and cities can also decide to limit or ban marijuana establishments within their borders, but only through a vote by the residents of the town or city.
What else is important to know about marijuana, now that it will be legal?
Don't drive while impaired by marijuana. Driving while high will be treated and penalized just like drunk driving (even though some law enforcement officials have complained that, unlike alcohol, there are no standardized tests for marijuana impairment).
Smoking or consuming marijuana in public will be a $100 offense. Growing pot in a publicly visible place, even on your own property, will cost you $300, as well as forfeiture of the plants. And possessing an open container of marijuana in a car can be punished with up to a $500 fine.
Speaking of penalties, what if I'm under 21 years old and get caught purchasing marijuana?
According to the current law, you'll be fined $100 for buying (or trying to buy) pot. You'll also have to complete a "drug awareness program." If you're under 18, authorities will also notify your parents.
Can I smoke or consume pot at work now?
Depends on who you work for. The law specifically states that employers will be permitted to ban employees from consuming marijuana at the workplace. So maybe hold off on bringing those brownies to your office's next potluck.
If it's legal now, can I give pot to my dog?
Please don't.