Politics
Curt Schilling thinks shirt threatening to lynch journalists is 'awesome'
The former Sox ace continues to be highly political on social media.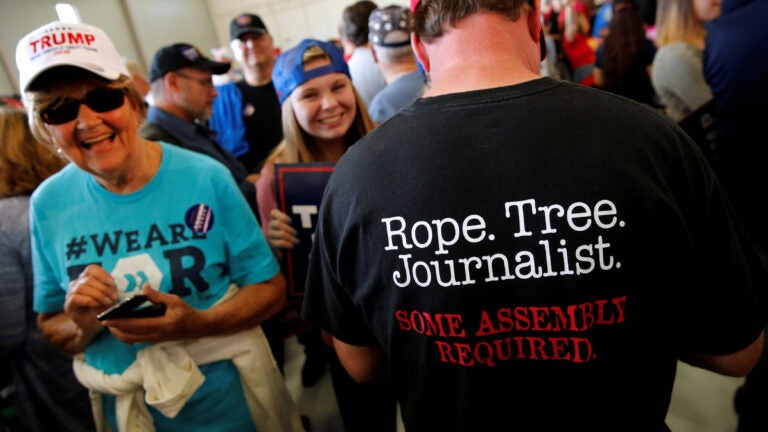 Curt Schilling is making waves on social media once again, tweeting his approval of a shirt that advocated the lynching of journalists.
The former Red Sox ace tweeted (and later deleted) a photo of a T-shirt with the slogan, "Rope. Tree. Journalist. Some Assembly Required" worn at a Trump Rally in Minneapolis, Minnesota Sunday. Schilling also added his own commentary, saying, "Ok, so much awesome here…" in reference to the shirt.
Former Red Sox pitcher Curt Schilling, who is planning to run for Senate in MA, approves of lynching tshirt. https://t.co/EZy1pxAmJk pic.twitter.com/vKifoYBK1S

— southpaw (@nycsouthpaw) November 7, 2016
Until recently, Schilling was a member of the mainstream media, serving as an ESPN analyst until he was fired in April for posting inappropriate messages on social media. He now serves as a radio host for right-wing news site Breitbart.
When questioned about the post by baseball writer Jonah Keri, Schilling said people should be more offended by Benghazi than a "smart a** shirt."
@jonahkeri amazing the things people pick and choose to be offended by. A smart ass shirt? 4 dead men in Benghazi. #safespacesforall

— Curt Schilling (@gehrig38) November 8, 2016
According to the Hollywood Reporter, Zazzle, the website where the shirt was designed and sold, removed the clothing item from their marketplace.