Politics
Here's how Gov. Charlie Baker is filling out his Election Day ballot
There's more than just the presidential race to vote on.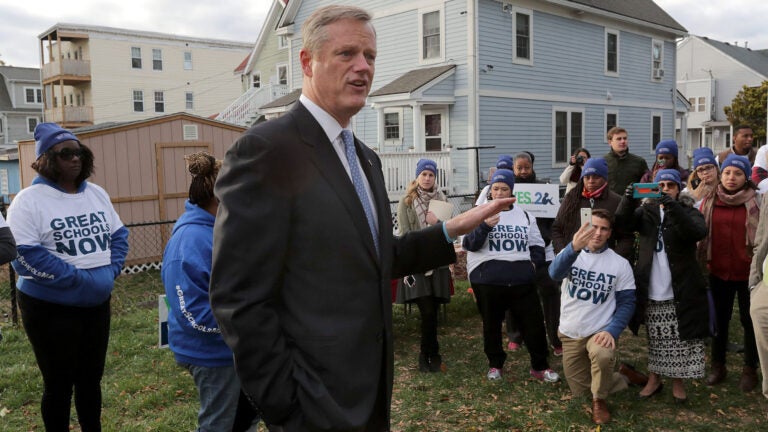 Gov. Charlie Baker may not be giving his vote to a presidential candidate, but that doesn't mean his entire ballot will be blank.
The Republican governor has in fact campaigned actively on two of Massachusetts's 2016 ballot questions and plans cast to a vote on all four measures, according to his office.
Here's how Baker will cast his ballot when he votes Tuesday in his hometown of Swampscott (for those wondering, the governor told State House News Service he plans to watch results roll in from his home on election night).
President
Baker is "blanking for president" this year.
As he recently told WWLP, the NBC affiliate in Springfield, 2016 will be the first time Baker has not cast a vote a president since he first voted for Ronald Reagan in 1980.
"I'm really discouraged by the whole thing to tell you the truth," said the governor, who was one of the earlier GOP elected officials to denounce Donald Trump's candidacy.
In May, he clarified he wouldn't be voting for Democratic nominee Hillary Clinton (or the Libertarian ticket, for that matter), either.
Baker, who did not vote for Trump in the primary, said in March he would not support the candidate in the general election. As far back as August 2015, the Bay State governor publicly rebuked Trump's remarks about women and Muslims and questioned the candidate's temperament.
"I don't know how much farther away I can get away from the guy," he told WGBH's Boston Public Radio last month. "I was already pretty far away to begin with."
The blank space atop Baker's ballot Tuesday will put him one step farther.
Question 1: No
As WBUR reported in September, Baker has opposed Question 1 and plans to vote no on the measure Tuesday, according to his office.
Question 1 would allow the Massachusetts Gaming Commission to license a second slots parlor in the state, making a proposed casino near Suffolk Downs one step closer to reality. The question is being pushed primarily by Euguene McCain, the real estate developer proposing the additional slots parlor, as well an offshore team of casino developers.
But Baker says he wants to see the impact of the existing slots parlor in Plainridge, as well as the two casinos currently under construction in the state, before approving another gambling site.
"I've always thought we should be mindful of the fact that we don't exactly know what the consequences and the impact of all this is going to be when the dust settles on the Lottery and on a whole bunch of other things," he told reporters in September. "Let's wait and see what happens before raising the possibility of yet another facility in Massachusetts."
Question 2: Yes
Keeping an arm's distance from national politics, Baker has spent the majority of his political capital on Question 2.
The measure would allow officials to raise the state cap on charter schools by 12 schools each year. It is also Baker's top priority.
The governor has campaigned actively in support of Question 2, knocking on doors and filming ads for the Yes on 2 campaign. Baker's position puts him at odds with Boston Mayor Marty Walsh and the majority of voters, according to recent polls, in Democrat-heavy Massachusetts.
But the moderate Republican says charter schools provide an opportunity for low-income students in struggling public schools.
"Public charter schools give parents a choice and are a pathway for these kids," Baker said in a recent Yes on 2 ad.
Question 3: Yes
After remaining undecided on the so-called cage-free egg question, Baker has decided to vote yes, a spokesman for the governor recently told Boston.com.
Question 3 would ban the confinement of "any breeding pig, calf raised for veal, or egg-laying hen in a way that prevents the animal from lying down, standing up, fully extending its limbs, or turning around freely." It would also ban sales in Massachusetts of produce that came from an animal confined in such a manner.
If passed, which appears likely, the measure would become law in 2022.
Baker had previously toiled with the potential consequences for egg-buyers in Massachusetts, who would likely see an increase in prices. But ultimately decided to vote yes on Question 3, according to his office.
Question 4: No
Though not as much as on Question 2, Baker has also been an active campaigner on Question 4—but on the other side.
According to his office, Baker plans to vote against the proposal to legalize recreational marijuana in Massachusetts. The governor is hardly alone among fellow top elected officials in the state, though voters appear posed to pass the measure.
Polls show Bay Staters are leaning hard toward a yes vote on 4, despite efforts by Baker, state Attorney General Maura Healey, and Walsh to defeat the proposal.
In a Globe op-ed last March, the bipartisan trio wrote that Question 4 was being pushed by the marijuana industry and that legalization would "further drain our health and safety resources."