Politics
Here's what the early lines look like at Massachusetts polling places
Voters on social media are almost universally reporting long lines.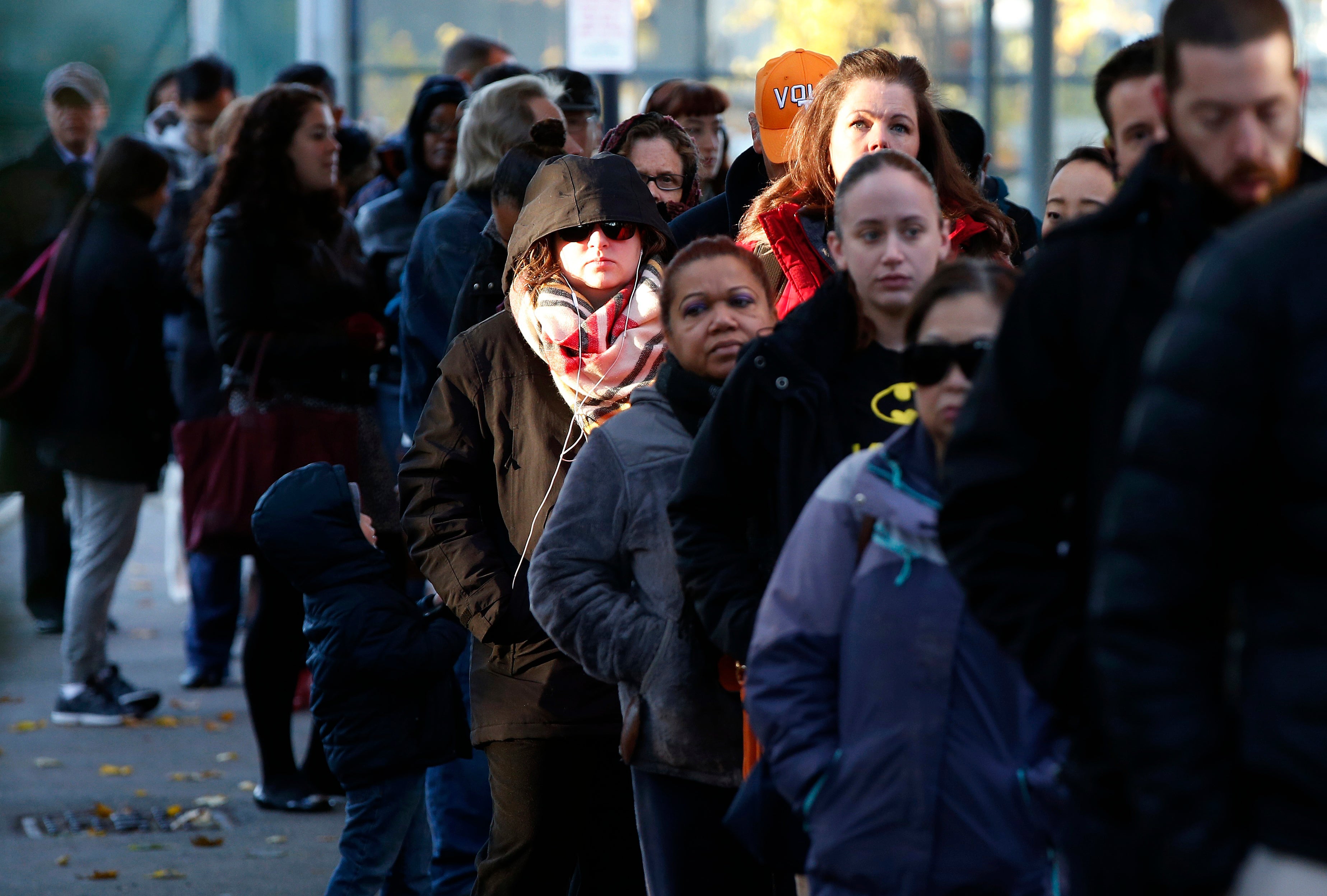 Polls opened at 7 a.m. in Massachusetts on Tuesday, as residents headed to local schools, municipal offices, and other polling places to cast their votes for the presidential election, statewide ballot questions, and other local races. While it's too early to guess at total turnout numbers, people who posted about their voting experience on Twitter are have almost universally reported long lines.
From Boston neighborhoods like Allston and Roxbury to nearby towns and cities like Medford and Watertown, voters sent photos of lines around the block, with some saying they've never seen the polls so busy before.
Have a photo of something interesting happening at your local polling place? Show us on Facebook or Twitter, or send an email to [email protected]
Not enough poll workers at Cathedral High School. Long lines for different wards are converging, lots of confusion. #boston #ElectionDay pic.twitter.com/0ojl6yvvQd

— Ratty (@HeyRatty) November 8, 2016
@WatertownMANews middle school line to vote forms early grows longer. @WBUR I never saw before in 6 prez elections. pic.twitter.com/F1azNkN88X

— Bruce Gellerman (@AudioBruce) November 8, 2016
Happy #election day from #BostonPublicLibrary where the line was around the block before 7 am! @universalhub pic.twitter.com/VDtfCU32W2

— catboston (@catboston) November 8, 2016
Lines around the block to vote in South End. Lots of #yeson5 voters. @universalhub @YesBetterBoston pic.twitter.com/JnL1MAm7As

— Christine Poff (@christinepoff) November 8, 2016
@maureencaught pic.twitter.com/T2plokpbmo

— Kathleen Rusteika (@matsmom) November 8, 2016
Long line in #Roxbury w/AfricanAmer voters-many #NoOn2 @SOPublicSchools #KeepTheCap @BostonNAACP1911 pic.twitter.com/mQAOtROxgR @universalhub

— C. Carew (@caren4btunity) November 8, 2016
Pretty big spiral line of voters here in Brighton shortly after tolls open #ElectionDay #Elections2016 pic.twitter.com/4nCFp9tFYY

— Kristin Toussaint (@kristindakota) November 8, 2016
Huge line wrapping around the corner to vote at the West Medford fire station. pic.twitter.com/9kuEsL6mXI

— Dan Kennedy (@dankennedy_nu) November 8, 2016
I have never seen this many people in Allston awake before 8 #ElectionDay pic.twitter.com/07XzE9ME6C

— Jamie Ducharme (@Jamie_Ducharme) November 8, 2016
https://twitter.com/jeffisrael25/status/795973089683193856