Politics
Steady crowd of voters, not only at Susan B. Anthony's grave, but also her birthplace in Massachusetts
With Hillary Clinton on the ballot, residents honored a legendary suffragist at her birthplace in Adams.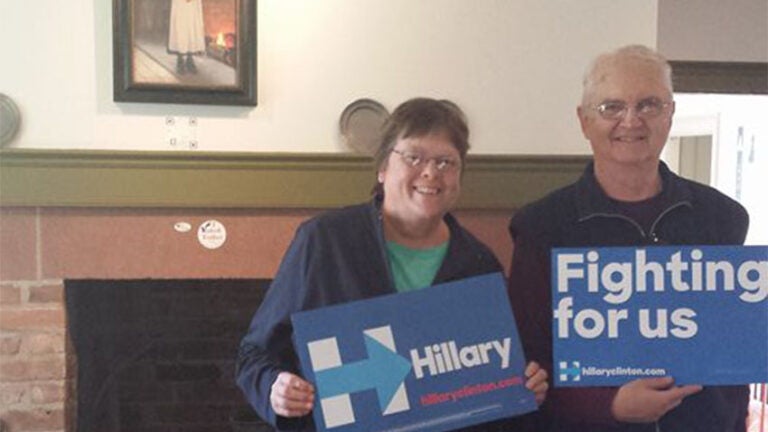 A cemetery in Rochester, New York had to extend its hours Tuesday, as voters—casting their ballots for Hillary Clinton, the first female major-party presidential nominee—flocked to commemorate the grave of Susan B. Anthony. Images of the lines of visitors and "I Voted" stickers covering Anthony's grave flooded social media and TV broadcasts.
But the pioneering suffragist's efforts to give women the right to vote were also celebrated at her birthplace in Massachusetts.
Colleen Janz, the executive director of the Susan B. Anthony Birthplace Museum in Adams, told Boston.com that the modest, four-room farmhouse, where Anthony spent the first six years of her life, received about 60 visits Tuesday—about double the number they would get on a weekend.
The museum usually doesn't open on Tuesdays, but Janz said there were already people outside paying homage to it before the building opened its doors. Once the museum opened at 10 a.m., people streamed into to take pictures and learn about the legendary activist.
"We had mothers bring their children after voting who wanted to give them an idea of what she did," Janz said Tuesday evening, still invigorated by the experience. 
"A lot of positive energy today," she added.
In a nod to how visitors honored Anthony's grave Tuesday. Janz said they allowed two "I Voted" stickers to be placed on the house's fireplace mantle.
https://www.facebook.com/mommyjanz/posts/10211691074657338
Anthony was born in Adams in 1820 and famously voted illegally in 1872 in an effort to challenge women's voting rights in the courts. Anthony died in 1906, 14 years before the 19th amendment, which was named after her, was passed.
Anthony's birthplace museum said in a press release Monday it anticipated Clinton to win Tuesday and become "the first female Commander-in-Chief of the United States of America."
The museum will also be open Wednesday and, as it did Tuesday, will offer free admission. Janz noted that Clinton was joined on the general election ballot in most states by another woman, Green Party nominee and Lexington native Jill Stein.
"It took 96 years to get here, so it will be very historic no matter the outcome tonight," Janz said.
Assuming Clinton wins, Janz said the museum also has festivities planned for Inauguration Day.