Politics
An Elizabeth Warren presidential run in 2020 is already getting some buzz
On Twitter, at least.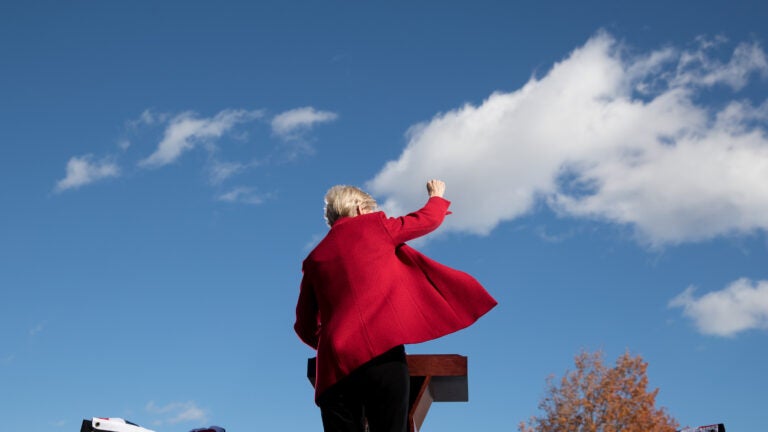 In her speech Wednesday morning conceding the 2016 presidential race to Donald Trump, Hillary Clinton noted the figurative glass ceiling would remain intact — for now.
Glass ceiling will be shattered, Hillary Clinton says, telling women: "Never stop believing" https://t.co/ZU1Hp0paxO pic.twitter.com/MQXEqCfxvh

— Bloomberg (@business) November 9, 2016
"But someday, someone will, and hopefully sooner than we might think," she said.
Soon, as in 2020? On social media, some looked to a certain Massachusetts senator who declined to run in 2016.
Dear Democrats, start preparing Elizabeth Warren for 2020, you can still shatter the glass ceiling. Thanks Hilary for the cracks.

— Bisi Alimi (@bisialimi) November 9, 2016
I'm pretty sure @elizabethforma will be breaking the glass ceiling in 2020 #politics

— Jay L. Clendenin (@jaylclendenin) November 9, 2016
In fact, a hypothetical 2020 presidential campaign for Sen. Elizabeth Warren had begun garnering buzz as Trump locked down the election night win late Tuesday night.
Elizabeth Warren announces her 2020 presidential campaign in 3…2…

— Matt Viser (@mviser) November 9, 2016
If Clinton loses, does @elizabethforma immediately become the big favorite for the party's nomination in 2020?

— Joe Weisenthal (@TheStalwart) November 6, 2016
Mark my words: @elizabethforma will destroy @realDonaldTrump in 2020. It will be a historic landlside. #electionday

— Cenk Uygur (@cenkuygur) November 9, 2016
.@SenWarren Tomorrow morning, 7am. You, me and a heavy bag. It's time to start training for 2020.

— Damien Fahey (@DamienFahey) November 9, 2016
I bet "how old will Elizabeth Warren be in 2020" is a top Google search tonight https://t.co/e8iSDRwNph

— David Sirota (@davidsirota) November 9, 2016
Journalists also mused about Warren's possible 2020 primary contenders.
A very early 2020 Democratic primary poll last month had the Massachusetts senator slightly head of Virginia Sen. Tim Kaine, New York Gov. Andrew Cuomo, and New Jersey Sen. Corey Booker, though the majority of voters were undecided.
"Is it Elizabeth Warren versus Andrew Cuomo?" — Mitchell Moss. #Election2016 #Election2020 cc @maggieNYT … https://t.co/97SodsCa81

— Azi (@Azi) November 9, 2016
Elizabeth Warren or Michelle Obama, I beg you, run for President in 2020.

— Peter van Onselen (@vanOnselenP) November 9, 2016
Booker vs. Warren vs. Castro for the Democratic nomination in 2020 is going to be absolutely vicious.

— Sean Davis (@seanmdav) November 9, 2016
Others, perhaps, got a little ahead of themselves in their anticipation.
Congratulations to Elizabeth Warren on making history by becoming the 46th president of the United States in 2020.

— Matt Walker (@funnymatt) November 9, 2016
Apparently, it's never too soon to start thinking about the next presidential election. Even if they're not done counting the votes yet.