Politics
How prominent Massachusetts figures are responding to Trump's win
"What a night."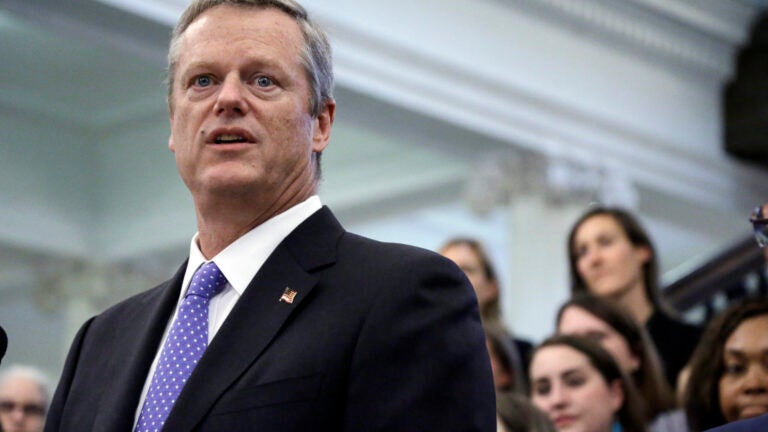 Hillary Clinton crushed Donald Trump in Massachusetts with 61 percent of the vote to Trump's 33 percent, but Trump took the country overall with a majority of the electoral college votes. Here's how New England's most prominent figures are responding to the new era ahead.
Gov. Charlie Baker, a Republican who said he did not vote for Trump or Clinton, congratulated Trump on the win and said he hoped Trump would work to unite the country.
I congratulate @realDonaldTrump, and it is my hope that the President-elect works quickly to unite our country after a divisive election.

— Charlie Baker (@MassGovernor) November 9, 2016
Former Republican presidential nominee and Mass. Gov. Mitt Romney, who harshly criticized Trump throughout the campaign, tweeted his "best wishes" to Trump.
Best wishes for our duly elected president: May his victory speech be his guide and preserving the Republic his aim.

— Mitt Romney (@MittRomney) November 9, 2016
Sen. Elizabeth Warren has remained silent on Trump, but she did praise Illinois Democrat Tammy Duckworth, who was elected to the U.S. Senate.
My friend @TammyforIL is one of the toughest fighters I know. Delighted to have her in the Senate! #electionnight pic.twitter.com/xibunzvFm6

— Elizabeth Warren (@elizabethforma) November 9, 2016
Former Sen. Scott Brown, who was one of Trump's earliest backers, tweeted a smiling photo with Trump. "What a night," he wrote.
What a night #MAGA. Time to get to work. Congrats to @realDonaldTrump and for keeping House and Senate. 1st time since 1922 I think. pic.twitter.com/MbFNxD8IdX

— Scott P. Brown (@SenScottBrown) November 9, 2016
Former Red Sox pitcher and outspoken conservative Curt Schilling posted celebratory Periscope videos throughout the night. He also mocked Monica Lewinsky and accused Clinton of cheating in the election.
On the plus side @HillaryClinton won't ask for a recount for fear of being caught cheating while she lost

— Curt Schilling (@gehrig38) November 9, 2016
Massachusetts State Rep. Geoff Diehl, Trump's state campaign chair and one of his most prominent backers in Massachusetts, told conservative news outlet the New Boston Post that he was not surprised by the result.
"Well, anybody who has been tuned into the last 10 years of what's been going on in government nationally knows it's time for a change," Diehl said. "It's why I've been supporting him through now, and to the end, of this campaign — he's an outsider."
Ernie Boch Jr., the local car dealership magnate, has been a major Trump supporter since last August, the beginning of the president-elect's campaign. Boch tweeted a cryptic message in the wee hours of Wednesday morning, perhaps boasting about his early support.
I knew it …

— Ernie Boch Jr. (@ErnieBochJr) November 9, 2016
Somerville Mayor Joseph Curtatone took the opportunity to calm an anxious immigrant, confirming that the city would remain a "sanctuary for the vulnerable."
Somerville will stand by you. https://t.co/LM4f7LPSFa

— Joseph A. Curtatone (@JoeCurtatone) November 9, 2016
Boston City Council President Michelle Wu pointed to Clinton's win of the popular vote and called for the end of the electoral college.
https://twitter.com/wutrain/status/796329164102074368