Politics
Massachusetts college students join national walkout for 'sanctuary campuses'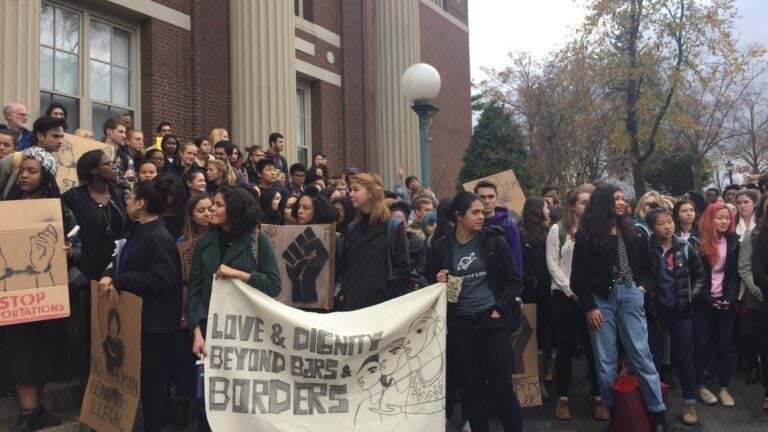 In protest of President-elect Donald Trump's immigration proposals, college students in Massachusetts joined a national walkout calling on their schools to protect undocumented immigrants on campus from potential federal deportation efforts.
Organized under the hashtag #SanctuaryCampus, students at Harvard, Tufts, MIT, UMass Amherst, Amherst College, Mount Holyoke College, and other local universities initiated petitions and rallies Wednesday seeking assurances that their fellow classmates, who are undocumented immigrants, would not be deported.
Trump has since softened his pledge to deport all of the estimated 11 million undocumented immigrants in the United States. However, the still-aggressive deportation proposal would still face major practical roadblocks.
Hundreds of Amherst College students converged at noon outside an administration building on campus. The rally included signs, speeches from students, chants, and a letter of demands to the liberal arts school's president.
Group of students just delivered demand letter to administrator as rest continue chants #sanctuarycampus pic.twitter.com/g8u12q6Abs

— Chris Lindahl (@cmlindahl) November 16, 2016
WE'RE OUT HERE!!! #SanctuaryCampus pic.twitter.com/WbtbJfFuAo

— AC Sanctuary Campus (@ACSanctCampus) November 16, 2016
'No hate, no fear, immigrants are welcome here' #SanctuaryCampus pic.twitter.com/BnT5zcwPj8

— Chris Lindahl (@cmlindahl) November 16, 2016
As the Hampshire Daily Gazette reported Tuesday, Amherst is among several so-called sanctuary cities in Massachusetts.
Republican Gov. Charlie Baker said Wednesday he would "work hard" to protect sanctuary cities from any retribution, such as the cutting off of federal funding, which Trump had pledged to do if elected.
According to a press release, Amherst organizers want a similar assurance from officials on campus.
"To declare Amherst a #SanctuaryCampus means to call it a place where undocumented students and community members are free from the fear of deportation, and where (ICE) officials are not welcome," the statement said. "This student-organized movement will call on Amherst College to adopt explicit policies that would protect undocumented students and community members."
Organizers at UMass Amherst also circulated an online petition asking school officials to "reaffirm" the university's principles of "diversity, inclusion and respect for all" in light of the result of the election.
"We would like to inquire about the concrete ways in which the University will provide for the safety and security of students, faculty, and staff who may lose legal protections for their immigration status or face other serious threats and forms of discrimination," reads the petition.
Rallies were scheduled at UMass and Mount Holyoke at 3 p.m. Wednesday.
At UMass, several hundred students demonstrated outside the Student Union building.
Marching to Goodell lawn @MDCollegian pic.twitter.com/waRxnAJns4

— Judith (@jgibsonokunieff) November 16, 2016
More than 600 #UmassAmherst students and workers gather at Student Union demanding @UMass to protect undocumented as a #SanctuaryCampus pic.twitter.com/U8e6LkE2Uv

— WHMP (@WHMP) November 16, 2016
Some of the signs in the crowd: "Fascists, alt-righters and nativists: you have no power here" & "Stop the racist killer cops" @MDCollegian. pic.twitter.com/yGHpOjF5mF

— Kyle DaLuz (@Kyle_DaLuz) November 16, 2016
The walkouts come the same day as Alfredo Garcia, a graduate student at Harvard Divinity School and undocumented immigrant, was profiled on the university's official news website, the Harvard Gazette.
Many colleges, including Harvard, do not inquire about applicants' legal statuses and there is no law prohibiting them from being admitted.
However, undocumented students like Garcia will likely face obstacles to getting quality jobs, as employers require Social Security numbers from job applicants. Per the Gazette:
An advocate for undocumented students, Garcia is spreading the word at Harvard about the quandary of unauthorized young immigrants, whose inability to obtain Social Security numbers limits their ability to pursue better lives. Even if they attend college, they are at risk of becoming part of a "disenfranchised underclass," in the words of Roberto Gonzales, assistant professor at Harvard Graduate School of Education and author of "Lives in Limbo: Undocumented and Coming of Age in America."
The Harvard Crimson reported Monday that a petition demanding protection for undocumented immigrants enrolled at the Ivy League school, among other things, had been signed by more than 4,000 people.