Politics
Massachusetts lawmakers join resurgent calls to abolish the Electoral College
Senate President Stan Rosenberg is among more than a dozen legislators co-sponsoring a resolution.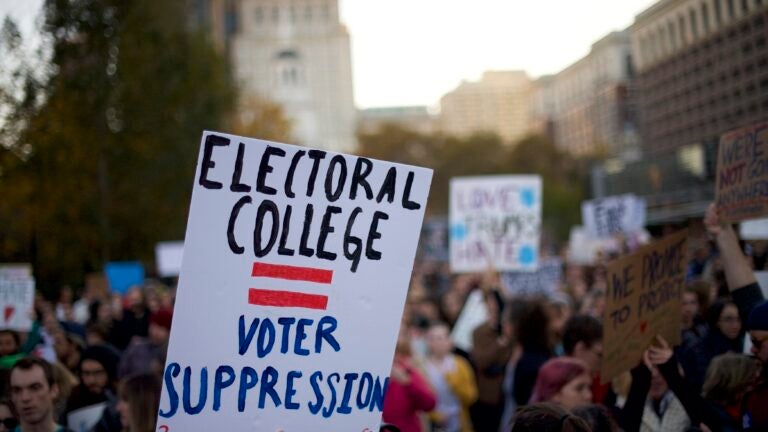 Not since the President George H.W. Bush has a non-incumbent Republican won the national popular vote.
So it may not be surprising that Democrats are re-upping calls to throw out the Electoral College, after the party's second presidential defeat, despite winning the majority of individual votes, in 16 years.
Sen. Eric Lesser, a Longmeadow Democrat and Obama administration alum, is proposing a resolution, which quickly picked up steam Monday, calling on Congress to abolish the Electoral College and allow for the direct election of the president and vice president by a popular vote.
As Politico first reported, the likelihood of the requisite constitutional amendment in the near future is virtually nonexistent. But Lesser hopes his resolution "contributes to such a discussion."
Lesser's effort quickly found allies among his colleagues on Beacon Hill, including Senate President Stan Rosenberg.
Just hours after it was filed Monday morning, a dozen other Massachusetts lawmakers had agreed to cosponsor the bill. According to Lesser—who called the response "impressive" and "surprising," especially for an out-of-session, holiday week—by 1 p.m. seven state representatives and five state senators, including Rosenberg, had jumped on.
"I think it speaks to how strongly people feel about this," Lesser told Boston.com Monday afternoon.
Lesser's efforts were mirrored last week in Washington, D.C. where Sen. Barbara Boxer, a California Democrat, introduced a bill to amend the Constitution to abolish the Electoral College.
"When all the ballots are counted, Hillary Clinton will have won the popular vote by a margin that could exceed two million votes," Boxer said in a statement. "The Electoral College is an outdated, undemocratic system that does not reflect our modern society, and it needs to change immediately."
Both Clinton and President-elect Donald Trump, among others, have expressed support for abolishing the Electoral College, though the latter changed his tune after winning the election earlier this month.
To reform the Electoral College via constitutional amendment, supporters would have to pass a bill through both Republican-controlled chambers in Congress by a two-thirds majority. Then it would have to be ratified by 38 of the 50 states — a highly unlikely outcome.
Another Electoral College reform plan called the National Popular Vote Interstate Compact would purportedly circumvent the constitutional amendment process. Under the compact, a group of states would agree to award their electoral votes to the winner of the national popular vote.
So far 10 (typically Democratic-voting) states, including Massachusetts, as well as Washington, D.C., have signed on to the agreement, totaling 165 electoral votes among them. That's more than 60 percent of the way to the 270 votes need to effectively bypass the Electoral College.
Asked about this alternative proposal, Lesser was "all for it," but said ultimately he preferred a more binding, long-term resolution.
In addition to the fact that states could later decide to pull out of the compact, the plan is also limited, as Nate Silver has written, by the difficult path to that 270-vote threshold. And if enacted, the compact could be challenged in the courts.
"Ultimately, it will have to be resolved, if it ever is, by a constitutional amendment," Lesser said.