Politics
Seven Sisters colleges respond to Steve Bannon's derogatory remark with open letter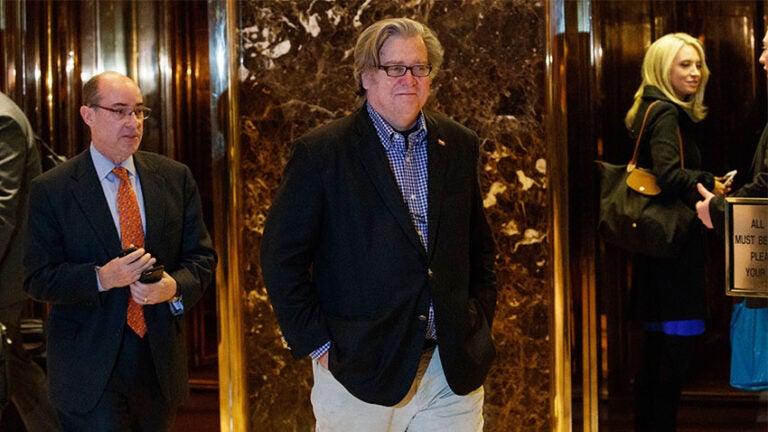 Add the Seven Sisters colleges to the growing chorus of critics of Steve Bannon, the "alt-right" leader and Breitbart chairman who was appointed as chief strategist to President-elect Donald Trump last week.
In an open letter Monday, the heads of the seven northeastern liberal arts schools called on Bannon to "take a more expansive, informed and tolerant world view" in his new position. They specifically cited a 2011 interview in which Bannon used a derogatory lesbian slur in reference to Seven Sisters college alumnae and the women's liberation movement.
"We are proud of our alumnae and students, who represent the spectrum of sexual orientation, race, class and religion as well as political party," the Seven Sisters leaders wrote. "Our alumnae are accomplished leaders in all spheres of public and professional life; they are committed to their work, their families and their countries."
The Seven Sisters letter comes just days after 650 women from Bannon's alma mater, Harvard Business School, signed an op-ed in The New York Times "unequivocally disavow[ing]" his appointment.
"Our institution has had the honor of being associated with great American politicians and leaders," the letter said. "Steve Bannon does not deserve a place alongside them on the mantle of Harvard Business School's legacy."
The Harvard Crimson reported Monday that within two days the number of signatories had more than doubled to 1,480.
Read the full email from Seven Sisters below:
Dear Mr. Bannon:

Given your appointment as Senior Counselor by President-elect Donald Trump, a number of your comments have been scrutinized by the press. As has been widely reported, in a 2011 interview with Political Vindication Radio, you disparaged lesbians, feminists and alumnae of the historic Seven Sisters Colleges, all in one statement that we deliberately choose not to repeat here. Other reported comments by you reflect other forms of bias, including racism, anti-Semitism and more. As the leaders of the Seven Sisters Colleges, we take deep exception to these comments and ask that you take a more expansive, informed and tolerant world view in your leadership role.

We are proud of our alumnae and students, who represent the spectrum of sexual orientation, race, class and religion as well as political party. Our alumnae are accomplished leaders in all spheres of public and professional life; they are committed to their work, their families and their countries. Now more than ever, we look to those who would lead the United States of America for a message of inclusion, respect and unity.

Debora Spar
President, Barnard College

Kim Cassidy
President, Bryn Mawr College

Sonya Stephens
President, Mount Holyoke College

Lizabeth Cohen
Dean, Radcliffe Institute, Harvard University

Kathleen McCartney
President, Smith College

Jonathan Chenette
Interim President, Vassar College

Paula Johnson
President, Wellesley College