Politics
Pivoting toward 2018, Massachusetts Dems eye Charlie Baker challenge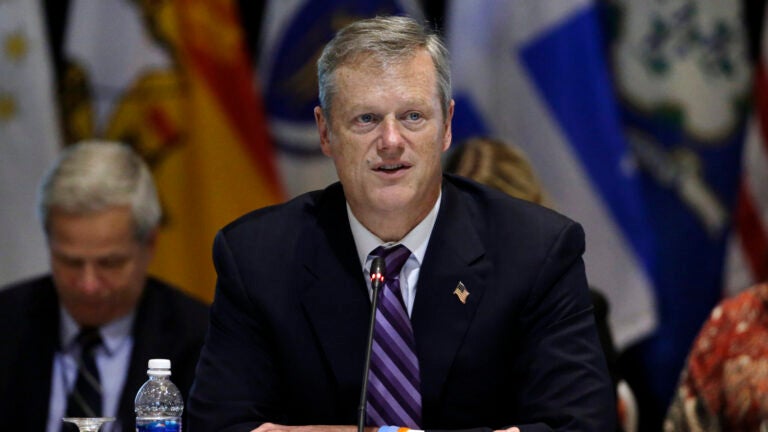 BOSTON (AP) — Massachusetts Democrats didn't wait for the dust to settle from a tumultuous national election before pivoting toward the state election two years hence, when the party's top priorities will include reclaiming the governor's office from Republican Charlie Baker.
The Democratic State Committee quickly tapped veteran political operative Gus Bickford to serve as party chairman, succeeding state Sen. Thomas McGee.
Bickford played a key role in organizing opposition to Question 2, a proposal to expand charter schools, which voters soundly defeated despite strong backing from Baker.
"We need to build on that, build off that energy," said Bickford.
GOP leaders are confident Baker will seek re-election and make a strong case for a second term, and that the party will be competitive in other state races.
"In 2018, Massachusetts Republicans look forward to fielding a strong slate of qualified candidates for offices up and down the ticket," said Kirsten Hughes, state party chairwoman.
A closer look at what lies on the political horizon:
What's on the ballot in 2018?
All of the statewide constitutional offices, first and foremost governor. U.S. Sen. Elizabeth Warren, a leading national voice for progressive Democrats, will also be up for a new six-year term. Massachusetts' nine U.S. House seats and all 200 seats in the Legislature will be up for grabs as well.
___
Who might run?
Any number of Democrats could eye the governor's office. But many of the party's most prominent elected officials, including Boston Mayor Marty Walsh, U.S. Rep. Joe Kennedy and Attorney General Maura Healey, could choose to stay put, leaving it to lesser-known candidates to challenge Baker.
Newton Mayor Setti Warren's decision not seek re-election in 2017 has heightened speculation that he is setting his sights on the Statehouse in 2018, as did a subsequent report from Politico Massachusetts that John Walsh, a top strategist to former Democratic Gov. Deval Patrick, had joined Warren's political team.
Other possible candidates include Somerville Mayor Joseph Curtatone, Salem Mayor Kim Driscoll and outgoing state Sen. Dan Wolf, of Harwich.
"We just have great state leaders and I believe we will have a spirited primary, which is good for the voters," said Bickford.
Former Boston Red Sox pitching great Curt Schilling, a Republican and outspoken supporter of President-elect Donald Trump, has signaled his interest in running against Elizabeth Warren.
___
Beatable Baker?
It won't be easy.
Baker's favorability ratings have been among the highest of any governor in the nation the past two years. Voters seem to appreciate his cooperative approach with the Democratic-controlled Legislature. And his refusal to back Trump during the campaign could insulate him from criticism should the new president's policies prove widely unpopular in blue-state Massachusetts.
Terry MacCormack, a GOP spokesman, cited Baker's willingness to tackle thorny problems and reform failing agencies such as the MBTA.
"Governor Baker ran as a check on the status quo on Beacon Hill and voters are receptive to that message," said MacCormack.
Bickford agreed that Baker does indeed have a record to run on — though not necessarily a stellar one.
Fiscal difficulties persist despite a strong local economy, controversial efforts to privatize some MBTA functions have yet to bear fruit and the defeat of the charter school question suggests Baker is out of touch with voters on educational priorities, Bickford said.
___
Senate fight?
Republicans say they fully intend to field a candidate against Sen. Warren — assuming she runs — but are making no promises of getting behind Schilling if he enters the race.
Warren would no doubt be heavily favored. But Democrats can ill afford to dismiss a Schilling challenge, Bickford said, noting they were once beaten by "a candidate with a barn coat and a pickup truck." The reference was to Republican Scott Brown's stunning 2010 victory in a special election to succeed the late Democratic Sen. Edward Kennedy. Warren ousted Brown two years later.
Bickford signaled that Democrats might make an issue of Schilling's failed video game venture in Rhode Island, after a $75 million loan guarantee from that state.
Campaign donations Warren and her political action committee have received from lobbyists and Wall Street interests, despite her intense criticism of the financial industry, could generate questions about her "trustworthiness," MacCormack said.