Elizabeth Warren
Elizabeth Warren defends her stand against Cures Act, despite local support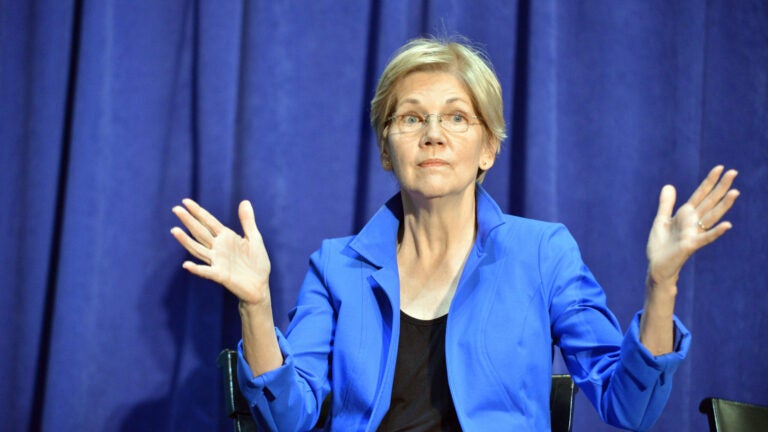 Elizabeth Warren is still skeptical about the 21st Century Cures Act.
Despite pushback from local addiction treatment groups and the unanimous approval of Massachusetts Democrats in the House, Warren stood by her opposition to the health care bill, which was passed overwhelmingly Wednesday in the lower chamber. Warren helped craft the bill for more than two years, but says the legislation was "hijacked" and now includes giveaways to the pharmaceutical industry.
"Anything that was going to cost the pharmaceutical industry money disappeared from the bill, and what they got instead were some new giveaways," Warren told WGBH's Boston Public Radio in an interview Thursday.
The Cures Act would provide increased funding for health initiatives, including medical research and opioid addiction treatment. As The Boston Globe reported this week, Warren has received criticism for her stance from local health groups eager to see the funding put into action. But the bill has also attracted a historic degree of lobbying—more than 1,455 lobbyists representing 400 companies, according to NPR.
"It's a reminder of what this place is like," Warren said Thursday.
In a speech Monday, the senator called the bipartisan bill "extortion."
"Compromise is putting together common-sense health proposals supported by Democrats, by Republicans, and by most of the American people, and passing them into law," the so-called firebrand said in the Senate floor speech. "Extortion is holding those exact same proposals hostage unless everyone agrees to special favors for campaign donors and giveaways to the richest drug companies in the world."
Since that speech, Warren said the bill had moved in "substantially better direction" and attributed its wide support (particularly from the nine Democratic representatives from her home state) to those changes.
But those changes (an amendment on how opioid treatment funding was paid out, the removal of an exemption for reporting payments doctors received from drug companies) haven't yet swayed Warren's vote.
"There are problems still in this bill and there is a giant giveaway to'Big Pharma,'" she said Thursday.
Warren isn't alone in her skepticism. Fellow Sens. Bernie Sanders, of Vermont, and Dick Durbin, of Illinois, have also voiced their opposition, though Stat News reports it is expected to pass in the Senate next week.