Politics
Here are all the harsh things Mitt Romney said about Donald Trump
Despite waging war against Trump for nearly 18 months, the former Massachusetts governor is a candidate for secretary of state.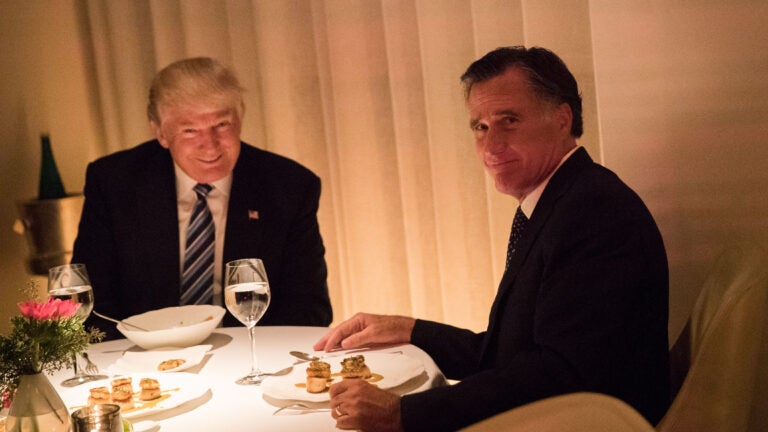 From searing social media takedowns to sautéed frog legs, Donald Trump and Mitt Romney's relationship has undergone a dizzying transformation over the last 18 months. Or perhaps more appropriately, in the weeks since Trump became the president-elect.
Once a fervent anti-Trump Republican, Romney lavished the president-elect with praise following their Tuesday night dinner meeting, as the former Massachusetts governor pitches himself for secretary of state.
"[Trump] won the general election, and he continues with a message of inclusion and bringing people together,"  he said.
Whether the heel turn from Never Trump and Team Trump helps Romney get the appointment remains to be seen. For his sake, hopefully the president-elect doesn't read this—a list of everything Romney said abut Trump—before making the decision:
June 15, 2015: Trump officially announces he's running for president.
July 18, 2015: After Trump disparaged the military record of Arizona Sen. John McCain…
The difference between @SenJohnMcCain and @realDonaldTrump: Trump shot himself down. McCain and American veterans are true heroes.

— Mitt Romney (@MittRomney) July 18, 2015
December 8, 2015: Following Trump's proposal to ban Muslim immigrants from the United States…
On Muslims, @realDonaldTrump fired before aiming. @SpeakerRyan is on target: https://t.co/vgK4dll0A0

— Mitt Romney (@MittRomney) December 8, 2015
December 18, 2015: Though he did not mention the then-candidate by name, this Romney tweet was largely seen as a "subtweet" directed at Trump, who had hours earlier praised Russian President Vladimir Putin.
Important distinction: thug Putin kills journalists and opponents; our presidents kill terrorists and enemy combatants.

— Mitt Romney (@MittRomney) December 18, 2015
February 24: In the early days of Trump's continued and unprecedented refusal to release his tax returns, Romney went on Fox News in an attempt to bait the real estate mogul into disclosing the documents.
. @MittRomney to Neil: We have good reason to believe there's a bombshell in Donald Trump's taxes #CAVUTO @FoxNewshttps://t.co/Nkx3fgYDIq

— Neil Cavuto (@TeamCavuto) February 24, 2016
February 25: After Trump fired back hard at the former GOP nominee, Romney responded in a series of tweets, continuing to prod "the Donald" over his tax returns.
Methinks the Donald doth protest too much. Show voters your back taxes, @realDonaldTrump. #WhatIsHeHiding

— Mitt Romney (@MittRomney) February 25, 2016
No legit reason @realDonaldTrump can't release returns while being audited, but if scared, release earlier returns no longer under audit.

— Mitt Romney (@MittRomney) February 26, 2016
.@realDonaldTrump taxes for last 4+ years are still being audited. There are more #bombshells or he would release them.

— Mitt Romney (@MittRomney) February 26, 2016
.@realDonaldTrump got it wrong: I released back taxes in Jan '12, early in primary process–just like he should do. https://t.co/VrLgnEnNI7

— Mitt Romney (@MittRomney) February 26, 2016
February 28: A few days later, after Trump incorrectly stated the date Romney released his own tax returns in 2012, the former nominee responded that "facts are stubborn."
@realDonaldTrump Facts are stubborn. I released my back taxes on 1/24/12. No excuse for hiding your back taxes. https://t.co/P9vRhmEcF3

— Mitt Romney (@MittRomney) February 28, 2016
February 29: After Trump struggled to respond to a question about the support he received from former Ku Klux Klan leader David Duke, Romney tweeted his disgust.
A disqualifying & disgusting response by @realDonaldTrump to the KKK. His coddling of repugnant bigotry is not in the character of America.

— Mitt Romney (@MittRomney) February 29, 2016
March 3: A few days later, despite Trump's emergence as the frontrunner for the Republican presidential nomination, Romney devoted a 15-minute speech to roundly denounce the candidate as a "phony," "fraud," and "con man."
Romney called Trump's foreign policy "dangerous" and "very, very not smart." He also trashed the real estate mogul's dishonesty, temperament, and business record.
"He's playing the members of the American public for suckers," Romney said. "He gets a free ride to the White House and all we get is a lousy hat."
The New York Times has the full transcript of the speech.
In a series of tweets during the speech, Romney said Trump's "promises are as worthless as a degree from Trump University" and that he wouldn't have accepted the businessman's endorsement in 2012 given the current circumstances.
If Trump had said 4 years ago the things he says today about the KKK, Muslims, Mexicans, disabled, I would NOT have accepted his endorsement

— Mitt Romney (@MittRomney) March 3, 2016
March 6: Romney followed up his anti-Trump speech with an appearance on Meet the Press the following Sunday.
"Is someone with his record and someone who believes the things he believes, which in my view would lead to a recession and to a trade war, and would lead to a world being less safe, do we want that person to be president of the United States?" he asked (rhetorically) NBC reporter Chuck Todd.
March 8: A few days later, Romney promoted a conservative group's ad (which has since been made private on YouTube) mocking Trump's claim of having "the best words."
Trump has the best words. Take it from him. @AmFutureFund https://t.co/SC86cTts6E

— Mitt Romney (@MittRomney) March 8, 2016
March 13: In an interview with The Boston Globe, Romney explained that he was at first hesitant to criticize Trump, due to the inevitable public blowback he would receive.
"But the hesitancy was overcome by the outrage, over KKK and Muslims and other things," he said.
March 22: At a Republican fundraiser later that month, Romney turned to comedy when it came to Trump, delivering a number of jokes at the candidates' expense.
Mitt Romney at @NRCC dinner: "Donald Trump has had several foreign wives. It turns out that there are really are jobs Americans won't do."

— Kris Hammond (@KrisHammond) March 23, 2016
May 11: Romney continued to call out Trump for his refusal to release his tax returns.
"There is only one logical explanation for Mr. Trump's refusal to release his returns: there is a bombshell in them," Romney posted on Facebook.
It is disqualifying for a modern-day presidential nominee to refuse to release tax returns to the voters, especially one…

Posted by Mitt Romney on Wednesday, May 11, 2016
June 11: In a two-part interview with CNN's Wolf Blitzer, Romney said he was worried Trump was promoting "trickle-down racism."
"We know what he believes," said Romney, noting that Trump had not apologized for his widely-condemned attacks on the judge hearing a case involving Trump University.
October 7: Following the release of a tape revealing Trump bragging about physical unwanted sexual advances, Romney called the behavior "vile."
Hitting on married women? Condoning assault? Such vile degradations demean our wives and daughters and corrupt America's face to the world.

— Mitt Romney (@MittRomney) October 8, 2016
October 8: "I was offended and dismayed by what was said and done by Mr. Trump," Romney said at a rally in Nevada for Joe Heck, a Republican candidate for Senate.
October 26: Two weeks before the election, Romney urged voters to elect down-ballot conservative candidates, notably leaving off one top-of-the-ticket name.
Be sure to head to the polls for GOP Senate, House and statehouses; they are essential to defend and advance constitutional conservatism.

— Mitt Romney (@MittRomney) October 26, 2016
November 8: Trump wins the election.
November 9: Romney gaves his best wishes to the president-elect on Twitter, and followed up with a congratulatory phone call.
Best wishes for our duly elected president: May his victory speech be his guide and preserving the Republic his aim.

— Mitt Romney (@MittRomney) November 9, 2016
November 29: Following two meetings with the president-elect and his aides, Romney told reporters Tuesday night that he has "increasing hope" about Trump.
Here's Mitt Romney talking to reporters after his dinner with Trump at Jean George's. pic.twitter.com/nzj8FN0gug

— Hunter Walker (@hunterw) November 30, 2016
In possibly-related news, Romney is reportedly among the final candidates to be Trump's secretary of state.
"I happen to think that America's best days are ahead of us," Romney said Tuesday.
Romney's full comments, as transcribed by the Washington Post.
I had a wonderful evening with President-elect Trump. We had another discussion about affairs throughout the world, and these discussions I've had with him have been enlightening and interesting and engaging. I've enjoyed them very, very much.

I was also very impressed by the remarks he made on his victory night. By the way, it's not easy winning. I know that myself. He did something I tried to do and was unsuccessful in. He won the general election and he continues with a message of inclusion and bringing people together and his vision is something which obviously connected with the American people in a very powerful way.

The last few weeks he's been carrying on a transition effort, and I can tell you I've been impressed by what I've seen in the transition effort. The people he's selected as members of his Cabinet are solid, effective, capable people. Some of them I know very well. Nikki Haley and I go way back. She's an outspoken, strong, powerful leader. Tom Price is someone who actually came to my office before he had run for Senate and we spent time talking about healthcare. What an expert and solid thinker in that arena and others. Jeff Sessions is someone who I knew through my campaigns, helped me very early on, he has a distinguished record in the Senate. And, of course many others, Betsy DeVos and a long list of people, very impressive individuals.

I happen to think that America's best days are ahead of us. I think you're going to see America continue to lead the world in this century. And what I've seen through these discussions I've had with President-elect Trump, as well as what we've seen in his speech the night of his victory, as well as the people he's selected as part of his transition, all of those things combined give me increasing hope that President-elect Trump is the very man who can lead us to that better future. Thank you.