Politics
Elizabeth Warren introduces bill to ease dilemma faced by these two Boston Marathon bombing survivors
The legislation is named after Jessica Kensky and Patrick Downes, who each lost legs in the attack.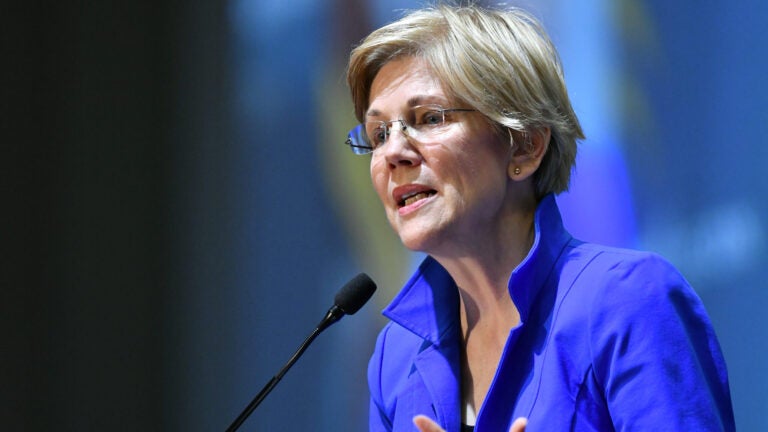 Sen. Elizabeth Warren introduced a bill Wednesday that she says would make it easier for victims of terrorism to seek specialized care at military health care facilities.
The bill is named after Jessica Kensky and Patrick Downes, two since-married Boston Marathon bombing survivors, who were treated at Walter Reed National Military Medical Center after losing limbs in the attack.
According to the Massachusetts senator's office, military hospitals are only accessible to civilians granted Secretarial Designee (SECDES) status, a seldom-given designation for the severely injured, by the secretary of defense.
As The Boston Globe reported, the couple had to extensively lobby local elected officials, including Warren, for help obtaining the status for Kensky, whose injuries were more serious. Downes was not granted the status, but moved down to Washington, D.C., with his wife as well, if only in a supportive role.
Warren's legislation calls on the Department of Defense to evaluate terrorism victims in critical care for expedited SECDES status.
The bill would also require the Department of Defense to consult with the Department of Homeland Security and "other appropriate agencies" to establish procedures to contact and support local medical facilities treating traumatic injuries caused by a terrorist attack. In that way, Warren says the bill has the added benefit of giving Walter Reed and other military treatment facilities the ability to share their expertise.
"When I visited Jessica and Patrick at Walter Reed, I saw firsthand the state of the art facilities and met with some of their world-class physicians," Warren said in a statement Wednesday. "Jess and Patrick credited this highly specialized team for helping them recover more fully than would have been possible otherwise."
"But many people who suffer blast injuries are unable to find this kind of expert care," the senator added. "Our country needs a system that will allow military doctors to share their expertise with civilian doctors and that will provide victims of terrorism with streamlined access to our military healthcare facilities."
Kensky and Downes called their experience at Walter Reed "life changing."
"The injuries that we and many others suffered as a result of the Boston Marathon bombing are most commonly seen by military physicians, and so they are best equipped to help us return to healthy, active, and purposeful lives," they said in a statement. "We are incredibly grateful to Senator Warren for all the ways she has supported us in our recovery, and for her leadership in ensuring that all those who come after us receive the best care our country has to offer."
Downes finished the 2016 Boston Marathon earlier this year, running on a prosthetic leg. In 2014, Downes and Kensky completed the race together on hand-cycles, which they got from Walter Reed, according to Warren's office.
The couple has also been featured in an HBO documentary and have been cast in the upcoming marathon bombing movie, Patriots' Day.