Politics
Ed Markey wants Trump's education pick Betsy DeVos to pay old $5.3 million election fine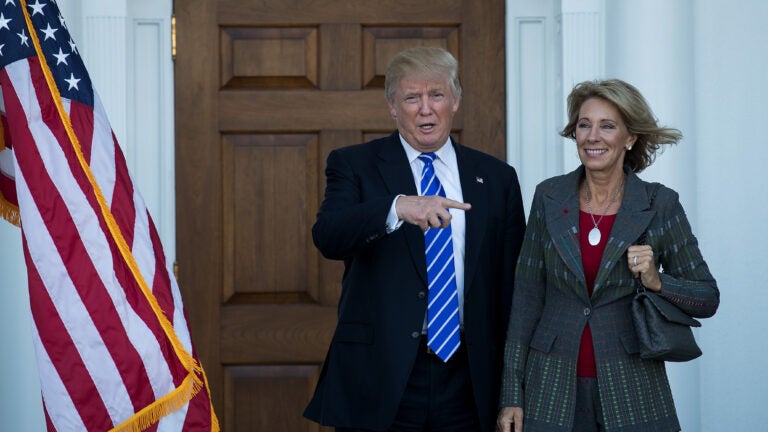 Sen. Ed Markey, of Massachusetts, and four liberal colleagues are calling on Betsy DeVos, a billionaire philanthropist and President-elect Donald Trump's education secretary nominee, to pay back more than $5 million her former political action committee owes in overdue election fines.
As Politico reported last month, a school voucher advocacy group formerly run by DeVos owes the state of Ohio more than $5.3 million.
The overdue fines reportedly date back to 2008, when the group, All Children Matter, illegally used its national PAC to funnel money to its Ohio affiliate, effectively circumventing the state's limits on individual political donations. Per Politico:
The state commission told POLITICO that DeVos' group initially asked Ohio if this sort of spending was permissible. When the state said no, DeVos' group did it anyway.

"I've been with the commission since 1996 and I've never had anyone else ask for an advisory opinion and then proceed to not do what the opinion said," said Philip Richter, executive director and staff attorney at the Ohio Elections Commission.
In their letter Monday, the five senators wrote the group's "blatant disregard for the law" was "deeply troubling" and the refusal to pay the fines was "unconscionable."
They noted that as education secretary, DeVos would "be responsible for administering our nation's student-loan programs and ensuring that borrowers repay their loans in a timely manner."
In an e-mailed statement, Ed Patru, a spokesman for a group called Friends of Betsy DeVos, dismissed the lawsuit as a "politically driven effort to derail education reform in Ohio."
"Betsy was not a party to the suit, a trial court judge ruled none of ACM's officers or board members can be held liable for the fine, that ruling was never challenged by the state of Ohio, and as a result, the issue was put to rest eight years ago," Patru wrote.
The group of lawmakers—all Democrats, save for Sen. Bernie Sanders, an independent—asked DeVos to pay the fine before her confirmation hearing.
The full letter can be read here.