Politics
This Massachusetts bill could block Donald Trump from the ballot in 2020
Unless he releases his tax returns.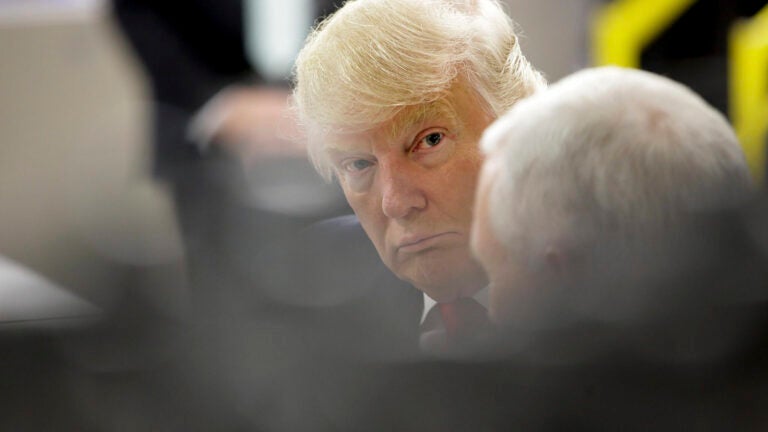 Massachusetts state Sen. Michael Barrett says his newly announced bill doesn't specifically target President-elect Donald Trump.
But the timing of the bill—to ban presidential candidates who don't release their tax returns from the state ballot—is no coincidence.
"The immediate inspiration was Donald Trump's disregard for a long-standing tradition," Barrett said in an interview Wednesday. "People want to be reassured that the person holding the highest office in the world won't use it to enrich himself."
Barrett's legislation would make the release of candidate tax returns, a modern presidential campaign practice that Trump infamously ignored this year, a requirement for appearing on the Massachusetts ballot.
As a starting point, Barrett proposes that candidates must release their three most recent filings to get on the primary ballot and their five most recent years for the general election. But he says he's open to compromise. Candidates would also have to file a "statement of financial interest," just like candidates in Massachusetts do.
Even as president, Trump would be barred from the Massachusetts ballot, if Barrett's bill is passed and the president-elect continues to withhold his filings.
"[Trump] could not get on the ballot except as a write-on," Barrett said, "unless he complies."
Though concerned about Trump's extensive conflicts of interest, the Lexington Democrat calls the legislation "even-handed and nonpartisan." In a press release Tuesday, he called the bill a "defense of the tradition of transparency"—and hopes other states will join.
Similar legislation has in fact been filed in New York, as highlighted by a recent New York Times editorial earlier this month.
"The idea here isn't to see Massachusetts isolated," Barrett said Wednesday. "I think a good many states in the United States should enact similar legislation. There is a strength in numbers."
In response to questions over the constitutionality of the law, Barrett points out that most states already set "modest" conditions, such as signature requirements, for candidates to qualify for the ballot.
Before announcing the proposal, Barrett also consulted Harvard Law School professor Laurence Tribe, a constitutional law scholar and former constituent from when the state senator represented Cambridge.
"Senator Barrett's tax-return-release bill is just the kind of effort through which the Commonwealth of Massachusetts can set an example of good government for the rest of the nation to follow," Tribe told Boston.com in an email Wednesday
In the Times article, Tribe noted that ballot access requirements "vary significantly from state to state" and said the New York bill "might be able to simply add tax disclosure as a procedural ballot access requirement."
"I congratulate Mike on his creativity and on the care he's taking to meet all federal constitutional requirements," Tribe said of Barrett's legislation Wednesday.
Likewise, the senator is confident his legislation—which he plans to introduce early next year—would withstand a challenge.
"I would welcome it being litigated because it would give it a supreme bill of health," Barrett said. "But we have to pass the bill first."