Politics
Trump voters don't want Trump to get rid of Elizabeth Warren's consumer agency
In a new poll, just 7 percent said they to want to get rid of the Consumer Financial Protection Bureau.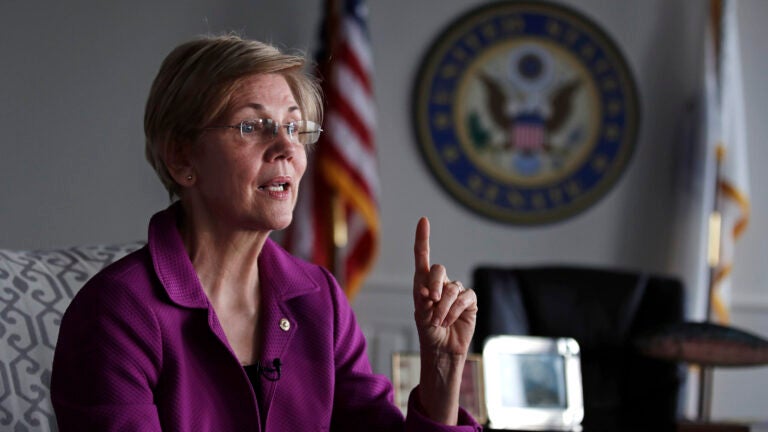 Arguably, Sen. Elizabeth Warren's biggest tangible accomplishment came before she was even elected: The Consumer Financial Protection Bureau.
As the architect of the consumer agency, Warren is now posed to defend it following the election of President-elect Donald Trump—with whom she bitterly feuded during the campaign.
But the Massachusetts senator may have an unlikely ally, or allies, in her cause: Trump voters.
A Morning Consult poll released Wednesday finds that most Trump voters don't want to see Warren's brainchild agency rolled back.
According to the poll, 15 percent want the Trump administration to expand the CFPB's power, 41 percent want it left alone, 21 percent want Trump to limit its power, and 7 percent want the president-elect to get rid of the agency entirely. Another 17 percent are not sure.
The results of the poll put Trump voters at odds with many Congressional Republicans. Trump and his treasury secretary choice, Goldman Sachs executive Steve Mnuchin, have been outspoken skeptics of Dodd-Frank, the financial reform law that implemented Warren's endangered, though increasingly impactful, agency.
But Warren says that Wednesday's poll is evidence that the electorate is on her side.
"Big bank lobbyists and their friends in Washington may have forgotten about the devastating 2008 financial crisis, but it's clear the American people haven't," the senator said in a statement Wednesday.
"Working families want a strong consumer agency and tough rules on Wall Street – no matter who they supported for president," she added.
Despite the potential threat posed by a Trump administration, the CFPB has recently become "one of Washington's most powerful and pugnacious regulators," as The New York Times reported last month:
The bureau has overhauled mortgage lending rules, reined in abusive debt collectors, prosecuted hundreds of companies and extracted nearly $12 billion from businesses in the form of canceled debts and consumer refunds. In September, it exposed the extent of Wells Fargo's creation of two million fraudulent customer accounts, igniting a scandal that provoked widespread outrage and toppled the company's chief executive.
A plurality of Trump supporters also support the CFPB's founding law. Per Wednesday's poll, 46 percent said they would like to expand or keep Dodd-Frank as it is, while 27 percent said they would like to scale back or repeal the law. Another 27 percent said they were not sure.
Following last month's election, Trump pledged to "dismantle" the law.