Politics
Donald Trump repeatedly refused to take a CNN reporter's question during his press conference
The president-elect's first press conference briefly descended into disarray.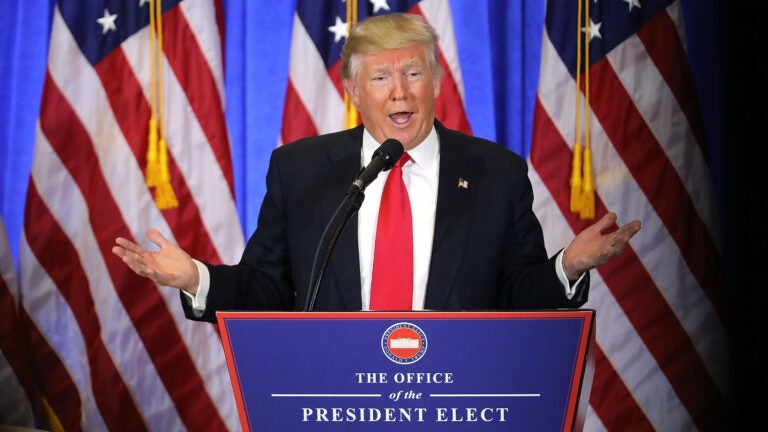 Donald Trump's first press conference briefly descended into chaos Wednesday when the president-elect refused to take a CNN reporter's question, punishing the network for its recent report about claims that Russia has obtained compromising personal and financial information about him.
Earlier in the press conference, Trump criticized CNN and BuzzFeed for reporting on the memos, in which Russian operatives claim to have damaging personal and financial information about Trump.
However, unlike BuzzFeed, which published the detailed and unverified memos, CNN reported only that the memos had been presented to Trump, President Barack Obama and other senior government officials. CNN did not report on the details contained in the memos because the network was unable to independently verify them.
"It's a disgrace," Trump said of the reports Wednesday, calling the information "fake" and asking for an apology from the outlets.
"Sir, since you're attacking us, can you give us a question," CNN reporter Jim Acosta asked.
"Not you," Trump replied, while pointing to other reporters for the next question. "Your organization is terrible…Quiet, she's asking a question. Don't be rude. Don't be rude."
"Can you give us a question," Acosta repeatedly asked.
"I am not going to give you a question," Trump replied. "You are fake news."
"Mr. President-elect, that is not appropriate," Acosta said, who was trying to ask whether Trump could "categorically state" whether anyone on his campaign had been in contact with the Russian government, which intelligence agencies say worked to swing the election in the Republican's favor.
Afterward, Acosta said the same question was later asked by ABC News reporter Cecilia Vega and, though Trump did not immediately answer the question, he later told reporters no.
Acosta also said that Trump's incoming press secretary, Sean Spicer, told him that he would be "thrown out of the press conference" if Acosta similarly pushed for a question ever again.
CNN's @Acosta: Trump spokesman @seanspicer warned he'd be expelled from presser if he pushed for another question https://t.co/LcXOHDzpyb

— CNN International (@cnni) January 11, 2017
CNN released a statement Wednesday afternoon criticizing Trump for conflating their reporting with the BuzzFeed's decision to publish the unsubstantiated memos.
"They are using BuzzFeed's decision to deflect from CNN's reporting, which has been matched by other major news organizations," the network said. "We are fully confident in our reporting."
https://twitter.com/CNN/status/819242348702007302