Politics
Elizabeth Warren wore a Planned Parenthood scarf to Trump's inauguration
She was given the scarf earlier this week by a Boston resident.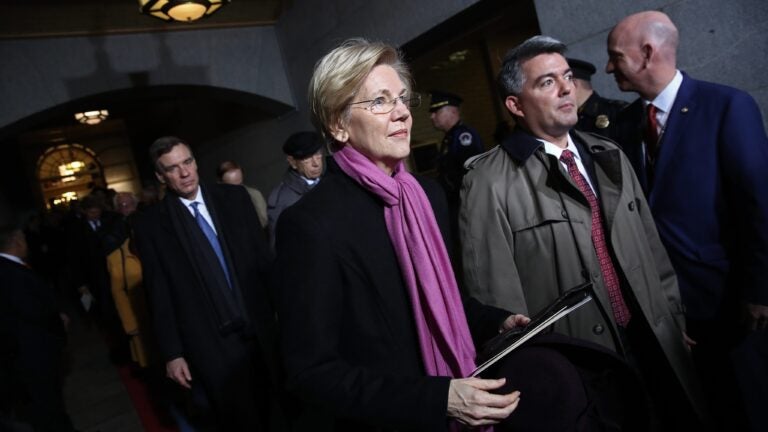 Unlike many of her Democratic colleagues in the lower chamber, Sen. Elizabeth Warren was in attendance at President Donald Trump's inauguration Friday.
But that didn't mean the Massachusetts senator wouldn't be making a statement.
Sen. Patty Murray, a fellow Democrat, from Washington state, posted a photo Friday afternoon with Warren. Both senators were wearing bright Planned Parenthood scarves.
Today, we stood with Planned Parenthood and the millions of women & men who don't want to see their health care taken away. -PM pic.twitter.com/Oip7Z5q4Sh

— Senator Patty Murray (@PattyMurray) January 20, 2017
Murray and Warren have both been outspoken advocates of the reproductive health care nonprofit, which thanked the senators for their support.
According to Warren's office, the Massachusetts senator was given the pink Planned Parenthood scarf by 23-year-old Boston resident Kanisha Hans during a Senate forum Thursday hosted by Murray, Warren, and Sen. Debbie Stabenow, a Michigan Democrat.
The forum focused on individuals who the senators said would be hurt by the policies of Rep. Tom Price, a Republican from Georgia and Trump's nominee for secretary of health and human services. Price supports repealing the Affordable Care Act and defunding Planned Parenthood.
During the forum, Hans testified that she receives healthcare coverage due to a provision in the Affordable Care Act, also known as Obamacare, that allows young adults to stay on their parents' insurance plans until the age of 26. Hans also said that she relies on Planned Parenthood for access to birth control for medical reasons.
"For myself and millions of women across this country, having access to birth control and health insurance are central to staying healthy," she said.
House Speaker Paul Ryan has said that defunding the organization will be included in the Republican-controlled House's bill to repeal the Affordable Care Act.
However, as NPR recently reported, that effort could be more complicated than initially perceived, due to the different sources from which Planned Parenthood receives government funding.
Planned Parenthood is already prohibited from using federal money for abortion services. But as the country's largest single provider of abortions, Planned Parenthood continually has been in the crosshairs of anti-abortion Republicans, including newly inaugurated Vice President Mike Pence.
The organization says only 3 percent of all its health services are abortion services.