Politics
What happens to Donald Trump's Twitter account now that he's president?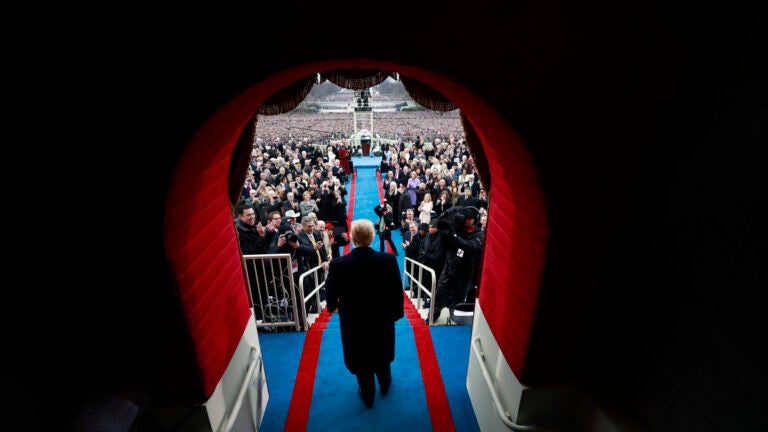 From the beginning of his campaign, President Donald Trump has wielded his infamous Twitter account with unprecedented efficiency, blasting out thousands of tweets directly to his millions of followers.
Without spending a dollar, Trump's campaign was able to use @RealDonaldTrump to bypass the media and throw the news cycle off its axis with immediate (and sometimes baseless) messages. Despite being outspent by his main primary and general election opponents, Trump practically rode Twitter into the White House.
And we shouldn't expect Trump's tweets to stop anytime soon, says Nicco Mele, director of the Shorenstein Center on Media, Politics and Public Policy at Harvard's Kennedy School.
"We have every reason to believe [Trump] will use it in the same way he did during the campaign; it's his primary vehicle for communicating with the public," he said, noting Trump's recent avoidance of traditional interviews and press conferences.
"He could launch attacks and reinforce his message when and where he wanted," Mele added.
Security concerns and public opinion notwithstanding, Trump is intent on keeping his Twitter handle and has reportedly resisted his advisors' attempts to make him part with his Samsung Galaxy phone.
"I think, I'll keep it," the president told The Times of London in a recent interview, referring to his Twitter handle. Before the election, President Barack Obama's administration said they would pass on the official White House social media accounts they created, including the @POTUS Twitter account, to the incoming president.
But Trump says he prefers the reach of his Twitter, Facebook, and Instagram accounts—which had a combined 46 million followers when he spoke to the Times last Sunday. After winning the election, Trump told CBS's 60 Minutes he would be "very restrained" in his Twitter use, if he used it at all. But Trump now says he's changed his mind.
"I thought I'd do less of it, but I'm covered so dishonestly by the press—so dishonestly—that I can put out Twitter…I can go bing bing bing…and as soon as I tweet it out—this morning on television, Fox—'Donald Trump, we have breaking news,'" he told the Times.
According to multiple reports, Trump has worried about the possibility of departing with his phone upon stepping into the Oval Office. But Mele says the president's phone is a matter of national security.
"What if someone hacks into it and uses his Twitter account to antagonize China," he wondered aloud. It wouldn't be the first time Trump's account was purportedly hacked.
As The Boston Globe chronicled in November, Obama struggled to maintain access to a smartphone upon taking office, amid the national security concerns of advisors (ultimately, Obama was saddled with a no-frills device, which he jokingly compared to a 3-year-old's play phone). The New York Times reported Friday morning that Trump did ultimately trade in his personal phone for a "for a secure, encrypted device approved by the Secret Service."
Following his inauguration, tweets did continue to stream out from Trump's personal Twitter account. And yet President Trump also took over the @POTUS account after taking the oath of office.
A spokesman for the National Archives and Records Administration told the news site Axios earlier this week that the particular account Trump uses is immaterial, as long as all posts are accurately archived, as required by the Presidential Records Act. Otherwise, there are no substantive legal restrictions on the president's use of social media.
But that doesn't mean Trump's account isn't worth close scrutiny.
A text analysis of @realDonaldTrump, subsequently published in the Washington Post, by data scientist David Robinson found a clear difference in the content and patterns of Trump's tweets during the campaign, depending on whether they were sent from an Android operating system (Trump's Galaxy) or an iPhone.
"This lets us tell the difference between the campaign's tweets (iPhone) and Trump's own (Android)," Robinson wrote. He also found that "emotionally charged words…were overwhelmingly more common on Android."
It's worth noting that, as of Friday afternoon, all of Trump's tweets—from both @realDonaldTrump and @POTUS—were sent via iPhone.
Trump would hardly be the first president to try to use technology to bypass the press. President Franklin D. Roosevelt was famous for his so-called "fireside chat" radio addresses. But Mele noted that those addresses were quantitatively and qualitatively very different. During his three terms in office, Roosevelt gave just 30 addresses.
"The fireside chats were relatively infrequent, longer, and negotiated with the radio networks," he said. "What is similar is the president of the United States directly communicating with the people. But with Trump, it's more about the crudeness."
As president-elect, Trump's direct—and, at times, impulsive—access to Twitter had already shown far-reaching implications. One critical tweet can send shockwaves through the stock market. Tech developers have already released an app to help individuals protect their portfolios and trade stocks off Trump's 140-character missives.
It's not just the vacillating financial world that's concerned. Potential hacking aside, foreign policy officials are also reportedly worried about the potentially disrupting effects of a haphazard tweet.
"If policy is gonna be made in 140 characters on Twitter and every reasonable measurement of accountability is being bypassed and people don't care about it, we have a problem," Secretary of State John Kerry said earlier this month. Later that day, Kerry's Clinton-era predecessor, Madeleine Albright, concurred in a separate discussion.
"Being thoughtful about the use of the power is one the great challenges that Trump's Twitter account presents," Mele said.
Apparently, the majority of the American public also finds @realDonaldTrump a challenge. According to a Quinnipiac University poll earlier this month, 64 percent of adults want Trump shut down his Twitter account as president—or, as CNN put it: "Delete your account." Yet, as observers of this past election know, the majority of people don't always get what they want.