Politics
Boston Mayor Marty Walsh isn't ruling out a future gubernatorial run
Walsh 2022?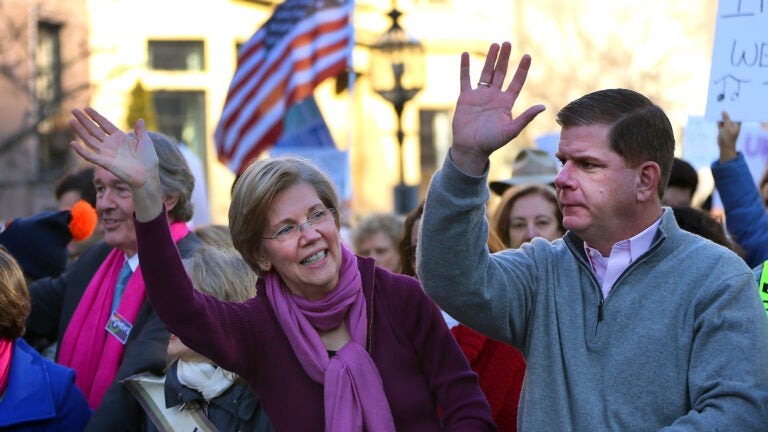 Boston Mayor Marty Walsh had previously ruled out running against Gov. Charlie Baker in 2018 (which would of put an abrupt end to the Democrat's so-called bromance with the Republican governor).
But does that mean Walsh is ruling out a future gubernatorial run altogether? Not so fast.
During Walsh's appearance Tuesday on WGBH's Boston Public Radio, a caller identified as "Lauren, from Roslindale" asked when, if ever, the mayor would be in the running for the Corner Office.
"I'm curious when I will be helping to campaign for your governorship?" asked the caller, who said she was disappointed in Baker's absence at the recent Women's March in Boston.
Walsh, who is facing re-election this year, replied that he had more immediate concerns, but wasn't categorically ruling anything out. He even went out of his way to talk fondly of his time working as a state representative in the State House.
"Let me get re-elected first and let's figure out if there is a next step," the mayor said. "Let's see what happens. I do love the State House. I spent 16 years there. You know, it was a great place. I grew up politically in that building, but I love being the mayor of the city of Boston and I'm focused on this year."
Walsh noted that his administration has "a lot of agenda items" to push forward this year, in addition to his 2017 re-election campaign.
"I tend to focus on one day at a time and don't look to far down the road," he said. "I'm focused on today."
That proverbial open door of an answer caught the attention of WGBH host Jim Braude, who pressed Walsh on his potential future plans.
"But you would never say never?" Braude asked.
"I'm focused on today," Walsh repeated.
"OK," Braude said.
So you're saying there's a chance? Never too soon to start speculating about elections that are more than five years away—at least.