Politics
An 'angered' Marty Walsh repudiates Donald Trump's executive order on sanctuary cities
"We will not be intimidated," said the Boston mayor.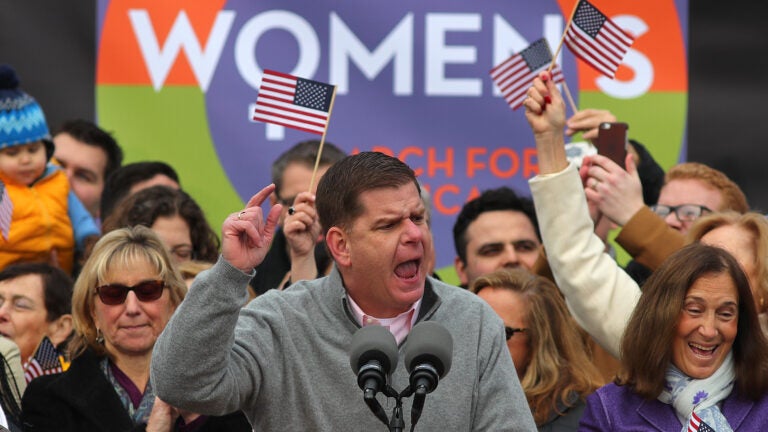 After President Donald Trump signed an executive order intended to strip sanctuary cities of federal funding, Boston Mayor Marty Walsh called a press conference Wednesday afternoon to issue a firm rebuke.
Mayor Walsh holds a press conference on President Trump's executive orders on immigration.

Posted by City of Boston on Wednesday, January 25, 2017
"I called this press conference today because I am disturbed and angered by the news out of Washington, D.C.," Walsh said, standing at a podium in front of a number of immigrant and first-generation American employees of the City of Boston. He called Trump's executive order a "destructive and unAmerican threat" and "a direct attack on Boston's people."
In a press conference earlier Wednesday, White House press secretary Sean Spicer said the executive order directs Homeland Security Secretary John Kelly to look at ways to strip sanctuary cities of federal funding, including grant money.
Boston is considered one of a number of so-called sanctuary cities, counties, and states, which do not cooperate with federal efforts to detain or deport undocumented immigrants. Advocates of the policy point to research showing that immigrants, both documented and undocumented, are less likely to report crimes or cooperate with law enforcement is they fear being questioned about their legal status.
"We will continue to foster trusting relationship between law enforcement and the immigrant community, and we will not waste vital police resources on misguided federal actions," Walsh said Wednesday.
According to the mayor, 28 percent of Boston residents are documented immigrants.
"We will not be intimidated by the threat to federal funding," he said. "We have each other's backs. And we have the Constitution of the United States of America on our side."
As immigration law experts have previously said, retributive policies directed at particular cities by the federal government could be vulnerable to legal challenges under the Constitution's anti-commandeering doctrine.
Walsh said the city's office of immigrant advancement was available to anyone who felt fearful or threatened.
"We will fight for our residents, whether immigrant or not, and provide the best quality of life for all Bostonians," Walsh said in a statement prior to his speech. "I will use all of my power within lawful means to protect all Boston residents — even if that means using City Hall itself as a last resort."
Walsh doubled down on that offer in his speech, when asked by reporters.
"If people want to live here, they'll live here," he said. "They can use my office. They can use any office in this building."
Walsh said he was not worried about the potential impact of federal funding to the city being cut.
The mayor's speech came shortly after a similarly firm rebuke by Joe Curtatone, the mayor of Somerville, a neighboring sanctuary city.
While Massachusetts is not a sanctuary state itself, it contains at least eight sanctuary cities and one sanctuary county, according to the Center for Immigration Studies. Gov. Charlie Baker, a Republican, has indicated he would oppose federal efforts to cut funding to the state's sanctuaries.
"I said all along that I think decisions about how communities want to manage their public safety issues and their community issues belong to them, and they should make whatever decisions are in the best interests of their communities," Baker told The Boston Globe following last November's election.
In a statement Wednesday, the state's Democratic attorney general, Maura Healey, suggested her office would take legal action if efforts to cut funding to sanctuary cities go through.
"The President's executive order is an irresponsible attempt to coerce our communities into conducting his mass deportations, and would impact all residents by stripping federal funding for roads, schools, police, health care, the elderly, and assistance for those in need," Healey said. "My office will be watching closely and I will be ready to stand with our cities and towns in the coming days."