Politics
Mayor Joseph Curtatone says Somerville 'will not waver' despite President Trump's sanctuary city order
Curtatone said he wished the president would review "accurate information."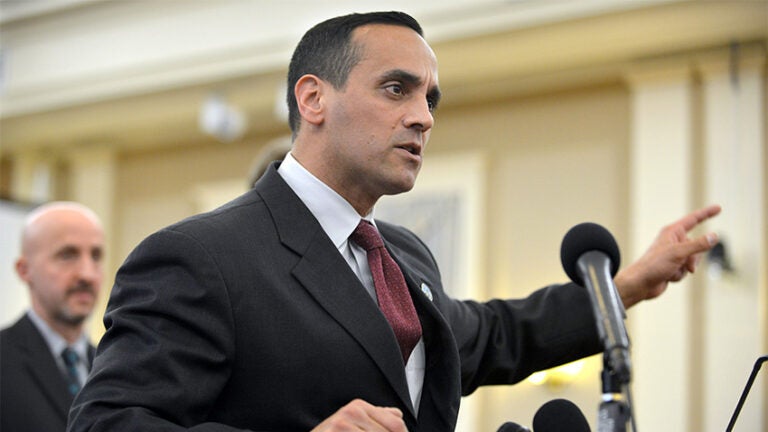 President Donald Trump signed an executive order Wednesday intended to pull federal funding from so-called sanctuary cities.
But in a speech from City Hall, Somerville Mayor Joseph Curtatone responded that, funding or not, his sanctuary city "will not waver."
"These are our neighbors," he said, noting that other local sanctuary cities, as well as Republican Gov. Charlie Baker, were "standing firm" in support of the local policy.
Somerville is one of a number of cities, as well as counties and states, that are so-called sanctuaries, meaning they do not cooperate with federal efforts to detain and deport undocumented immigrants. Curtatone said the policy makes communities safer by improving citizens relations with police.
"'Sanctuary' means that our local police and agencies do not — and will not — profile our residents to run immigration checks on them," said the mayor, who noted that one-third of Somerville's population is documented immigrants.
In a press conference Wednesday, White House press secretary Sean Spicer announced that Trump would sign an executive order to strip federal grant money from sanctuary states and cities. According to Spicer, the order directs Homeland Security Secretary John Kelly to figure out how to cut off federal funding streams received by sanctuary cities.
"The American people are no longer going to have to be forced to subsidize this disregard for our laws," Spicer said.
But Curtatone dismissed that notion.
"Sanctuary cities are not breaking any existing laws," he said. "Somerville does not harbor criminals and we are in regular communication with, and cooperate, in the interest of public safety, with our federal agencies."
Curtatone said the city cooperates with federal agencies on criminal cases, adding that Somerville's crime rate had dropped 50 percent since they became a sanctuary city in 1987. The mayor said he hoped Trump would review "accurate information."
Noting that roughly a quarter of the U.S. population lives in a sanctuary city, county, or state, Curtatone said Trump's order would be a "reckless" policy with "devastating" economic impact.
As Boston.com previously reported, immigration law experts have questioned whether such targeted, retributive action by the federal government would even be constitutional. Previously, Somerville officials said they would not rule out legal action against the Trump administration, if it goes through with efforts to strip federal money.
Curtatone reiterated Wednesday that Somerville would remain a sanctuary city, whether or not funding — roughly $12 million in total annually — is pulled. In a tweet Wednesday, he called Trump's executive order "theater."
Just so people know. What Trump did today is just theater. Hasn't actually cut anything b/c we have laws and he's not a king. https://t.co/GPBlOZm8lK

— Joseph A. Curtatone (@JoeCurtatone) January 25, 2017
The mayor has been a outspoken defender of Somerville's sanctuary city policy, pointing to studies showing that both documented and undocumented immigrants are less likely to report crimes or cooperate with local law enforcement if they fear being questioned about their legal status.
"Stereotyping makes people more distrustful," Curtatone told Boston.com in September.
While Massachusetts is not a sanctuary state itself, it contains at least eight sanctuary cities and one sanctuary county, according to the Center for Immigration Studies. Baker, a Republican, has indicated he would oppose federal efforts to cut funding to sanctuary cities.
"I said all along that I think decisions about how communities want to manage their public safety issues and their community issues belong to them, and they should make whatever decisions are in the best interests of their communities," the governor told The Boston Globe following last November's election.
In a statement Wednesday, the state's Democratic attorney general, Maura Healey, suggested her office would take legal action if efforts to cut funding to sanctuary cities go through.
"The President's executive order is an irresponsible attempt to coerce our communities into conducting his mass deportations, and would impact all residents by stripping federal funding for roads, schools, police, health care, the elderly, and assistance for those in need," Healey said. "My office will be watching closely and I will be ready to stand with our cities and towns in the coming days."