Donald Trump
Here's what the protest of Trump's refugee ban looked like at Boston's Logan Airport
Elizabeth Warren and Marty Walsh were among the local elected officials to rally demonstrators.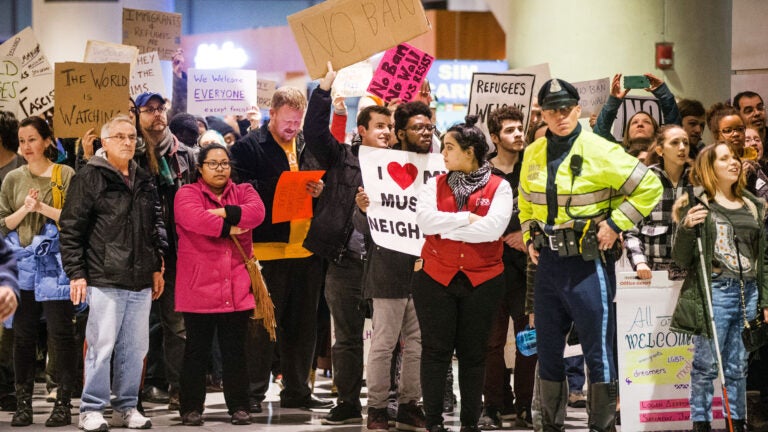 Protesters gathered at airports across the nation Saturday to demonstrate against President Donald Trump's executive order temporarily banning foreign refugees, as well as travelers from seven predominantly Muslim countries.
The order, which was temporarily and partially halted by several federal judges, had led to more than a hundred travelers, including several Boston-area academics, being denied entry to the United States. At Boston's Logan Airport, hundreds of protesters assembled outside the foreign arrivals gate for hours Saturday night, chanting "Let them in."
Chants of Let them in! at Boston Logan #MuslimBan pic.twitter.com/FozzjJm2ZC

— Luke O'Neil (@lukeoneil47) January 29, 2017
Scenes from tonight's protest against #MuslimBan at Logan Airport pic.twitter.com/QZrQvvW6Eh

— ACLU Massachusetts (@ACLU_Mass) January 29, 2017
The scene at Boston's Logan Airport right now pic.twitter.com/eDrSlNfQL3

— i have died (@ChrisCaesar) January 29, 2017
Protest against #MuslimBan at Logan pic.twitter.com/0OZD0MIhnB

— ACLU Massachusetts (@ACLU_Mass) January 29, 2017
Singing at Boston Logan Airport #NoBanNoWall #MuslimBan https://t.co/mNFjx00q9x

— Eli Gerzon (@eligerzon) January 29, 2017
Local elected officials, including Sen. Elizabeth Warren and Boston Mayor Marty Walsh, as well as, City Councilor and mayoral candidate Tito Jackson and Attorney General Maura Healey earlier in the day, also made appearances in support of the protest.
Here's @ACLU_Mass attorney @carltonwilliams with @SenWarren demanding #NoBanNoWall at Logan airport. pic.twitter.com/OdAhRLkhv8

— Phil A. Buster (@onekade) January 29, 2017
We will not allow a Muslim ban in the United States of America. Here's what I said at Logan Airport tonight. #NoBanNoWall pic.twitter.com/XqeS9Iy14e

— Elizabeth Warren (@SenWarren) January 29, 2017
"We have to continue to stand up" @marty_walsh address 100s at @BostonLogan. Says federal judge issued stay, but work continues. @nbcboston pic.twitter.com/hXIFrvjj0S

— Eli Rosenberg (@EliNBCBoston) January 29, 2017
I am at #Logan in solidarity to fight the #MuslimBan with the people of #Boston. Thank you ACLU Massachusetts.

Posted by Tito Jackson on Saturday, January 28, 2017
"Donald Trump has taken a wrecking ball to the Statue of Liberty." – @MassAGO #wcvb pic.twitter.com/QvnIrLZj6q

— Julie Loncich (@JulieLoncich) January 28, 2017
WATCH: Massachusetts Attorney General Maura Healey discusses Trump's immigration order at Boston's Logan Airport. https://t.co/dRtLkqnxoO pic.twitter.com/wEZtFNy625

— The Boston Globe (@BostonGlobe) January 29, 2017