Politics
Elizabeth Warren and Ed Markey say they will oppose Neil Gorsuch's nomination to the Supreme Court
Read their full statements explaining why.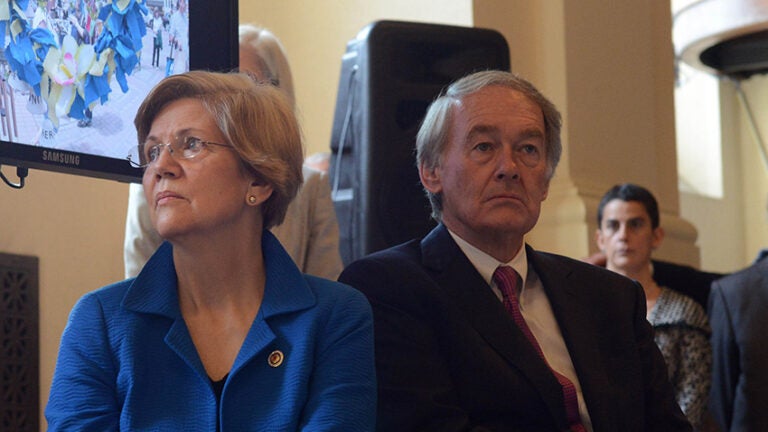 Sens. Elizabeth Warren and Ed Markey say they will oppose President Donald Trump's nominee to the Supreme Court, Neil Gorusch.
Within 90 minutes of the nomination's announcement Tuesday night, Massachusetts's two Democratic senators released separate statements, citing Gorusch's conservative record on labor and social issues for their decision.
"His public record, which I have reviewed in detail, paints a clear picture," Warren said of Gorusch, a judge on the 10th Circuit Court of Appeals in Denver and Trump's proposed replacement for the late conservative Justice Antonin Scalia.
Markey said he would oppose Gorusch, as well as any attempt to change the Senate filibuster rules, as Democrats consider whether to try to block Trump's nominee.
Read their full statements below.
Warren:
"President Trump had the chance to select a consensus nominee to the Supreme Court. To the surprise of absolutely nobody, he failed that test.

"Instead, he carried out his public promise to select a nominee from a list drawn up by far right activist groups that were financed by big business interests.

"Judge Gorsuch has been on this list for four months. His public record, which I have reviewed in detail, paints a clear picture.

"Before even joining the bench, he advocated to make it easier for public companies to defraud investors. As a judge, he has twisted himself into a pretzel to make sure the rules favor giant companies over workers and individual Americans. He has sided with employers who deny wages, improperly fire workers, or retaliate against whistleblowers for misconduct. He has ruled against workers in all manner of discrimination cases. And he has demonstrated hostility toward women's access to basic health care.

"For years, powerful interests have executed a full-scale assault on the integrity of our federal judiciary, trying to turn the Supreme Court into one more rigged game that works only for the rich and the powerful. They spent millions to keep this seat open, and Judge Gorsuch is their reward.

"Every day, our new President finds more ways to demonstrate his hostility for our independent judiciary, our civil society, and the rule of law. Now more than ever, America needs Supreme Court justices with a proven record of standing up for the rights of all Americans – civil rights, women's rights, LGBT rights, and all other protections guaranteed by our laws.  We don't need another justice who spends his time looking out for those with money and influence.

"Based on the long and well-established record of Judge Gorsuch, I will oppose his nomination."
Markey:
"With President Donald Trump issuing executive orders nearly every day that tear at the very fabric of our democracy, this Supreme Court nomination will be one of the most consequential in our nation's history. In this administration and into the future, the Supreme Court and its new justice will shape the law on issues that impact every American, from the environment, to reproductive rights, to gun violence prevention.

"President Trump repeatedly promised that he would use an ideological litmus test to select a nominee who would advance a far-right agenda from the bench. President Trump lived up to his word, and the nomination of Judge Neil M. Gorsuch confirms that President Trump wants a Supreme Court Justice who is outside the judicial mainstream. As an Appeals Court judge for more than a decade, Judge Gorsuch has authored or joined opinions that have demonstrated hostility to women's reproductive rights, commonsense environmental regulations, and the rights of workers, consumers, and the disabled. I will not support the nomination of Judge Gorsuch.

"I am also deeply concerned that President Trump has expressed his desire for the Senate to change the rules governing the threshold vote for confirmation of a Supreme Court Justice nominee. I will fight steps to invoke the nuclear option for Judge Gorsuch's nomination or any efforts that would further erode the foundational pillars of our democratic process."