Politics
WH spokesman: Trump called immigration action a 'ban' because the media used that word
Press Secretary Sean Spicer insisted Tuesday the policy wasn't "a ban."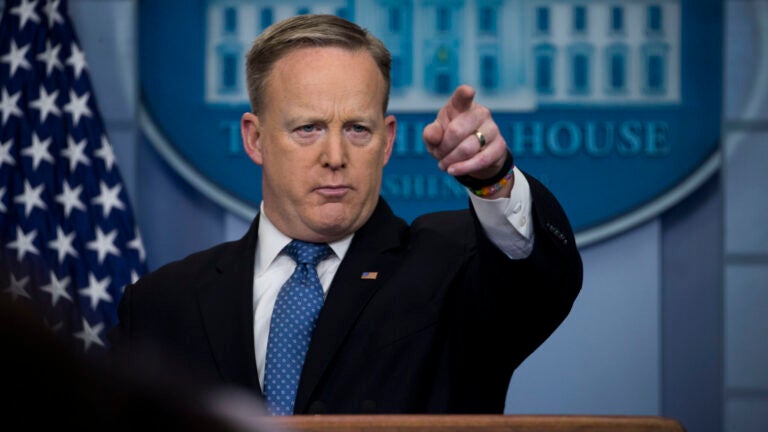 White House press secretary Sean Spicer said during a Tuesday briefing with reporters that President Donald Trump is only using the word "ban" to describe his executive action on immigration and refugees because the media is using the word.
"He's using the words that the media is using," Spicer said. Later, during a back-and-forth with reporters, he said: "It can't be a ban if you're letting a million people in. If 325,000 people from another country can come in, that is by nature not a ban. It is extreme vetting."
WATCH: White House: Pres. Trump is using the word "ban" because the media is using the word "ban.@kwelkernbc: "Those are his words." pic.twitter.com/hu10yUB9Q5

— NBC Nightly News (@NBCNightlyNews) January 31, 2017
Trump sent out a tweet Monday in which he referred to his executive action as "the ban."
If the ban were announced with a one week notice, the "bad" would rush into our country during that week. A lot of bad "dudes" out there!

— Donald J. Trump (@realDonaldTrump) January 30, 2017
The executive action Trump signed last week suspends all immigration for citizens from Iraq, Syria, Iran, Sudan, Libya, Somalia and Yemen. It also halts the U.S. refugee program for four months.
On Monday, Spicer warned that officials at the State Department who disagree with the administration's policy should "either get with the program or they can go."
Later Monday, Trump fired acting Attorney General Sally Yates for refusing to carry out his immigration executive order.