Politics
Charlie Baker is putting local cider doughnuts on the line in his Super Bowl bet with the governor of Georgia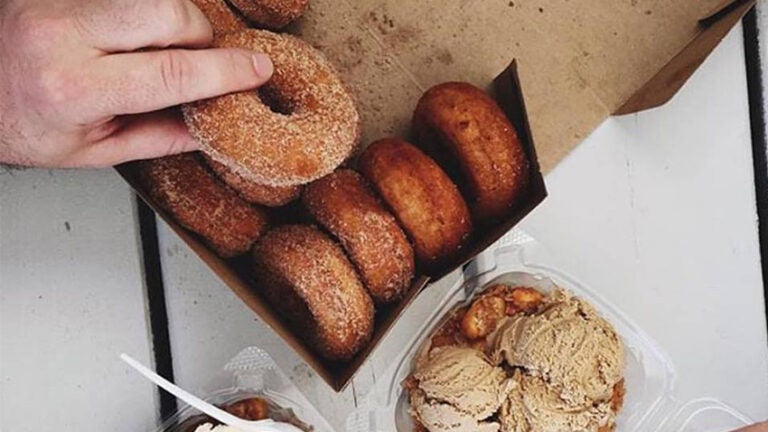 Hey, it's no Senate confirmation vote, but Gov. Charlie Baker is really upping his wager on the Patriots winning Sunday.
In addition to "lucky" Boston cream pie cupcakes from a Springfield bakery and Legal Seafood's clam chowder — which proved successful in Baker's previous playoff bets with the governors of Texas and Pennsylvania, respectively — the Massachusetts governor is putting local cider doughnuts on the line in a Super Bowl bet with Georgia Gov. Nathan Deal.
"No offense to @bcfootball icon Matty Ice, but I've got @SmolakFarms cider doughnuts on the [goat emoji] Tom Brady," Baker tweeted Wednesday at his peer in the Peach State.
As if Deal needed another reason to root for his home state's Atlanta Falcons, the North Andover orchard recently placed fourth in a Boston.com reader survey of Massachusetts's best cider doughnuts.
In return, Deal bet Baker local Brunswick stew — an apparently popular tomato-based Southern stew containing various beans, vegetables, and meats — and chocolate-covered blueberries (it turns out that the state of Georgia is the fourth-largest commercial blueberry producer in the country, according to the U.S. Highbush Blueberry Council, a blueberry industry interest group).
Deal later tacked on an apple pie from an orchard in Northern Georgia, which prompted Baker to raise him with Smolak Farms' cider doughnuts.
From elected officials to local businesses, friendly intra-state wagers have been en vogue during the Patriots' playoff run. And if Brady and company win Sunday, Baker could have a formidable feast on his hands. In addition to the potential winnings of Brunswick stew, chocolate-covered blueberries, and apples pie, the Bay State governor has already won Primanti Brothers sandwiches, a torte, and Texas barbecue in the Patriots' wins over the Pittsburgh Steelers and Houston Texans.
And with the teams' recent dominance, no wonder Baker keeps initiating these bets. See the governor's full GIF-laden exchange with Deal below:
We have Koffee Kup's lucky cupcakes & @legalseafoods chowder on our #Patriots. #OneMore to ground the Falcons. And you @GovernorDeal? #SB51 pic.twitter.com/Hzm0j8TWve

— Charlie Baker (@MassGovernor) February 1, 2017
You're on, @MassGovernor! I'll wager Brunswick stew from @FreshAirBBQue and chocolate-covered blueberries from @ByneBlueberry. #RiseUp pic.twitter.com/4nTQRYg9Ug

— Governor Nathan Deal (@GovernorDeal) February 1, 2017
Also, @MassGovernor, I've got an apple pie from @MercierOrchards that says @M_Ryan02 will be named the league MVP. #InBrotherhood

— Governor Nathan Deal (@GovernorDeal) February 1, 2017
https://twitter.com/MassGovernor/status/826839161185456129