Politics
The New York Times just published an interview with Trump talking all about the Patriots
According to Trump, Robert Kraft "choked, just like Romney choked" during Deflategate.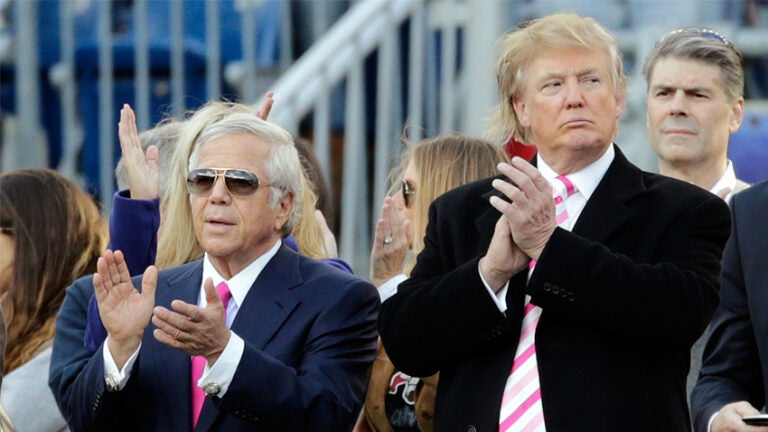 In case you hadn't heard, President Donald Trump has some close ties with a few members of the New England Patriots — namely, Tom Brady, Robert Kraft, and Bill Belichick.
And in a New York Times Magazine article published Wednesday, Trump talks all about it.
In the interview with New York Times Magazine national correspondent Mark Leibovich — who is currently working on a Patriots book — Trump expounded on his relationship with Brady and Kraft over the past two years, and proffered some less than kind thoughts about NFL Commissioner Roger Goodell. A few of the many highlights here:
On Brady:
"He calls me Mr. Trump, which he shouldn't, because we play golf all the time. Anyway, he says: 'Mr. Trump — Donald,' he doesn't even know what the [expletive] to call me. It's the craziest thing. He's a friend of mine."
On his advice to Kraft during the Patriot's appeal of Brady's four-game Deflategate suspension (while getting in his favorite dig at Mitt Romney):
"Bob said, 'I had a wink from the commissioner,'" Trump added, meaning that Kraft seemed to think that by standing down and not fighting the N.F.L., the league would reduce Brady's penalty on appeal.

Kraft was under pressure, Trump explained. "He choked, just like Romney choked. He said: 'You know what? They winked at me.' I said, 'Bob when you make a deal, you should have gotten it all wrapped up.' Who ever heard of making a deal like that? Now you got this mess."
On Goodell:
"The commissioner is a weak guy," Trump said. "When he made the Ray Rice deal, everybody said: You're stupid. You're weak. And it was such a weak deal. So now he's going overboard with their star, Brady."

He added: "The commissioner is a dope. He's a stupid guy."
In the piece, Leibovich asserts that no professional sports team has been more closely associated to the country's commander-in-chief since President Richard Nixon and the Washington Redskins. And we thought Trump had just been pandering for New Hampshire votes.
Click over to the full piece for more Trumpisms, the question he really wanted Leibovich to ask Brady, and the quarterback's eventual response.