Politics
Harvard Book Store commemorates nonexistent 'Bowling Green massacre' with books on disinformation
Time to read up on "alternative facts."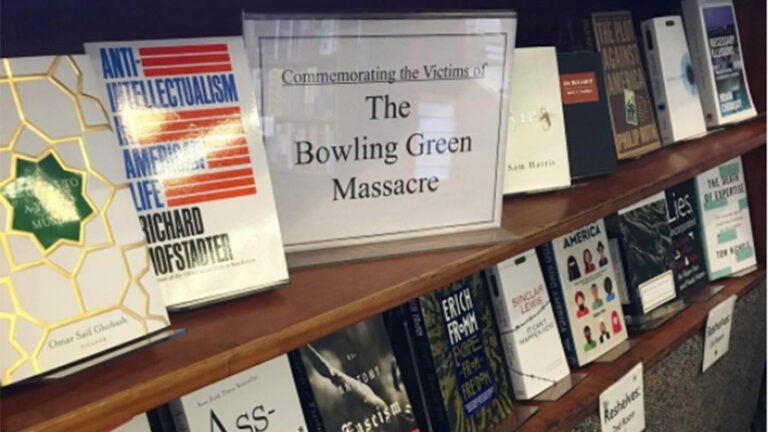 Kellyanne Conway, a top advisor to President Donald Trump, has had a tough time playing it straight with the truth over the last few weeks.
From "alternative facts" to her repeated false claims of a "Bowling Green massacre," some of Conway's statements have been turned into memes as quickly as they have been debunked.
But Harvard Book Store is hoping to capitalize on the recent trend to provoke a discussion that goes beyond 140-character missives on Twitter — even if it isn't perhaps in the most diplomatic way.
The 85-year-old independent book store — which is not affiliated with the prestigious, eponymous university — put up a new featured book display Wednesday morning "Commemorating the Victims of The Bowling Green Massacre."
"We're intending to provide deeper resources to think, read, and explore both the current events around this idea of disinformation but also exploring the history of it," store marketing and events manager Alex Meriwether told Boston.com.
The display includes 15 books ranging from classics, like George Orwell's 1984 and Sinclair Lewis's It Can't Happen Here, to newer releases, like Farhad Manjoo's True Enough and Cass Sunstein's Conspiracy Theories and Other Dangerous Ideas. The collection, which can also be viewed online, hits on ideas of propaganda and post-truth societies, which have returned to focus since Trump's election.
Meriwether says the store, located in Harvard Square, has several rotating book displays responding to current events. The store also has displays up for Black History Month and the upcoming Academy Awards.
"For a store like ours, there are a lot of opportunities to present our customers with serious books," he said Wednesday afternoon, adding that the response to their latest display, which achieved a degree of internet virality Wednesday, has been generally positive.
According to Meriwether, the "Bowling Green Massacre" display isn't meant to pile on the mockery of Conway, but to prompt a deeper discussion that goes past the meme.
"A little snark can help get us there," he said.