Politics
Here's what Massachusetts officials are saying about Andrew Puzder withdrawing his labor secretary nomination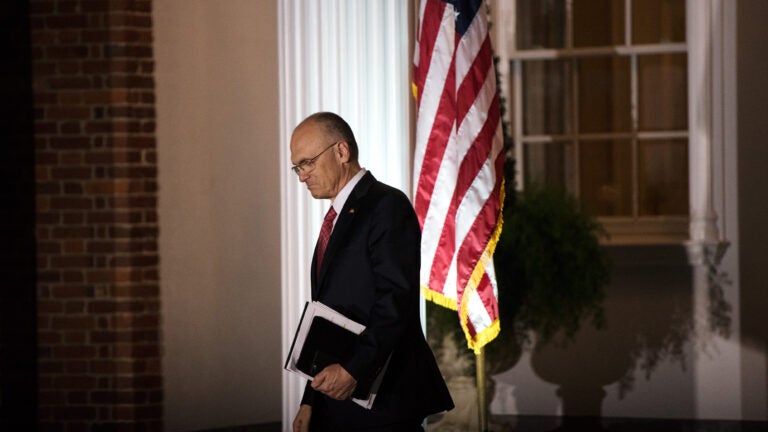 Labor secretary nominee Andrew Puzder withdrew his nomination Wednesday, reportedly amid growing hesitation from Senate Republicans to support the fast-food executive.
Puzder, who was nominated by President Donald Trump in December, has face outspoken objections from Democrats, citing concerns over his treatment of low-wage workers at his restaurants.. And after reports that Puzder did not pay taxes on an undocumented worker he personally employed until after his nomination, the concerns over his confirmation became bipartisan.
Puzder — the CEO of the parent company of Carl's Jr. and Hardees — is the first of Trump's cabinet nominees to not be confirmed. Here's how local elected officials in Massachusetts reacted to the news:
In a tweet, Sen. Ed Markey said it was "just desserts."
Just desserts: @USDOL nominee Andrew Puzder lands in the fryolator. Shameful treatment of workers disqualifies him to lead agency.

— Ed Markey (@SenMarkey) February 15, 2017
In a statement, Sen. Elizabeth Warren said the the withdrawal of Puzder's nomination was "good news for hardworking Americans."
"We need someone running the Labor Department with a proven track record of respecting workers and protecting their rights. There is ample evidence that Mr. Puzder does not meet those standards, including his mistreatment of his own workers and his company's record of labor abuses. His withdrawal from consideration is good news for hardworking Americans across the country. It's time for President Trump to stop looking out for his billionaire buddies, and name a Secretary of Labor who will stand up for workers."
Speaking on the Senate floor earlier in the day, Warren said there were too many reasons that Puzder was "a terrible choice" for the job for her to list. Amid reports at the time that we was reconsidering his nomination, she said, "I sincerely hope that is true." Since Puzder's nomination, Warren has consistently criticized the labor practices of his company under his leadership.
In a statement Wednesday afternoon, Massachusetts Attorney General Maura Healey said she was "relieved" by the news.
"I am relieved that Andrew Puzder has withdrawn his name from consideration to be Secretary of Labor. Over decades, our office has worked in close partnership with the U.S. Department of Labor to protect the rights of our workers, maintain safe and healthy workplaces, and ensure a level playing field for employers that follow the rules. Unfortunately, Mr. Puzder had established himself as an opponent of basic worker protections and appears to have advantaged his company at the expense of more responsible employers. We need a Labor Secretary who is committed to partnering with the states to uphold and enforce federal labor laws, not one with a track record of flagrantly violating them.

"I urge President Trump to select a new Secretary of Labor nominee who will work with me and my fellow attorneys general to ensure workers receive the wages they are owed and stay safe on the job. Employees in Massachusetts and across this country deserve nothing less."