Politics
Here's where Massachusetts's top elected officials stand on the push to become a 'sanctuary state'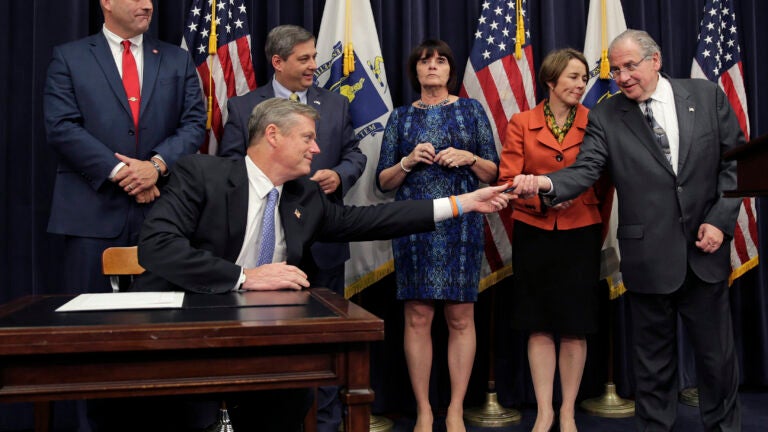 Elected officials across Massachusetts have been outspoken in their support for the state's handful of "sanctuary cities."
But when it comes to adopting the policy statewide, the Bay State's top politicians are a bit more hesitant.
A bill introduced by state Sen. Jamie Eldridge, an Acton Democrat, would effectively extend so-called sanctuary status — an unofficial catch-all term for state and local governments that limit cooperation with federal deportation efforts — to the entire state.
The Massachusetts Safe Communities Act, introduced in both the House and Senate, would make Massachusetts the fifth sanctuary state, joining California, Colorado, Connecticut, and New Mexico.
Eldridge's bill would expand the Trust Act — a popular policy iteration of sanctuary status — to ensure that state resources are not used to enforce federal immigration law, as well as prohibit any state collaboration in President Donald Trump's previously proposed Muslim registry. According to the senator's office, the bill has collected 81 supporters in the House and 50 supporters in the Senate — both of which are controlled by veto-proof Democratic majorities.
"We will protect the civil rights of all state residents," Eldridge told Boston.com in a statement.
Eldridge, who avoids the stigmatized word "sanctuary," points to statistics showing lower rates of violent and property crime in "Safe Community" counties compared to "non-Safe Community" counties. As Boston.com has reported, researchers have found immigrants — documented or not — are less likely to report crimes or cooperate with law enforcement if they fear being questioned about their legal status.
After Trump vowed to cut federal funding to sanctuary cities — a legally dubious proposition — last month, Massachusetts's top elected officials spoke out in near-unison defending the state's sanctuary cities (a total of eight, plus Hampden County, according to the Center for Immigration Studies). But when it comes to Eldridge's bill, and the prospect of expanding the status statewide, they are outwardly a little more bullish.
Republican Gov. Charlier Baker has repeatedly defended sanctuary cities' right to make their own decisions and says he would oppose Trump's efforts to cut off their federal funding. But, according to spokeswoman Lizzy Guyton, Baker opposes implementing the policy at the state level.
"Governor Baker believes sanctuary city status should be decided at the local level, but opposes making Massachusetts a sanctuary state," Guyton said in a statement to Boston.com. "The administration will continue to enforce policies giving the State Police the tools necessary to detain violent criminals or suspected terrorists wanted by federal authorities."
Officials in sanctuary cities, such as Boston and Somerville, also say they cooperate with federal agencies in cases involving violent or serious crime.
Attorney General Maura Healey recently told The Boston Globe that she wasn't opposed to the idea of Massachusetts as a sanctuary state and said that the legislature is  "absolutely entitled to discuss and debate it." But Healey also said she thinks the current system already works well.
"I'm a believer — having worked with a number of police departments and law enforcement agencies around the state — that those decisions, and the decisions about the safety and well-being of a community, are really best left to the local officials, the local police chiefs, and certainly not the likes of a Donald Trump," the Democratic attorney general said, calling Trump's executive order "lousy policy."
Healey said that local law enforcement rely on immigrant communities feeling comfortable enough to report crime, and that in practice local departments are the ones primarily involved in community engagement.
"I'm certainly not opposed to a statewide designation," she said. "I'm just of the view that it is working well at the local level right now."
Democratic House Speaker Robert DeLeo is also not immediately jumping on the sanctuary state bandwagon.
"I'm not sure I would go so far as a sanctuary state," DeLeo told reporters Wednesday, according to Politico. He added that it is "important that cities and towns have the ability pretty much wherever possible to make decisions such as that."
DeLeo's name did not appear on a list,  provided by Eldridge's office Thursday, of supporters of the House version of the sanctuary state bill.
The office of Democratic Senate Leader Stan Rosenberg, whose is also not listed as a supporter, did not immediately respond to requests for comment on the issue Thursday.
At the federal level, Sens. Ed Markey and Elizabeth Warren are cosponsoring a Democrat-backed bill introduced Thursday to rescind Trump's broad immigration order prioritizing the deportation of undocumented immigrants. The order also directs Homeland Security Secretary John Kelly to block certain federal funds to sanctuary states, counties, or cities.
"Donald Trump's executive order will result in raids, mass deportations, and fear and terror within our immigrant communities," Markey said in a statement.
Asked whether the senator supports efforts to make Massachusetts a sanctuary state, spokeswoman Giselle Barry told Boston.com that Markey believes the state "must be a leader in creating inclusive and safe communities by ensuring we have positive relationships with law enforcement."
"This includes focusing on state and local issues that impact the safety of our all residents, regardless of status," Barry said.
Warren's office did not immediately respond Thursday.