Politics
Maine's Susan Collins says volume of calls is overwhelming staff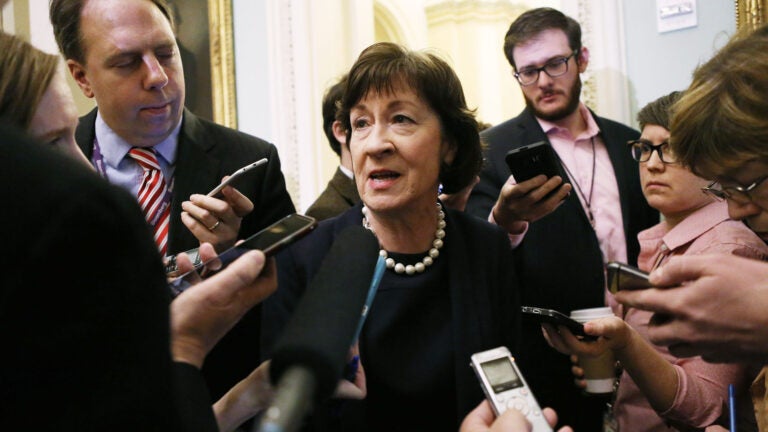 PORTLAND, Maine (AP) — A Republican U.S. senator known for speaking out against GOP President Donald Trump said Tuesday the high number of phone calls pouring into her office has made it difficult for her to serve constituents.
Sen. Susan Collins of Maine visited with liberal group Mainers For Accountable Leadership in a livestreamed meeting that appeared on Facebook. Toward the end of the meeting, group co-founder Marie Follayttar Smith, who was present at the meeting, said it had been difficult to get ahold of the senator.
Collins said her office recently fielded thousands of calls on a variety of issues and it was difficult for her staff to keep up with the volume. She said she was worried that constituents having trouble accessing Social Security or veterans' benefits were struggling to get through to her amid all the calls. She encouraged constituents to reach out to her through her website when possible.
''I am worried, I will tell you. I'm worried somebody having trouble with Social Security can't get through,'' she said, adding that ''our lines are jammed.''
Collins opposed the confirmation of Education Secretary Betsy Devos and Environmental Protection Agency administrator Scott Pruitt. Liberal groups and voters have been reaching out to Collins in recent weeks hoping she will serve as a voice of Republican opposition to Trump.
Smith said after the meeting that she was let down by Collins' complaint about the number of calls.
''Constituent services is different than constituent concerns. If they don't have adequate staffing, they need to provide it,'' Smith said.
Collins clarified later in the day that she always wants to hear from constituents, but she was ''flooded from calls from out of state'' around the time of some of Trump's Cabinet confirmation votes. Collins' staff said about 90 percent of calls to her Washington office were from out of state, as were two-thirds of the calls to her Maine office.
Mainers For Accountable Leadership has been critical of Collins for being difficult to reach in recent days. The group is holding ''open air town hall'' events in Portland, Lewiston and Bangor on Wednesday to call for Collins to address members' concerns.
Collins will be appearing in a public radio interview at the time.