Politics
Suit tests 20-day voter registration cutoff in Massachusetts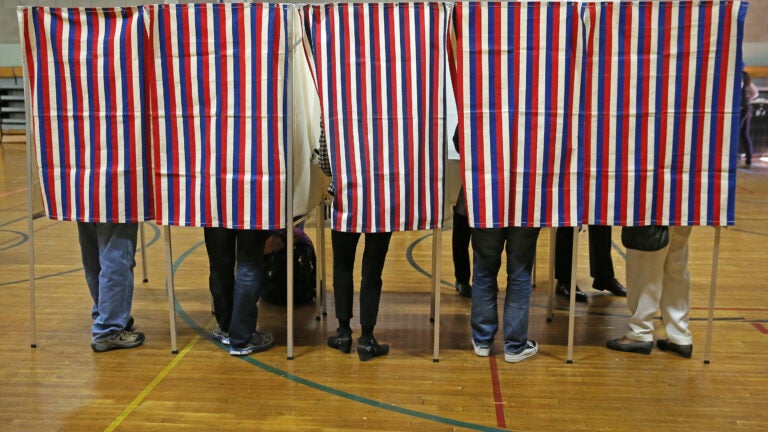 BOSTON (AP) — A lawsuit challenging the state's 20-day voter registration cutoff deadline is working its way through the courts with a goal of finding a final resolution ahead of next year's elections.
Defenders of the 20-day cutoff say it's an important tool for the orderly management of the election process in Massachusetts.
Critics say ending the voter registration period 20 days before Election Day is arbitrary. They point to the state's adoption of early voting last year that allowed voters to begin casting ballots on Oct. 24, just five days after the Oct. 19 registration cutoff.
"So as a practical matter you had to be able to let people vote five days after the registration cutoff," said Kirsten Mayer, a lawyer with the firm Ropes & Gray arguing against the existing registration deadline. "So under those circumstances how can you say you need 20 days?"
The case began after three voters who failed to register by last year's deadline went to court for the right to cast a ballot. They were ultimately allowed to vote, but the larger issue of the 20-day cutoff is continuing to move through the courts.
Mayer and lawyers from the American Civil Liberties Union of Massachusetts are pressing the case on behalf of the thousands of voters they say are denied an opportunity to cast a ballot because they fail to register in time.
A spokesman for Secretary of the Commonwealth William Galvin, who oversees the state's elections, declined to comment, citing the ongoing lawsuit.
In a court document filed last year, Attorney General Maura Healey said her office and Galvin's office are willing to work with the Legislature to make changes to the law.
But Healey, charged with defending state laws, also argued that the existing 20-day cutoff is constitutional, calling it "a reasonable and nondiscriminatory method for regulating state elections."
In an amended ruling issued last year that allowed the three voters to cast ballots, Suffolk Superior Court Judge Douglas H. Wilkins also pointed to the state's adoption of early voting saying it suggests the technology and systems are in place to allow voting by individuals who register much closer to the election than 20 days.
"The present state of the record shows no real reason, grounded in data, facts or other evidence, why the commonwealth accomplishes anything by implementing a 20-day deadline," he said.
The early voting option proved popular. More than 1 million Massachusetts voters cast ballots before Election Day.
Mayer said her side isn't suggesting a new deadline, but is arguing the current deadline is too strict.
"Our position is that the state needs to impose the least restrictive burden," she said after a court hearing last week.
Mayer was quick to point out that other states, including some in New England, have same-day registration. Nationwide, more than a dozen states allow voters to register and cast ballots on the same day, according the National Conference of State Legislatures.
A spokeswoman for Healey said she personally supports same-day registration.
Several bills have been filed in the Democrat-controlled Legislature to change the state's election laws, including a Republican-backed bill that would require photo IDs for people voting in elections.
Two bills by Democratic lawmakers seek to make it easier to vote.
One would automatically register eligible voters in Massachusetts. Another would establish permanent voter registration for voters who move to other cities and towns in Massachusetts.