Politics
Cambridge man who says he invented email says he will challenge Elizabeth Warren in 2018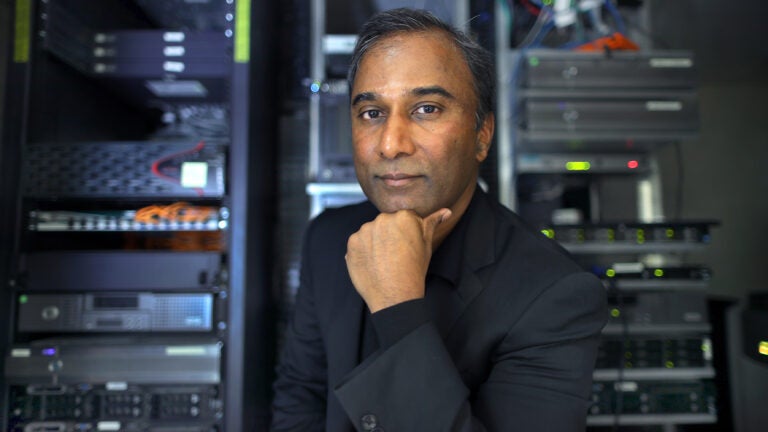 In the wee hours of Saturday morning, the prospective field of 2018 Republican challengers to Sen. Elizabeth Warren added another name: Shiva Ayyadurai.
The 53-year-old Cambridge resident and self-described inventor of email publicly announced his plans to run against the Massachusetts Democrat in a tweet at 4:23 a.m. Saturday.
Today, ShivaRatri, when Light overcame Darkness, we launched my campaign for US SENATE against @SenWarren. Defend the American Dream!

— V.A. SHIVA (@va_shiva) February 25, 2017
As Universal Hub's Adam Gaffin reported, it appears Ayyadurai also shared his plans at a party Friday night in Washington, D.C.
Folks, THIS is the guy who is going to beat @SenWarren. He is the REAL Indian. @va_shiva. @Cernovich #BullMoose pic.twitter.com/6z5BdWpkPY

— Lynni Megginson (@LynniMegginson) February 25, 2017
"Inventor of email" V.A. Shiva announcing his run for Massechusetts Senate against Elizabeth Warren #BullMoose @va_shiva #MAGA pic.twitter.com/NDvn0fSPHH

— Dr Jane Ruby (@DrJaneRuby) February 25, 2017
Ayyadurai, who says he is a Republican, tweeted Sunday night that he had opened a campaign office on Concord Avenue in Cambridge and called Warren a "fake fighter," in addition to referencing the senator's controverted claims of Native American heritage.
#FakeIndian,Fake Fighter @SenWarren: YOU will lose in 2018, & WE will expoz ur Elites in Academia who weave SYSTEM of LIES 4 #FakeNewsMedia

— V.A. SHIVA (@va_shiva) February 27, 2017
The Indian-born Fulbright scholar—who holds four degrees from MIT in the fields of computer science and engineering—most recently made headlines for suing media outlets that cast doubt on his claim of having invented email.
According to a 2012 correction in the Washington Post, while Ayyadurai does hold the copyright to a computer program called "EMAIL," electronic messaging predates his 1978 work. Computer historians credit fellow Massachusetts resident Ray Tomlinson with sending the first modern email in 1971.
Nevertheless, Ayyadurai sued Gawker and TechDirt for articles casting doubt on his claim to the invention. Gawker founder Nick Denton settled with Ayyadurai for $750,000 following the media company's bankruptcy last year, much to the displeasure of internet pioneers.
The Boston Globe recently profiled the local computer scientist, who runs several startup companies out of an office building in Cambridge.
Ayyadurai joins state Rep. Geoff Diehl, businessman Rick Green, and former Red Sox pitcher Curt Schilling on the list of Warren's potential 2018 Republican challengers.