Politics
Massachusetts Rep. Stephen Lynch, a Democrat, says media has been unfair to Trump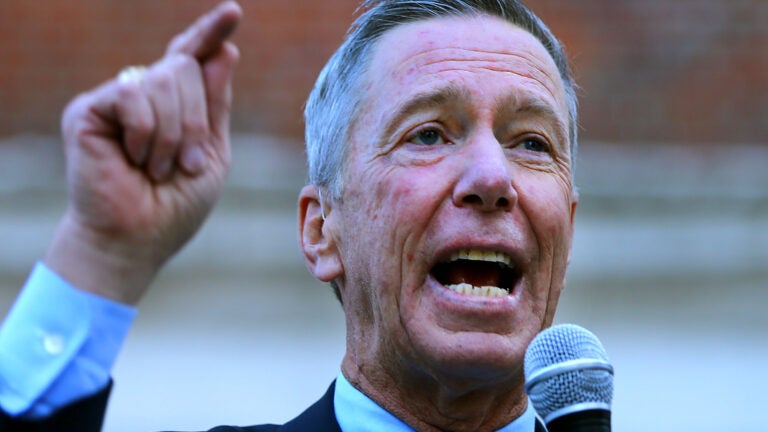 President Donald Trump appears to have an unlikely sympathizer to his repeated complaints about the press: Rep. Stephen Lynch.
"I don't think he's been treated fairly in the media," the Massachusetts congressman told WBZ NewsRadio in a interview Wednesday. "I really don't."
While Lynch didn't go as far as Trump—who has called the media "the enemy of the American People"—the South Boston Democrat said he thought the level of critical coverage Trump received ultimately undermined the credibility of the press.
"I thought that one of the biggest casualties of this past election was the credibility of the media," he said. "I read probably six or seven newspapers a day, my staff sends me the clips, and there was just a steady drumbeat of attack against Donald Trump."
Without getting into specific examples, Lynch added that some outlets seemingly "became completely unshackled from responsible journalism."
Lynch told Boston.com in a statement Wednesday evening that he stood by his characterization of Trump's coverage, but he added a small caveat.
"I was asked if the campaign coverage of Trump was fair and unbiased. I said no," he said. "However, I think it's important to note that, as a Democrat, I never said I didn't enjoy the unfair coverage."
During his WBZ interview, the congressman did remain critical of Trump on policy. While he noted a shift in tone during Trump's speech to Congress on Tuesday, Lynch said he was "highly skeptical" of the president's proposals on education, health care, and immigration, as well as his appointment of Wall Street executives to his administration.
Yet it was Lynch's comments about the media's coverage of Trump that drew immediate heat from his own critics. Brianna Wu, a local game developer who says she will challenge Lynch in his 2018 primary, blasted the incumbent Democrat.
If you're surprised Lynch wants media to be softer on Trump, don't be. The is the guy that wants Democrats to drop "identity politics."

— Brianna Wu (@Spacekatgal) March 1, 2017
Lynch, who represents Massachusetts's eighth congressional district, has served in the House since 2001.
A recent Gallup poll found that 36 percent of Americans thought the media had been too tough on Trump, and a Wall Street Journal/NBC News poll found that 51 percent thought the press was too critical of him.
But while some Americans think the media is biased, most believe the press is more trustworthy than the president, The New York Times reported this week,