Politics
Maura Healey says Massachusetts will join new lawsuit against Trump's revised travel ban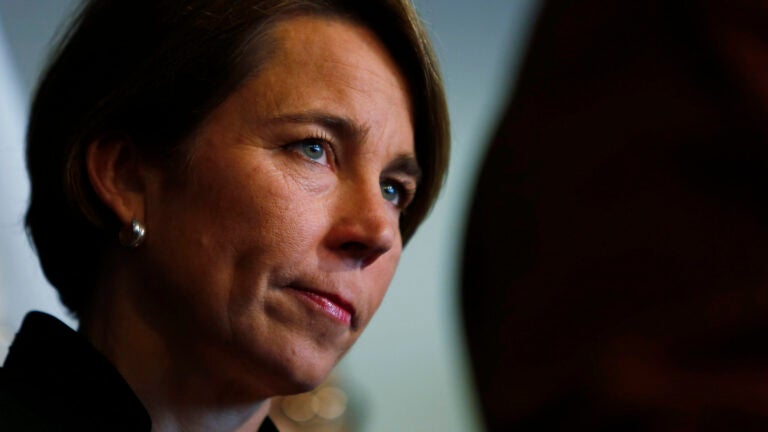 Maura Healey is suing the president — again.
The Massachusetts attorney general announced Thursday that her office will join a new lawsuit against President Donald Trump's revised travel ban.
"President Trump's second travel ban remains a discriminatory and unconstitutional attempt to make good on his campaign promise to implement a Muslim ban," Healey said in a statement Thursday afternoon. "We are consolidating our legal efforts and joining fellow states, led by Washington, in continuing to challenge this Administration's unlawful immigration policies."
In doing so, Healey's office also dropped their previously-filed suit in Massachusetts on Thursday. The case had been brought against Trump's original order by the American Civil Liberties Union on behalf of two local professors.
Massachusetts will join the suit with Washington and other states early next week when an amended complaint is filed, according to the attorney general's office. The suit, filed in Washington's western district, will ask the same federal judge who blocked Trump's original order to issue a temporary injunction against the new order as well.
"We look forward to presenting our arguments to the court in the coming days to protect our residents, institutions, and economy in Massachusetts," said Healey, who has previously called the revised order a "watered-down … attempt to resurrect a discredited order and fulfill a discriminatory campaign promise."
Republican Gov. Charlie Baker — who pledged earlier this week to take "a good, hard look" at Trump's new order — will be keeping a close eye on the new challenge, according to spokeswoman Lizzy Guyton.
In a statement Thursday, Guyton said Baker remains concerned about "the disruptive orders," and does not think they improve the nation's security — but stopped short of the same full-throated endorsement the governor gave to Healey's previous challenge.
"Governor Baker is proud that Massachusetts is a global community that benefits economically and academically from our diverse  population and the administration will continue to communicate concerns regarding the disruptive orders.  The Baker-Polito Administration does not believe these orders make our nation any safer and will review the legal proceedings carefully."
Healey was one of 16 Democratic attorney generals to challenge Trump's original order, which temporarily banned refugees and citizens of seven mostly-Muslim countries from entering the United States. The attorney general had argued that the travel ban was discriminatory and unduly harmed the interests of Massachusetts's economic and educational institutions.
Following the original policy's chaotic rollout — both locally and across the globe — the travel ban was found unconstitutional by U.S. District Judge James Robart in a federal court in Seattle. Robart's decision, which applied a nationwide hold on Trump's order, was subsequently upheld by a federal appeals court.
The revised ban, which is set to take effect March 16, was revised by the Trump administration in an attempt to survive the expected legal challenges.