Politics
A look back at Paul Tsongas's unorthodox bid for the White House, 25 years later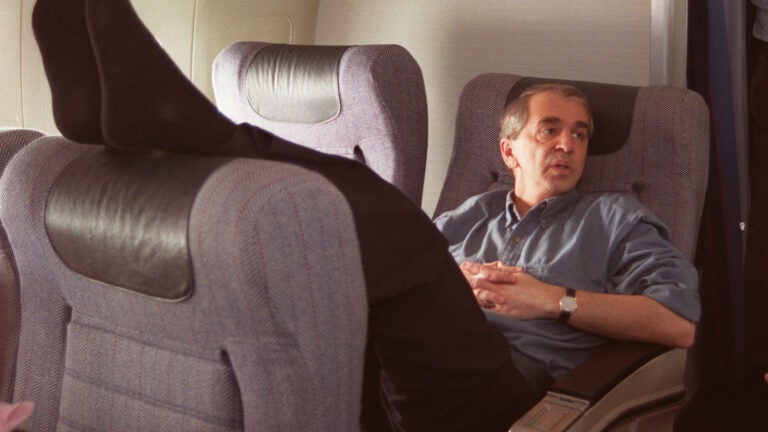 For all the accomplished swimmers to seek the Oval Office, there may have been no candidate more confident in his abilities than Paul Tsongas.
"I've made it clear to any of my opponents, either Democrat or Republicans, that if they question my health, I will challenge them to a 50-yard butterfly race in the pool of their choice," the late Massachusetts Democrat said, upon launching his 1992 presidential campaign just six years after undergoing a risky bone-marrow transplant to treat the cancer that ended his Senate career.
"If they can beat me, I'll get out of the race," said Tsongas, who swam competitively both in college and after his retirement from the Senate. "If they can't beat me, then they'll be forced to keep quiet."
In April 1991, a day before his official campaign launch (and less than three years after fellow Bay Stater Gov. Michael Dukakis's infamous tank photo op) the 50-year-old Tsongas strutted out in front of journalists at an Andover pool wearing only a speedo — before diving in and demonstrating the arduous butterfly stroke to prove his health (C-SPAN has the full eight-minute video here).
And yet, Tsongas's unorthodox presidential campaign — which ended 25 years ago Sunday — is remembered for far more than his swimming.
Tsongas was born and raised in Lowell by a Greek immigrant father who ran a local dry-cleaning business. He went on to obtain degrees in economics, law, and public policy from Dartmouth, Yale, and Harvard — with a stint in Ethiopia with the Peace Corps in-between.
After serving on Lowell's city council and in the U.S. House of Representatives for two terms, he defeated incumbent Republican Sen. Edward Brooke in the 1978 election. But near the end of his first term, he announced he was retiring from office after learning of his non-Hodgkin's lymphoma diagnosis.
In 1986, Tsongas underwent a bone-marrow transplant to treat the cancer. According to his wife, Rep. Niki Tsongas — who has represented her husband's old House seat since 2007 — he was one of the first people at the time to receive the experimental treatment.
By 1991, doctors had told Tsongas he was cancer-free. And in April of that year, he became the first known cancer-survivor to run for president in order to, as he often put it, "fulfill the obligations of my survival."
Tsongas described himself as a pro-business liberal — and unapologetically so.
"On the issues of human rights, civil rights, women's rights and the environment, I'm a liberal and make no apologies for it," he told an Iowa crowd during a pre-campaign event in March 1991, according to a Boston Globe report at the time. Tsongas was the first U.S. senator to introduce legislation to ban job discrimination based on sexual orientation.
But on economic matters, he bucked the prevailing populist trend in his party: "I'm a realist and I've got no problems saying no to some of the Democratic dogma."
According to his wife, Tsongas's politics were born out of his upbringing in Lowell, and his first-hand experience of how hard it was to run a small business in a city that was struggling economically at the time.
"He saw how difficult it was to overcome that," Rep. Tsongas said in a recent interview, referring to the former textile capital's darkest economic days during the mid-20th century (Tsongas partially credits Lowell's rebound to the national historical park designation her husband helped obtain for the city).
"For him, he was always thinking about how to create an environment in which communities thrive so that businesses could thrive," she said.
But in addition to his pro-business leanings, the Bay Stater was a proud environmentalist. Among his top accomplishments in the Senate was a federal law conserving more than 150 million acres of Alaska land.
"He believed that economic growth and environmental protection were not at odds," Dennis Kanin, Tsongas's presidential campaign manager, recalled in an interview. "Very different from what we're seeing today."
However, on the heels of Dukakis's unsuccessful Democratic bid for president, the second straight presidential campaign by a Greek from Massachusetts was not initially well-received, Kanin said
"He went into it with a lot a deficits," said the former campaign manager and longtime aide.
"Paul was taken seriously as a person, but media and pundits treated his candidacy like a joke."
That wasn't the only obstacle. When Tsongas announced his candidacy that April, he became the first Democratic candidate to do so — amid high post-Gulf War approval ratings for President George H.W. Bush and low name name recognition for himself. According to a Globe report that year, he was so unknown that his favorability rating in the neighboring state of New Hampshire hovered at just 7 percent that March.
But it was the Granite State where the Tsongas campaign would focus the majority of their early resources.
The campaign put together a short book laying out Tsongas's vision for the country: "A Call to Economic Arms."
The 82-page manifesto — which advocated tax breaks for investors and the relaxation of some anti-trust laws — broke with some of the popular Democratic orthodoxy at the time in its focus on economic growth. It was described as "politically iconoclastic" in one Globe editorial.
"It's time we faced up to our peril," Tsongas wrote. "The normal political instinct is to always engage in happy talk. It is courage which allows a politician to take a people beyond that."
"We blanketed the state of New Hampshire with that pamphlet," Kanin recalled.
Little by little that summer, their message began to take root.
By the fall of 1991, Arkansas Gov. Bill Clinton, California Gov. Jerry Brown, Iowa Sen. Tom Harkin, and Nebraska Sen. Bob Kerrey had all entered the race. But in New Hampshire, if not elsewhere, Tsongas's economy-centric message during a period of prolonged national recession had the former Bay State senator at the top. As the Globe reported at the time, multiple polls that season found Tsongas leading the five-candidate pack.
"People realized this is what they were looking for: Someone who would talk to them as adults," Kanin said.
The Tsongas campaign wasn't only resonating with voters.
"Of all the candidates running, I feel the greatest affinity for Sen. Tsongas," Clinton said at a campaign stop the month before the 1992 New Hampshire primary.
"I think he's terrific," he said.
Despite Tsongas's strength in New England, Clinton's pollsters were telling the Globe at the time they felt they could poach his voters in other states if the national media didn't take him seriously. Kanin also recalls the press as an obstacle.
"The media was convinced he wasn't a winner," said the former campaign manager. "Just like you see today, the press often covers the horserace, rather than the issues that motivate people."
However, the issues that steered Tsongas through good times and bad on the campaign trail, as his wife recalls, really began taking hold that January. And in New Hampshire, which was effectively the first contest after the campaign skipped Harkin's home state of Iowa, he was winning.
Niki Tsongas recalled spending most of her time in the state visiting small communities and agreeing to interviews with "radio stations that no longer exist" in order to overcome the campaign's relative lack of money. 
"Paul's birthday is in February," she said. "He's actually a Valentine's baby. And we had a public birthday party the week before the primary. And as we were driving to it — it was at a hotel in Nashua — and you could see all the cars pouring off the highway and the place was just jam-packed."
"It was in the air that he was going to win," she said.
The 1992 New Hampshire primary is popularly remembered as Clinton's "comeback kid" moment following his strong second place finish. That, however, is not how the Tsongas campaign remembers it.
By the time all the votes from the February 18 primary were counted, Tsongas had carried the first-in-the-nation state with more than 33 percent of the vote. Clinton received 26 percent, and the two candidates evenly split New Hampshire's 18 delegates.
According to the Globe, exit polls at the time found that 40 percent of Tsongas voters, asked what qualities attracted them to the candidate, cited "his courage, while 59 percent cited the ideas he has advanced in such detail."
"They knew how sincere he was," Niki Tsongas fondly remembered, calling it "one of our proudest moments." According to Kanin, the campaign exploded "almost overnight" that winter.
"We would get more money in a week than we would in all of 1991," he said.
Yet, in less than 30 days, it would all be over.
For all the compliments the candidates shared in January, Tsongas's victory in New Hampshire also provoked fire from all sides — not in the least from Clinton.
Kerrey accused the Bay Stater of being too socially liberal for the South. Harkin said he was too pro-business for the populist Democratic voters in the plain states. And the Clinton team attacked Tsongas on everything from supporting a gas tax to not supporting the death penalty enough to his past statements on Medicare reform.
"Your incomes went down and your taxes went up in the '80s and Senator Tsongas wants to feed you more of the same in the '90s." Clinton said during a debate that February, according to the Globe, punctuating the critique of his rival's economic platform: "And it's wrong."
In turn, Tsongas responded by accusing Clinton of forming his opinions to what he thought people wanted to hear, giving his opponent the nickname "Pander Bear."
"Is Bill Clinton our new resident expert on courage?" he asked rhetorically during a late-February press conference, suggesting that Clinton's plan to cut taxes for the middle class was driven by polling data, according to the Globe.
"To suggest that being for a middle-class tax cut takes courage is a new definition of courage," he implored, later adding,"I grew up in Lowell. I will not be lectured by Bill Clinton or anyone on what economic decline is all about."
But according to the Globe, Clinton's team worked diligently to reframe the race from a choice between "an economic truth teller and a political panderer" to one between "a populist who cared about people" and a "Wall Street wannabe" devoted to trickle-down economics. 
Tsongas went on to win early-March contests in Maryland, Utah, Washington, and Arizona. But on March 10's so-called Super Tuesday, his message didn't take. Clinton commandingly won seven of the eight mostly Southern primaries and caucuses. Tsongas's sole bittersweet victory that day came in his home state of Massachusetts.
"Ultimately, Paul was running on a platform, on a vision, and not everyone liked it," Kanin said.
After Clinton doubled Tsongas's vote totals the next week in Michigan and Illionois, the senator announced he would suspend his campaign. Kanin says the campaign simply didn't have the resources to go forward.
"Our campaign caught on too late," he said. "We didn't have the money when we needed it." 
"I would have been defined by others and would have been unable to defend myself," Tsongas explained in a press conference, ahead of the "media war" of the New York primary.
With Kerrey and Harkin having previously dropped out of the race, Clinton went on to roll Brown in New York and almost all of the remaining contests.
Despite coming up short, Niki Tsongas says her husband's campaign had a lasting effect on the Clinton campaign, which went on to defeat Bush that November with the famous slogan, "It's the economy, stupid."
According to Tsongas, the relentless economic advocacy of her husband could be seen in the federal surpluses and economic growth during Clinton's presidency.
"It wasn't meant to be," she said. "But I was always very proud of how well Paul did overcoming the odds and changing the trajectory of the Clinton administration philosophy and approach."
Even today, Tsongas says, her husband's message could provide some guidance to the current Democratic Party during a moment of self-reflection.
"If you look at the parts of the country that we lost, a lot of those communities are very much where Lowell, Massachusetts, was 30 years ago," she said. "I think Paul always understood the need to … understand the economics of people's lives and communicate that, and try to make a difference there."
Tsongas died at the age of 55 on January 18, 1997 — the weekend of Clinton's second inauguration — due to complications from the return of his cancer. Despite a life cut short, Tsongas said publicly after dropping out in 1992, per a Globe report, that his presidential campaign had made his first battle worth it.
"That message, that sacredness, that resolve, was my mission," he said during the March 19 press conference. "And I feel deeply fulfilled. The obligation of my survival has been met."