Politics
Boston and 4 other Massachusetts cities included on ICE's first sanctuary city list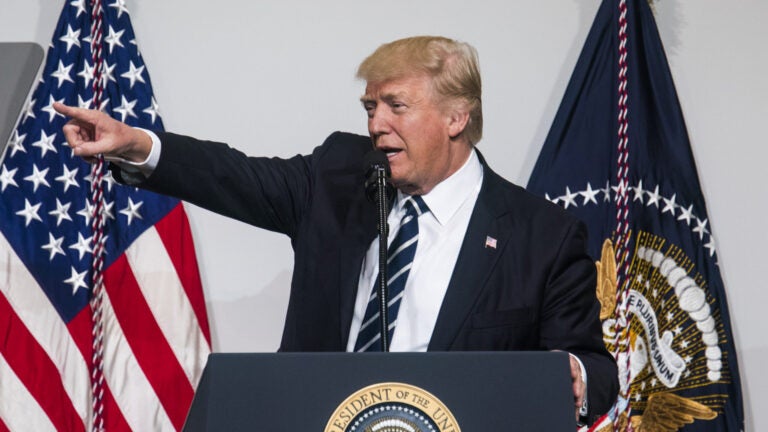 Five Massachusetts cities, including Boston, are among the jurisdictions listed as uncooperative in a new public list released by federal immigration officials Monday.
The first weekly "detainer" report issued by the Department of Homeland Security's Immigration and Custom Enforcement agency includes 96 towns, cities, counties, and prisons that have enacted policies limiting cooperation with federal efforts to detain undocumented immigrants.
The other four Massachusetts towns listed are Amherst, Cambridge, Northampton, and Somerville.
The Associated Press reported Tuesday that many local officials, including in Rhode Island, say the list — an apparent attempt to shame so-called sanctuary cities — contains wrong or misleading information about their policies. As WGBH notes, the list also does not include several Massachusetts cities that have declared themselves sanctuary cities.
It is unclear whether there are any immediate policy implications of being included on the federal list. President Donald Trump has pledged to defund sanctuary cities — a tactic that would appear to run into legal roadblocks, if not widespread challenges.
According to ICE, a "detainer" is a request made by the agency to local authorities to maintain custody of a detained undocumented immigrant for up to 48 hours "to allow DHS to assume custody for removal purposes."
In Monday's report, ICE officials said they issued 3,083 detainers between January 28 and February 3. According to the agency, 206 detainers were declined.
However, none of the declined detainers came from New England and the list on which the five Massachusetts towns were included was based upon publicly released information, news reports, or information given to ICE personnel in the field, the agency said.
The list also provides the criteria for which the cities say they would honor the detainer. As local officials have said, sanctuary cities generally do comply with the federal agencies on serious criminal cases.
"Somerville does not harbor criminals and we are in regular communication with, and cooperate, in the interest of public safety, with our federal agencies," Somerville Mayor Joseph Curtatone said in January, noting that the city's crime rate had in fact dropped 50 percent since it enacted its sanctuary policy in 1987.
Per Monday's report, Somerville does honor ICE detainers if the government provides a criminal warrant or there is "a legitimate law enforcement purpose beyond immigration status for keeping a suspect in custody" longer than normal.
According to the report, Boston also will not honor a detainer without a criminal warrant, in accordance with the city's 2014 Trust Act. Cambridge and Northampton also maintain similar criteria. Amherst will not honor immigration detainer requests "to the extent permissible by law," the ICE report said.
Supporters of sanctuary cities say the policy improves residents' relations with police and point to research showing both documented and undocumented immigrants are less likely to report crimes if they fear being questioned about their status.