Politics
Elizabeth Warren dishes on the Supreme Court and Citizens United with fellow Democrats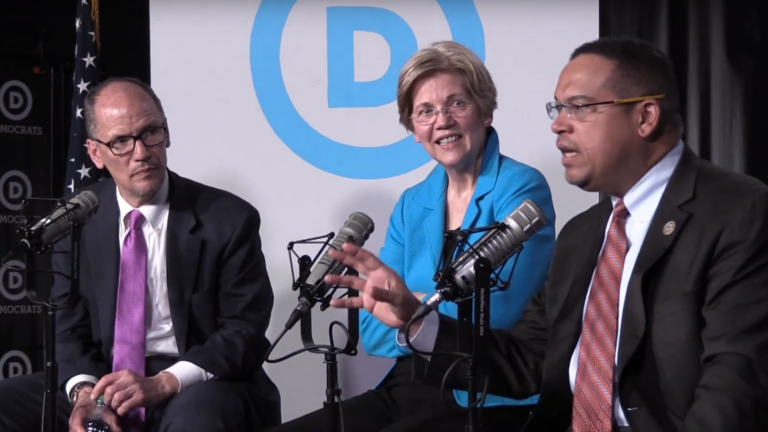 Sen. Elizabeth Warren sat down with fellow Democratic leaders for discussion Tuesday night about the party's efforts in opposing President Donald Trump's administration.
The event, which was live-streamed from Washington, D.C., was hosted by Democratic National Committee Chair Tom Perez and Rep. Keith Ellison, the party's deputy chair. The pair are set to embark on a listening tour in states the party lost in the presidential election.
Warren began by talking about her opposition to the Supreme Court nomination of Judge Neil Gorsuch, who she said was too extreme and pro-corporate.
Warren also questioned whether Trump should be able to nominate a justice amid the FBI investigation on Russian meddling in last year's election, noting that Senate Republicans blocked President Barack Obama's nominee through the end of his term.
"If they think it's OK to leave it open for a year, why not leave it open until the FBI investigation is completed?" she asked. Warren went on to suggest that Democrats should be willing to use their 48-member minority to block Gorsuch.
"If the nominee can't get 60 votes, you don't change the rule, you change the nominee," she said.
The Massachusetts Democrat also spoke about her opposition to Republican efforts to repeal the Affordable Care Act and said the replacement bill in the House would negatively affect efforts to address the regional opioid crisis.
Asked about how her party could advocate for their priorities from out of power, Warren said Trump had pledged "to work for working people" during his campaign, before appointing a cabinet of "billionaires and bankers."
"That's the point we have to keep reminding him about," she said.
On the issue of money in politics, Warren said she supported overturning the Citizens United decision, but called the necessary constitutional amendment "a really, really heavy lift."
"I'm a law professor," she said. "Talking about a Constitutional amendment, it makes my eyelashes start to frizz. It's hard. It's scary stuff to wade into."
Alternatively, she suggested smaller transparency reforms in the near future, such as a requirement on government contractors to disclose their political contributions.
Near the end of the Q&A session, Warren decried Trump's proposed budget cuts to social services.
"That's not the America we believe in and that's not the America we're fighting for," she said.
At one during the session, Perez said that Warren reminded him of his former mentor — and the former occupant of Warren's Senate seat — Sen. Ted Kennedy.
"He is looking down tonight with great pride," he said. "He used to say budgets are moral documents; they reflect the values of a community."