Politics
What happens to Boston and other sanctuary cities named on ICE's detainer report?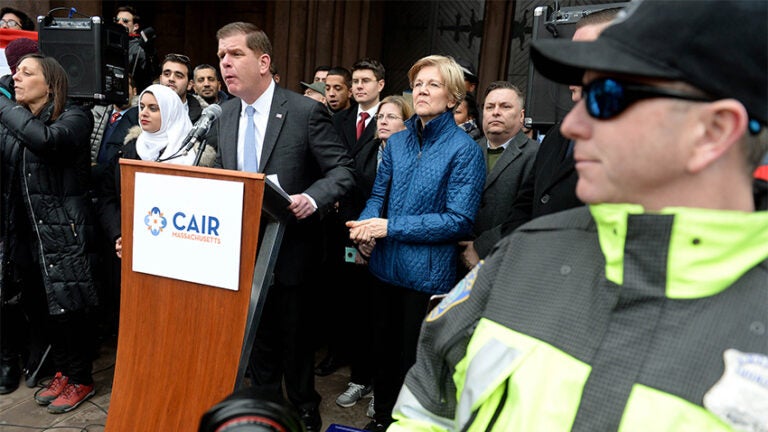 Immigration and Customs Enforcement's first list of so-called sanctuary cities produced a lot of names — and not a ton of immediate clarity.
The reported inaccuracies notwithstanding, the list — released as part of ICE's first weekly "detainer" report Monday — of self-identified sanctuaries was just that. It included no information about what might happen to the 118 listed localities — including Boston and four other Massachusetts cities — where law enforcement limits their cooperation with ICE efforts to deport undocumented immigrants.
So what is the purpose of the list?
According to one ICE official, it will be up to Trump and Congress to decide what the next steps will be. Trump has repeatedly pledged to strip federal funding from sanctuary cities and issued an executive order January 25 directing the Department of Homeland Security to begin that process.
"We're just complying with the executive order," said the ICE official, speaking on background, explaining that the preliminary list on self-identified sanctuary cities was based off public announcements and news reports and is not fully comprehensive.
It will be up to DHS to officially define and identify sanctuary cities for the purposes of Trump's order, the official added.
According to the January 25 order, the intention of the Declined Detainer Outcome Report (of which the list of sanctuary cities is a part) is to "better inform the public regarding the public safety threats associated with sanctuary jurisdictions."
However, Phil Torrey, an immigration lawyer and Harvard Law School lecturer, says the report has another purpose.
"Trump is trying to shame localities into using their resources to help ICE arrest and deport individuals," he said.
The detainer reports also include numbers on what jurisdictions declined requests from ICE officials for undocumented immigrants to be kept in custody for the purposes of deportation.
Torrey says he is unaware of any other U.S. presidential administration producing such a list, which he calls a "tool … to unfairly and inaccurately paint all immigrants as criminals."
The Trump administration says sanctuary jurisdictions "have caused immeasurable harm to the American people." However, researchers say that undocumented immigrants commit crimes at a lower rate than citizens.
"I think Trump's goal is to force the localities to change their policies," Torrey said of the report's list of sanctuary cities. "He has no lawful avenue for doing that so he has resorted to scare tactics."
As Boston.com has previously reported, Trump's promise to defund all sanctuary cities could hit legal roadblocks, due to constitutional doctrine outlawing targeted, retributive action by the federal government against states and cities. The tactic would also pose huge economic costs to local governments across the country.
Officials in sanctuary cities say the policy improves community relations between law enforcement and immigrants — both undocumented and documented. And a recent study of FBI crime data found that sanctuary counties typically have lower crime rates than comparable non-sanctuary counties. Somerville Mayor Joe Curtatone has pointed to a 50 percent drop in crime since the city enacted its sanctuary policy in 1987.
Torrey doesn't think these cities are going to fold on their policy just because of the new weekly reports and noted that most sanctuary counties, including the Texas county that topped the list of declined detainers, remain adamant about keeping their policy. Boston Mayor Marty Walsh, for example, has affirmed his city's sanctuary status since Trump's order. So has Curtatone.
"Those policies have been adopted after careful consideration and localities are not going to upend them based on the president's scare tactics," Torrey said.
As the ICE website notes, the agency is not involved in administering federal grants  and inclusion on the list "will not automatically result in ineligibility for grants." According to ICE — which is primarily involved in enforcing immigration laws — Homeland Security Secretary John Kelly is currently working to develop a process to address Trump's order to defund sanctuary cities.