Politics
After health care loss, Trump needs a victory soon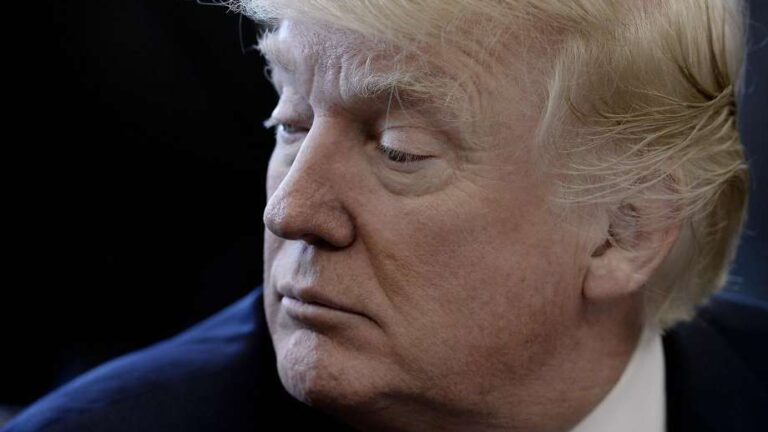 Even before the Republican health care bill died Friday, President Trump badly needed a legislative win after two months of self-inflicted wounds, stumbles and legal setbacks.
And while the factors that have been in Trump's favor will still be there in the near future — he remains popular with his base of supporters, he's got a GOP majority in Congress and his Supreme Court nominee, Neil Gorsuch, is expected to be confirmed — he needs to start putting political points on the board soon or the 44-seat House majority he enjoys is likely to shrink during next year's midterm elections, analysts said.
"He off to a slower start than the last three presidents," said John Frendreis, a professor of political science at Loyola University who has researched the first 100 days of presidents going back to Franklin Roosevelt.
"The last time we saw someone who came into the White House who was truly an outsider was Jimmy Carter, and he struggled for a number of months to get things straight. And I think we're seeing that in Trump," Frendreis said.
Trump seemed to concede a bit of that inexperience after the health care bill was withdrawn Friday, saying "We learned a lot about loyalty, and we learned a lot about the vote-getting process."
And then he blamed the Democrats for the bill's failure, without mentioning that he did nothing to woo their support.
"Trump is learning on the job," said James Thurber, founder of the Center for Congressional and Presidential Studies at American University and author of "Rivals for Power: Presidential-Congressional Relations."
"The president doesn't know the legislative process," Thurber said. "It's obvious by his statements. He hasn't thought through separation of power. They have gotten nothing done so far in Congress."
While his approval ratings are the lowest for any president this early in his first term, his core supporters like Saulo Londono, Republican Party chairman in Butte County, are sticking by Trump for a simple reason: Londono feels that the president is trying to fulfill his campaign promises.
"There's something fresh about that — that somebody is going to do what they said they were going to do," said Londono, who lives in Chico. "Whether you agree with him or not, he said he's going to build the wall, or get rid of Obamacare, and that's what he's trying to do. He tried on health care. I, and a lot of his supporters here in Butte, are willing to give him some space to do what he said he's going to do."
But voters may not be as forgiving next year. Typically, Frendreis said, midterm voters cast ballots on two factors: How the economy is doing and what they think of the president.
While the media and the public often measure early presidencies using the mythical yardstick of what is accomplished in the first 100 days, the reality is that few chief executives since FDR have accomplished much during that period, said Jon Schaff, a professor of politics at Northern State University in South Dakota, who has researched the first 100 days of presidencies.
The keys to relative success during that period are strong majorities in Congress — Frendreis calls Trump's four-vote Senate margin "relatively weak" — and a crisis, which Trump has yet to encounter.
President Barack Obama not only was backed by 59 votes in the Senate and 255 Democrats in the House through much of his first term, but the country also was in the worst financial crisis since the Depression when he took office.
"Things tend to get done when there's a crisis happening," Frendreis said. "Obama was able to get the stimulus passed because the financial markets were melting down and Congress wanted to do something."
And while critics say Trump doesn't have a well-defined legislative agenda, as a candidate, he clearly outlined what he wanted to accomplish in his first 100 days during an October speech in Gettysburg, Pa.
Some of those "first day" promises that sounded powerful and attractive on the campaign trail — to "label China a currency manipulator," to end foreign trading abuses, to cancel billions of climate change funds for the United Nations — haven't happened. Others, like canceling all federal funding to sanctuary cities, are tied up in the courts.
What was supposed to be the administration's easiest political lift — a sweeping tax cut package — is up next, say Trump and Treasury Secretary Steven Mnuchin. But it has its challenges, especially for Republicans who oppose new taxes of any kind.
It relies on a 20 percent "border-adjustment tax" that levies taxes on imports but not exports. The intention of the tax is to encourage companies with offshore operations to bring them back to the U.S. and hire more American workers.
But major retailers, including Walmart, Kohl's and Target, oppose it because they say it will force them to raise prices. That price increase will hit many of the blue-collar former Obama voters who backed Trump in November. Republicans in Congress who didn't want to be seen as stripping health care from millions of Americans and so stayed away from the now-dead American Health Care Act, may also be reluctant to be seen as reducing the buying power of their constituents.
So, even though he promised a flurry of action in the early days of his administration, Trump hasn't signed one significant piece of legislation so far — Sunday is day 66 of the administration — something his predecessors Bill Clinton, George W. Bush and Obama had already accomplished or were on their way to at the same juncture.
The result: The president's personal approval rating is in a slump — only 43 of Americans surveyed approve of his job performance so far, according to a synthesis of major polls by RealClearPolitics.com. Obama's lowest RealClear approval rating was 40 percent, but that was midway through his second term.
Still, analysts say that it is still too early to put much stock in the administration's early stumbles. Clinton's first few months were plagued by such a scattershot approach that his budget director, Leon Panetta, said at the time that the president must do "a better job of picking and choosing the battles he wants to go through."
"We tend to exaggerate the importance of the first 100 days. What happens is not indicative of what happens over a term," politics professor Schaff said. "But it is fair to say he's had an unusually low legislative output. There's not anything that he can say, 'Here's a success."'