Politics
Freedom Caucus leader compares Obamacare repeal efforts to Patriots' Super Bowl comeback
"It's like saying that Tom Brady lost at halftime."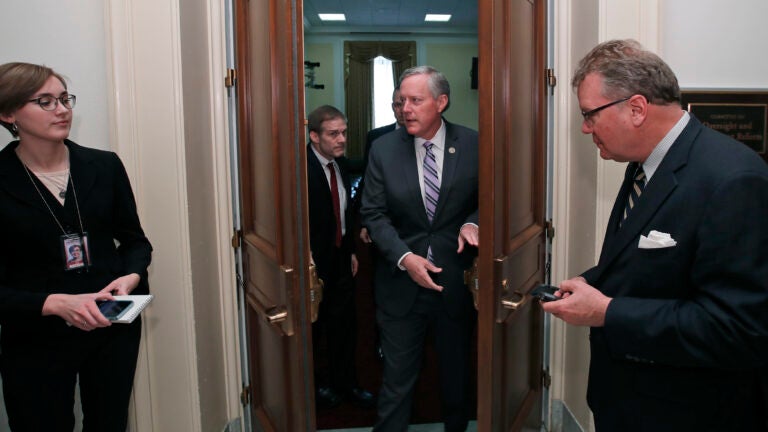 Politics are often compared to baseball. But Rep. Mark Meadows had a football analogy Sunday for the recent setback in the efforts to dismantle the Affordable Care Act.
"This is not the end of the debate," Meadows — the chairman of the House Freedom Caucus, a group of conservative Republicans, who opposed the recent failed GOP health care bill  — told George Stephanopoulos in an interview on ABC's This Week. 
"It's like saying that Tom Brady lost at halftime," said Meadows.
The North Carolina Republican credited an unidentified friend for the apparent Super Bowl LI comparison (though it feasibly could have been in reference to any one of Brady's numerous career comebacks).
The Patriots, of course, beat the Atlanta Falcons in overtime after erasing a 25-point second-half deficit in a historic comeback. Republican leaders pulled a scheduled vote on their first health care bill Friday, amid insufficient support within the party.
"We may be in overtime, but I can tell you at the very end of the day, the most valuable player will be President Trump on this, because he will deliver," Meadows said Sunday. "He's committed to the American people. And we're committed to helping get there."
Stephanopoulos pushed back, referring to a tweet Sunday morning from President Donald Trump that appeared to blame the Freedom Caucus for the Republican bill's failure. Trump has said that he hopes to focus next on "big tax cuts and tax reform."
Meadows said Sunday he understood the president was moving forward, but said he hoped to eventually find a consensus on health care with the less conservative Republican members of Congress. During the interview, the congressman emphasized that the unsuccessful American Health Care Act was just "one bill" of an ongoing "negotiation process."
"To put a stake in it today would not be accurate, and nor would it be the narrative that this is a great failure for the president," he said.
Coincidentally, Democratic Sen. Elizabeth Warren broke out a football metaphor  while celebrating the GOP health care bill's collapse Friday.
But I'm not doing a touchdown dance today. Not when the GOP is still hell-bent on rigging the system for the rich & powerful.

— Elizabeth Warren (@SenWarren) March 24, 2017
A New England senator might know best that it isn't over until it's over.