Politics
Rep. Michael Capuano to Republicans on privacy rules: 'What the heck are you thinking?'
'I love when he yells,' tweeted his nephew, superhero actor Chris Evans.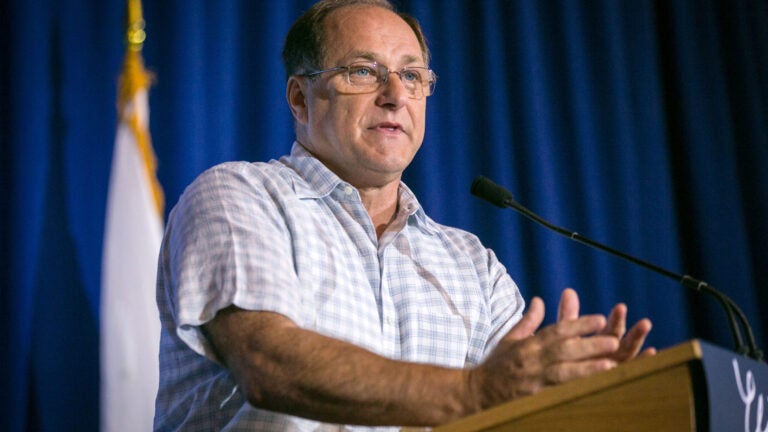 Congressman Michael Capuano said he had a simple question for his colleagues when he took to the floor of the House of Representatives Tuesday night before a vote to block online privacy protections.
"What the heck are you thinking?" the Massachusetts Democrat demanded.  "What is in your mind? Why would you want to give out any of your information to a faceless corporation for the sole purpose of them them selling it?"
In his scathing attack on the Republican-led effort to block the Obama-era protections limiting what companies can do with customer information, including location data and online browsing habits, the congressman questioned why companies should know his mother's medical conditions or his own underwear size just because he did research or purchased the items online.
The measure, which already passed through the Senate, was approved by the House Tuesday night in a party-line vote.
The longtime politician who served as the Mayor of Somerville from 1990 to 1999 pleaded with his fellow representatives across the aisle to give him "one good reason" why anyone would want companies to have their private information and mine it for use in their advertising.  
"I don't get this," the lawmaker representing Somerville, Chelsea, and Roxbury railed. "When I was growing up, I thought one of the tenants of the Republican party that I admired the most was privacy. It's mine, not yours, not the government's, mine. You can't have it unless I give it to you. My phone number, my social security number, my credit card number, my passwords, everything is mine. And yet you just want to give it away."
Capuano's speeches opposing the measure garnered praise on social media from his nephew, actor Chris Evans.
"He doesn't pull any punches. And he's right!" the Sudbury native wrote on Twitter, adding, "I love when he yells."
My uncle @RepMikeCapuano fighting hard for our privacy today. So proud. He doesn't pull any punches. And he's right! https://t.co/bKmYSVeGzb

— Chris Evans (@ChrisEvans) March 28, 2017
We should ALL care about this! Do you want your online info sold to corporations? Thanks Uncle Mike for caring so much..I love when he yells https://t.co/XDSRxQgA50

— Chris Evans (@ChrisEvans) March 29, 2017