Politics
Here's where Elizabeth Warren stands on a single-payer health care system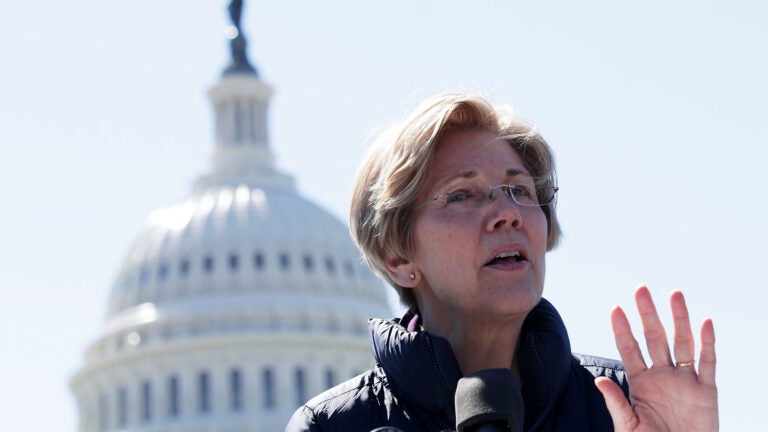 Sens. Elizabeth Warren and Bernie Sanders are coming together for a rally Friday in Boston.
Just one week after a Republican health care bill collapsed in the House, two of the country's most prominent progressives will speak about how to advance their issues in the era of President Donald Trump.
Warren and Sanders agree on a lot — that has been made clear. But one thing thing that hasn't been as apparent is the the Massachusetts senator's preferred path forward on health care.
While both Warren and Sanders agree on preserving the Affordable Care Act in the short term, the Vermont senator (as anyone who paid attention to his recent presidential campaign well knows) has been an outspoken advocate of a single-payer, or "Medicare-for-All," system, similar to how Canada provides health care. In the dust of Republicans' efforts to dismantle the ACA, Sanders announced he plans to introduce another single-payer bill.
But what does the senator from Massachusetts think of single-payer?
For the first time in a long time, Warren was publicly asked whether the party should try to push toward a system like single-payer during a town hall in Framingham last Friday.
Warren's short answer was yes, but her long answer was a little more nuanced.
Warren pointed out how, despite its conservative roots, the ACA received no support from Republicans in Congress. And then she signaled she would be open to shaking up the whole system.
"When it's time to take a step back and say what is the right way to do health care in America, I think it's time to put it all on the table," she said. "Not just small adjustments."
Warren was pressed to clarify that answer Monday, following a speech in Boston.
As MassLive reported, the senator said her support for switching to single payer would depend on whether Democrats (currently the minority party in the House and Senate) can find Republican colleagues to work with to improve the ACA.
But if not, and the country were to start from scratch on health care, Warren said "single-payer sure ought to be at the top of the list" of reform options.
While Warren's words may enthuse the Berniecrats in attendance Friday, health care experts note that it would be a long, politically difficult, and possibly undesirable path to single-payer — even if it and other universal hybrid systems provide health care more efficiently.
The vast plurality of Americans receive their health insurance through work. And that fact in itself could be a mighty barrier to reform — in a country where most dislike taxes — according to J. Michael McWilliams, a health care policy professor at Harvard Medical School.
"Currently workers pay much of their health insurance premium through reduced wages, but most believe their employers bear the costs of their health insurance," McWilliams said. "It is a hidden tax. Shifting to a financing scheme typical of a single-payer system would make working adults' contributions to the system more clearly a tax, which even if equivalent to what they pay now may be unappealing to many."
Richard Frank, a health economics professor at HMS, also notes that moving to any sort of single-payer system would be a huge administrative undertaking in the United States' current fragmented health care industry.
"We have been trying to align Medicare and Medicaid for dual eligible people in this country for over a decade and have done a poor job," he said. "Imagine the job of trying to pull together the vast array of insurance arrangements under one roof."
And that's not even mentioning the politics of health care reform.
To say it's unlikely that House Speaker Paul Ryan or Senate Majority Leader Mitch McConnell would be willing to take up Sanders's forthcoming single-payer bill is the virtual definition of an understatement.
"Until we stop re-fighting the Civil War, I do not see a happy political accommodation that could get us anywhere near a single payer system," added Frank, who says the health care debate has been less about health care than it has been about the role of government.
It's not the first time Warren's stance on single-payer has been put into focus.
Warren has long acknowledged the realities of overhauling the health care system. In the 2008 book Health at Risk, Warren co-authored a chapter that called single-payer "the most obvious solution" for ensuring families confronting illness or injury maintain financial stability.
When that passage surfaced during her 2012 Senate campaign, Warren said she was most immediately focused on cementing the recently passed ACA when asked about single-payer. Republicans criticized her at the time for flip-flopping. A more charitable interpretation might reason that Democrats weren't looking to pass another major health care reform in the midst of another's implementation.
But even in 2008, she and co-author Deborah Thorne wrote that if that option was "politically unacceptable" another would be "to guarantee all Americans access to affordable and adequate health insurance that cannot be terminated or made more costly is a family member is ill or injured."
Another question of practicality is why Democrats would push for single-payer now, when Ryan, McConnell, and Trump control two of three branches of government.
"Frankly I am a bit surprised that single-payer advocates are comfortable turning over the system to the current Congress and administration," said Michael Chernew, a HMS health care policy professor.
"An underfunded single-payer system or one subject to political manipulations could be bad for everyone," Chernew said. "If run well of course, there may be savings."