Politics
Historians refute Trump's claim that the Civil War could have been avoided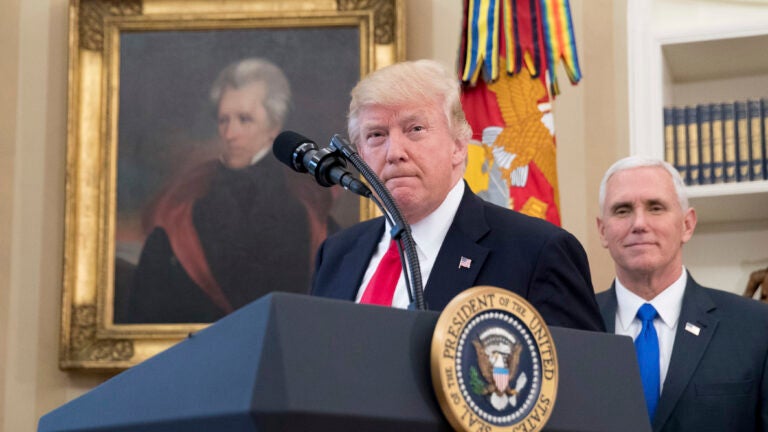 President Donald Trump says the Civil War could have been avoided, if only a purported dealmaker like him had been around at the time. But is that really the case?
In an interview Sunday with the Washington Examiner, Trump suggested that if President Andrew Jackson, who died in 1845, had been alive at the time, the cataclysmic conflict — rooted in a deeply divisive debate over slavery — could have been completely avoided.
Trump — who earlier in the interview referred to comparisons between his own presidential bid and the Tennessean's populist 1828 campaign — went on to pose a more direct question about the Civil War: "Why?"
"I mean, had Andrew Jackson been a little later you wouldn't have had the Civil War. He was a very tough person but he had a big heart. He was really angry that he saw with regard to the Civil War, he said 'There's no reason for this.'"

"People don't realize, you know, the Civil War, if you think about it, why? People don't ask that question, but why was there the Civil War? Why could that one not have been worked out?"
As the seventh president, Jackson was a firm opponent of Southern secession — but also defended states' rights to perpetuate slavery. At the time of his death (16 years before the start of the Civil War), Jackson owned approximately 150 people as slaves on his plantation outside of Nashville.
So could have Trump or Jackson or some other tactful negotiator "worked out" the North-South divides and prevented the Civil War? Historians say it's unlikely.
David Blight, a Yale history professor and author of one of the preeminent Civil War books, said the conflict became more or less inevitable after the 1857 Dred Scott v. Sandford Supreme Court decision.
"That decision, theoretically opening the entire West to the possible expansion of slavery and declaring that African Americans were not and never could be citizens of the United States, in effect, ruined the last vestiges of moderation," Blight wrote in a 2010 blog post for the Washington Post.
In the immediate run-up, Blight says the only way war could have been avoided was for both sides to effectively cave on the values they had tirelessly fought each other on for decades.
Neither side's leaders did and, of course, hindsight is 20/20.
"It must be remembered, however, that virtually none of the leaders of either side had any clear idea of the kind of revolutionary scale the impending war would take on," Blight wrote.
Barring extreme concessions by one of the sides, other Civil War historians have concurred that some form of violent conflict was practically unavoidable. However, the warring factions just didn't know how costly the nation's still-deadliest war would become.
"No one expected what the Civil War was to become," Drew Gilpin Faust, the president of Harvard, wrote in her 2008 book, This Republic of Suffering. According to Faust, both "northerners and southerners alike expected it to be of brief duration."
Sunday's interview wouldn't be the first time Trump has questioned the reasoning of a deeply rooted conflict. And given Jackson's own willingness to use force to quell a secessionist movement, it's unlikely either could have done much to change the divided nation's fateful path.
Correction: A previous version of this article incorrectly stated that Faust's book This Republic of Suffering was published in 2002. It was published in 2008.