Politics
Massachusetts delegation reacts to Trump's firing of FBI Director James Comey with alarm
"We are careening ever closer to a Constitutional crisis."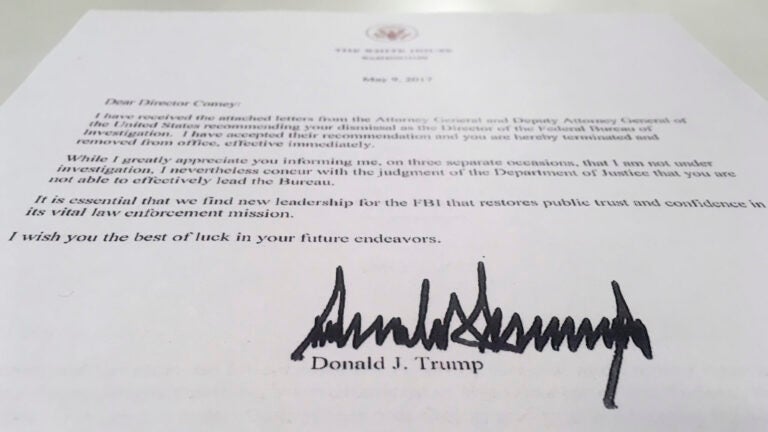 Following the stunning announcement Tuesday evening that President Donald Trump had fired FBI Director James Comey, Massachusetts's congressional delegation reacted with a mix of speculation and alarm.
Comey had previously confirmed that his agency was investigating Russian efforts to influence last year's presidential election, as well as any potential ties between the country and the Trump campaign. He had more than six years left in his term as FBI director.
In a letter to Comey — who was also especially criticized by Democrats for his actions during the election — Trump reasoned that his firing was necessary to "restore public trust" in the agency. However, several members of the Bay State's all-Democratic delegation tied the firing to the FBI's ongoing Russia investigation and suggested Trump's actions evoked scenes from the Watergate scandal.
In a statement, Sen. Ed Markey said Comey's dismissal was "disturbingly reminiscent of the Saturday Night Massacre" and warned of a Constitutional crisis.
"President Trump's firing of Director Comey sets a deeply alarming precedent as multiple investigations into possible Trump campaign or administration collusion with Russia remain ongoing, including an FBI investigation. This episode is disturbingly reminiscent of the Saturday Night Massacre during the Watergate scandal and the national turmoil that it caused. We are careening ever closer to a Constitutional crisis, and this development only underscores why we must appoint a special prosecutor to fully investigate any dealings the Trump campaign or administration had with Russia."
Sen. Elizabeth Warren said that she indeed took issue with the way Comey handled the investigation into former secretary of state and Democratic presidential nominee Hillary Clinton's use of a private email server, which the Trump administration primarily cited as the reason for his firing. But Warren expressed disbelief over the possibility that could be the real reason.
There's no question that Comey made questionable decisions during the election. The FBI shouldn't comment on ongoing investigations.

— Elizabeth Warren (@SenWarren) May 9, 2017
But does anyone seriously believe @realDonaldTrump fired the top person investigating his ties to Russia because he was unfair to Hillary?

— Elizabeth Warren (@SenWarren) May 9, 2017
The Democratic senator called for an independent investigation into Russia's attempts to influence the election.
It's time for Congress to get their heads out of the sand. @realDonaldTrump cannot pick the person to continue this critical investigation.

— Elizabeth Warren (@SenWarren) May 9, 2017
We need a real, independent prosecutor who @realDonaldTrump can't fire, Sessions can't intimidate, & Congress can't muzzle. We need it now.

— Elizabeth Warren (@SenWarren) May 9, 2017
Massachusetts's representatives in the House also questioned if Comey's firing was related to the FBI's Russia investigation.
I'm no fan of FBI Comey, but firing him in midst of Russia probe raises very serious concerns. Remember result of Nixon-Cox.

— Rep. Michael Capuano (@RepMikeCapuano) May 9, 2017
The President's firing of Director Comey is a smoke signal. And where there's smoke, there's fire. And this is a bonfire.

— Seth Moulton (@sethmoulton) May 9, 2017
Flynn. Sessions. Page. Manafort. Comey. Only more questions. Need independent #TrumpRussia investigation now.

— Rep. Joe Kennedy III (@RepJoeKennedy) May 9, 2017
This is outrageous: #Comey is leading #TrumpRussia probe & was just fired without cause. Americans need to know what Trump's hiding. https://t.co/Ejs4mfw8KA

— Jim McGovern (@RepMcGovern) May 9, 2017
Trump firing FBI Dir Comey reinforces the need for an immediate independent investigation into Trump's ties to Russia.

— Katherine Clark (@RepKClark) May 9, 2017
Taking place in middle of investigation into cyber attack on US and Trump involvement, this shatters public confidence in our systems. (2/2)

— Bill Keating (@USRepKeating) May 9, 2017
POTUS has now fired FBI Director. Acting AG and US Atty investigated his ties to #Russia. We need independent investigation now.

— Rep. Richard Neal (@RepRichardNeal) May 9, 2017
https://www.facebook.com/RepTsongas/posts/1481749901891185
In a press release, Rep. Stephen Lynch said the timing of Comey's removal "raises profound questions regarding the ability and willingness of the Department of Justice to carry out its mission on behalf of the American people." Lynch called for Congress to appoint an independent commission and special prosecutor to conduct the Russia investigation.
"F.B.I. Director Comey's actions in the closing days of the recent Presidential election constituted a deep failure in judgment. However, in the midst of an F.B.I. investigation into Russian interference with the Presidential election, the timing of his removal raises profound questions regarding the ability and willingness of the Department of Justice to carry out its mission on behalf of the American people. That mission is to enforce the law and ensure the impartial administration of justice even when doing so may reach the highest levels of our Government.

The American people deserve answers and a comprehensive, transparent, and accountable investigation into reports that a foreign government deliberately interfered with our most sacred democratic institution. We also need to reassure all Americans that the rule of law is being followed, and that the President, Attorney General, and Deputy Attorney General are not trying to thwart justice. To this end, it is my intention to persuade my colleagues on both sides of the aisle in Congress that a bipartisan, independent commission appointed by Congress, as well as a Special Prosecutor, are required to conduct a thorough investigation of these matters. Congress must take the necessary steps to see that this investigation is pursued with all deliberate speed and without any interference from the White House or the Department of Justice."