Politics
Rep. Joe Kennedy III is achieving Facebook gold with his House floor speeches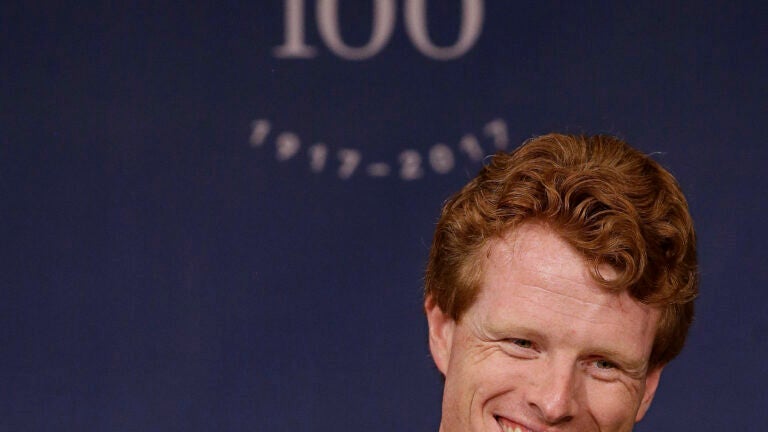 For all his family's history, Rep. Joe Kennedy III is achieving something unprecedented.
The Massachusetts Democrat has even caught the eye of former President Barack Obama, who devoted much of his recent speech in Boston to the examples set by John, Robert, and Ted Kennedy — but also gave the 36-year-old congressman a shoutout.
"I have to imagine it would give them great pride to see a new generation of Kennedys, like Joe, carving their own proud paths in public service," Obama said Sunday night.
Unlike his late relatives, Kennedy has an additional tool at his disposal: Facebook. And in the midst of the ongoing health care debate on Capitol Hill, he's used it to disseminate his message with considerable success. It's also propelled him into the national spotlight.
Kennedy's recent impassioned speeches — defending the Affordable Care Act and condemning the proposed Republican bill to displace it — have tallied up millions of views and hundreds of thousands of shares.
In a speech last week, Kennedy decried the impact of the recently House-approved health care bill. The clip posted on his official Facebook page received 2.8 million views.
TrumpCare codifies a worldview that divides America by fate and fortune. A worldview that scapegoats the struggling and suffering and that see illness as inadequacy. The ultimate test of our country's character is not the power we give the strong, but the strength we give the weak.

Posted by Congressman Joe Kennedy III on Thursday, May 4, 2017
If that wasn't viral enough, the same 90-second clip received another 4.8 million views via the progressive action group CREDO Mobile. And another 3.1 million from a symphonically-scored post by Now This Politics.
The three videos combined had been shared over 241,000 times as of Tuesday evening.
It's not the first time the third-term congressman's outspoken opposition to President Donald Trump's policies has picked up significant traction (and neither is he the only member of the so-called resistance to have received a boost in the Trump era).
In March, Kennedy's rebuke of House Speaker Paul Ryan over the Republican health care bill during a committee hearing received more than 10 million views and 234,000 shares on his official Facebook page. The following day, his exchange with a Republican lawyer over the bill's cuts to addiction and mental health coverage was viewed more than 4.9 million times. And his remarks the next day — opposing the efforts to cut off Planned Parenthood reimbursements — were viewed 1.8 million times on his Facebook page.
Kennedy also spoke on the House floor on the eve of St. Patrick's Day, intertwining his family's history with his opposition to Trump's immigration policies. The five-minute speech was viewed 2 millions times.
"Rep. Kennedy is committed to providing our Commonwealth and country with an alternative to the Trump worldview," Emily Kaufman, a spokeswoman for the Newton Democrat, told Boston.com in a statement.
The reach of Kennedy's viral Facebook videos also does not count impressions on other social media platforms or the videos re-shared by other Facebook users.
Kennedy's social media presence (perhaps in part due to his famous name) already dwarfs that of the eight other Bay State representatives. His 300,000 Facebook followers is more than sevenfold that of the next most popular congressman in the state, fellow rising star Rep. Seth Moulton, who has more than 41,000. It even towers over Sen. Ed Markey's 77,000 followers.
On Twitter, Kennedy still leads among his House colleagues from Massachusetts in followers, though not as disproportionately so.
Kaufman says that Kennedy has been "humbled by the response to his message and heartened by the number of people who have echoed his calls for a government that is compassionate, effective and fair."