Politics
Barack Obama talks with JFK's grandson about the toughest moments of his presidency, political courage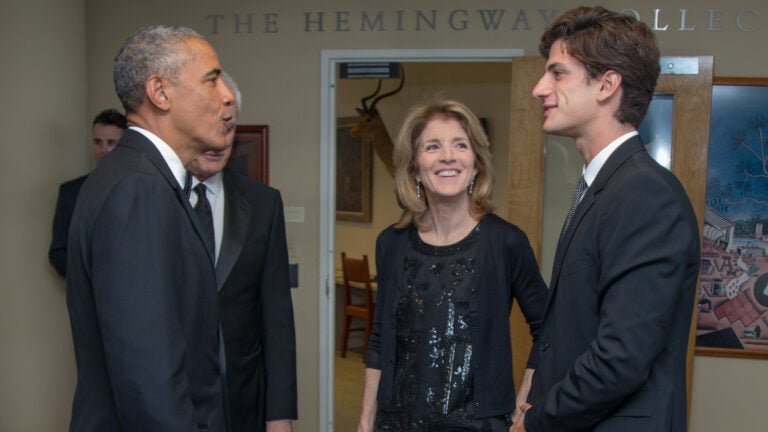 In an interview with the grandson of late President John F. Kennedy, President Barack Obama singled out his decision not to bomb Syria as a moment that required political courage.
Before Obama took the stage at the JFK Presidential Library and Museum on May 7 to accept the John F. Kennedy Profile in Courage Award, he sat down for an interview with Caroline Kennedy's 24-year-old son, Jack Schlossberg. The award is given annually to a public official (or officials) who best embody the type of political courage detailed in JFK's Pulitzer Prize-winning book, Profiles in Courage.
According to Obama, the toughest decisions almost always involved military action that put American lives at risk, with the president mentioning both the decision to send more troops to Afghanistan and the mission that ultimately killed Al-Qaeda leader Osama Bin Laden. But the issue he highlighted as an exemplar of political courage was his decision not to bomb Syria.
"I actually think that the issue that required the most political courage was the decision not to bomb Syria after the chemical weapons use had been publicized and rather to negotiate them removing chemical weapons from Syria," Obama said in the interview.  "Now, we know subsequently that some remained, so it was an imperfect solution. But what we also know is that 99 percent of huge chemical weapons stockpiled were removed without us having to fire a shot.
"The reason it was hard was because, as president, what you discover is that you generally get praised for taking military action, and you're often criticized for not doing so," Obama continued. "And it wasn't a slam dunk, but I thought that it made sense for a variety of reasons for us to see if we could actually try to eliminate the prospect of large-scale chemical weapons use rather than the political expedience of a one-time shot."
Schlossberg — who is headed to Obama's alma mater, Harvard Law School, in the fall — finished the interview by admitting that Obama's tenure was one of the reasons he became interested in politics. In what could be construed as a dig at President Donald Trump, Schlossberg asked Obama where young people like him should look for courage "in the absence of a courageous leader," and how they should be courageous in their own lives.
"I think that my hope for young people would be that they recognize that courage comes in many forms," Obama said. "And really the best definition for me is that you're true to your best self every day. And if you get in those habits both as a person and as a citizen, then whatever your field, whatever your career, it will reflect itself, and it will reflect itself in your family as well.
"You're passing on those values of honesty and fairness and looking out for somebody who's vulnerable and taking responsibility, not just for yourself, but also for the world around you," Obama continued. "Ultimately, those are the things that end up making as much of a difference, if not more, than any decision that a politician is going to make."