Politics
Danny Ainge's son is running for Congress
"Campaign is about economic growth, innovation, fiscal responsibility...but twitter only talking about Gordon Hayward."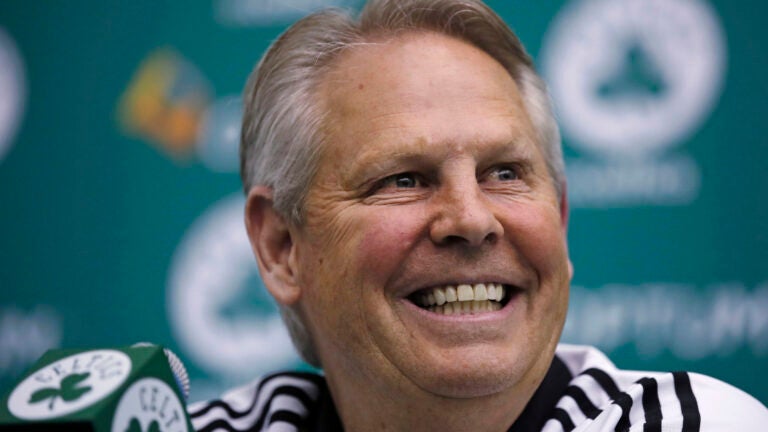 There's a Mormon Republican in Utah with Massachusetts connections running for elected office, and it's not Mitt Romney.
Tanner Ainge, one of former Celtics player-turned-general manager Danny Ainge's six children, is running for the soon-to-be vacated seat of Rep. Jason Chaffetz, who represents Utah's third district in Congress.
Tanner Ainge (R) (@tannerainge) declared candidacy for the 3rd Congressional District. #utpol pic.twitter.com/D6IcqSwGXY

— Vote Utah (@ElectionsUtah) May 22, 2017
Chaffetz announced last week he will resign June 30. The state has scheduled a special election for the seat November 7, with a primary on August 15, coinciding with Utah's municipal elections.
Ainge officially declared his candidacy Monday, according to the Utah lieutenant governor's office — joining an already-crowded Republican primary field.
"After taking the weekend to contemplate, today I filed the paperwork to run," the 33-year-old Alpine resident confirmed on Twitter, thanking supporters for encouragement. He also joked about beloved Utah Jazz star (and potential Celtics offseason signing target) Gordon Hayward.
Campaign is about economic growth, innovation, fiscal responsibility…but twitter only talking about Gordon Hayward ?@SpencerJCox

— Tanner Ainge (@tannerainge) May 22, 2017
According to his LinkedIn page, Ainge is a managing partner at his own consulting company, Ainge Advisory and has worked for a number of investment firms. He also volunteered on Romney's 2008 presidential campaign and has degrees from Brigham Young University and Northwestern University School of Law.
Ainge's campaign website, aingeforcongress.com, does not yet list any positions or platforms, but simply directs users to a donation page with the slogan "Utah is Rising."
The announcement of his candidacy comes after encouragement from his father.
"With vacancy created in the house, I'm encouraging my son Tanner to run," the Celtics executive tweeted last week. "He has the integrity, [education, experience, to represent Utah] in DC. #AingeforCongress?"
Tanner is the second oldest of his father's four sons. The oldest, Austin, is the Celtics's director of player personnel. Following Monday's announcement, Ainge also received his father's endorsement.
Why people choose politics is beyond me, but I can't think of anyone more competent and trustworthy than @tannerainge #AingeforCongress https://t.co/wpQQ13i1z3

— Danny Ainge (@danielrainge) May 22, 2017
David Magleby, a BYU political science professor, told the Salt Lake Tribune that the former Celtics and BYU star's celebrity status in Utah may provide a boost to his son's candidacy.
"His father's jersey hangs in the Marriott Center, and it's a name that's going to be widely known," Magleby said.

The Ainge family name, Magleby added, is like adding a Romney to the ballot: It's an advantage "being the son of a highly recognized and highly regarded local favorite."
Unless the Celtics sign Hayward.